UMD-Winter: Australia: Australian Literature and Culture (ENGL/HONR)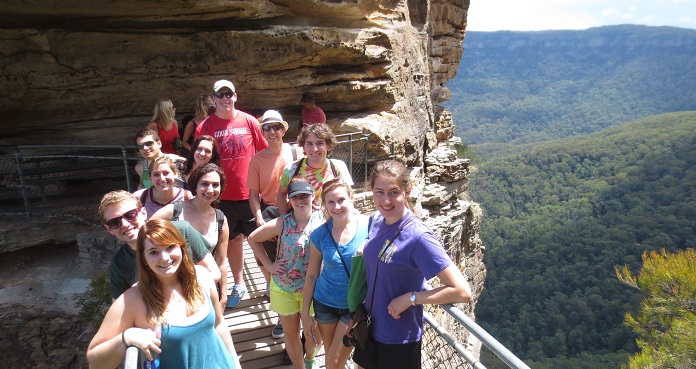 An immersion into Australian culture and history, this course will explore the literature, music, theater, and arts of Indigenous and contemporary Australia. We will be moving actively through both urban and natural settings, engaging directly with matters of political and social concern, developing both awareness of cultural issues important to modern-day Australians and the skills needed to navigate those issues. Along the way, we will look back to the colonial founding of Australia as a British outpost and consider how modern Australia has emerged from a mixing of Western and Indigenous cultures. The class will begin with a two-week stay in Sydney, Australia's sparkling harbor city, and conclude with a visit to tropical Cairns, in Queensland, home of both the Great Barrier Reef, one of the natural wonders of the world, and some of Australia's most vibrant Indigenous communities.
You must be in good academic and judicial standing and you must not have any registration blocks to participate in this program. The minimum GPA for this program is listed above.
If you are interested in this program but do not meet the eligibility requirements, reach out to the program director (listed in the Contacts tab) to discuss your interest in the program.
After you commit to the program, Education Abroad will enroll you in one of the following three (3) credit UMD courses:
ENGL369: Special Topics in Study Abroad III: Australian Literature and Culture
HONR349: Honors Colloquium: Australian Literature and Culture
The credit you earn during this program will count as resident credit.
You will be required to read a novel and other materials prior to the start of the program.
These courses are approved for the Diversity-Cultural Competence and Humanities requirements of the General Education program
In Sydney, you will stay in a hostel located in the city's vibrant downtown. In Cairns, you will stay in apartment-style housing just a 10-minute walk from the waterfront. 
 
Costs are current for winter 2018.
Application Fee
$50
Billable Costs
Billable costs are charged to your student account. They are due based on the Bursar's payment schedule. Be sure to check your statements when they are available.
Education Abroad Fee
$500
This fee is charged to your account when the application status changes from "Accepted" to "Committed." This fee includes Education Abroad services including registration, billing, advising, risk management, and pre-departure orientation.
International Health Insurance
$37
Tuition
$2,534
This fee is charged to your UMD account upon course registration. This fee includes: Tuition, in-country transportation, course related activities, group meals, and teaching services.
Housing Fee
$904
This fee represents the housing provided during the program.
TOTAL PROGRAM FEE
$3,975
Out-of-pocket Costs
Meals (estimate)
$400
Visa
$20
Passport
$140
Roundtrip Airfare (estimate)
$2,600
Course Materials
$50
Optional Activities/incidental expenses
$200
Optional trip cancelation/interruption Insurance (estimate)
$180
TOTAL ESTIMATED COST OF ATTENDANCE:
$7,615
NOTE: If you are a non-UMD graduate student, you will need to pay a $75 application fee to the UMD graduate school to participate in this program.
Please refer to the following resources for more information on funding study abroad
PLEASE NOTE: All University of Maryland study abroad programs are financially self-supporting and, therefore, subject to cancelation due to low enrollment.
Jason Rudy, Ph.D.,is an associate professor in the English Department at the University of Maryland, College Park, and a scholar of British and Australian literature and history. He has taught ten previous Education Abroad courses in Australia, New Zealand, and England, and he currently directs the English Honors program.
Justin Thompson is a Ph.D. candidate in the English Department at the University of Maryland, College Park. His research focuses on British literature and colonialism.
For course, itinerary or in-country information, please contact the Program Director. For general questions or assistance with applying, contact EA Short-term Programs.
As a part of this program, you will engage in the following activities:
Engage with Australian scholars, writers, performers, and artists in Sydney and Cairns.
Attend performances as part of the Sydney Arts Festival, one of the world's greatest arts events: theater, music, dance, visual arts.
Hike through Sydney's surrounding wilderness with a local expert, learning about Indigenous history.
Visit Featherdale Wildlife Reserve, where you'll interact directly with kangaroos, wallabies, and koala bears (no fences or cages). 
Visit a remote village in the rainforest of Northern Queensland, where you'll learn about Indigenous history and culture.
| Term | Year | Application Deadline | Admission Notification | Program Start | Program End |
| --- | --- | --- | --- | --- | --- |
| Winterterm | 2018 | 10/01/2017 | 10/11/2017 | 12/31/2017 | 01/19/2018 |