UMD-Winter: Italy: Language and Culture (ITAL)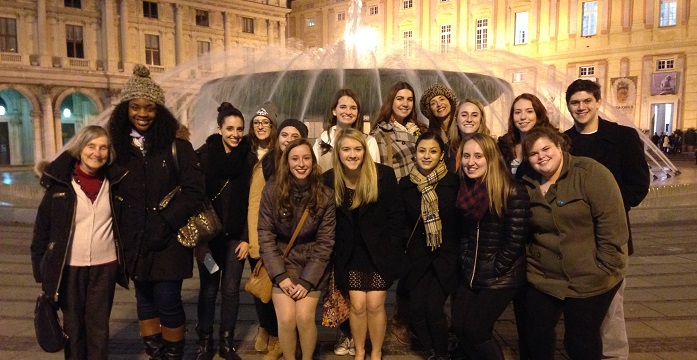 Immerse yourself in Italian language and culture this winter in this intensive four-credit language course. You will spend three weeks in Genoa taking language courses that are complemented by excursions where you will explore the city and the Italian Riviera, visit culturally relevant sites, and further develop your Italian language skills. As the capital of Liguria, Genoa offers a great variety of experiences, ranging from exploring maritime history to tasting great regional cuisine. As Baltimore's twin city, Genoa is filled with theaters, museums, restaurants, cafés, shopping centers and stores of every kind. It is a historic and beautiful city, with Medieval and Renaissance palaces. The port of Genoa has a renovated inner harbor with the largest aquarium in the Mediterranean. With its ideal location on the Italian Riviera, Genoa is close to Portofino and the Cinque Terre which offer stunning views of the rugged coastline and sea.
While no knowledge of Italian is required, the course is taught entirely in Italian in order to help you push your comfort zone and make great strides in learning the language. The course is designed so you will cover the same linguistic objectives as you would in an entire fall or spring semester. By the end of the program, you will be able to converse in Italian on a variety of practical topics and complete short writing assignments. The cultural component of the course will focus on Italian history, art history, opera, and politics.
This program will be celebrating its 15th year running in 2017! 
You must be in good academic and judicial standing and you must not have any registration blocks to participate in this program. The minimum GPA for this program is listed above.
UMD and non-UMD freshmen, sophomores, juniors, and seniors are eligible to apply.
If you are interested in this program but do not meet the eligibility requirements, reach out to the program director (listed in the Contacts tab) to discuss your interest in the program.
After you commit to the program, Education Abroad will enroll you in one of the following UMD courses:
ITAL103: Intensive Elementary Italian (4 credits)
ITAL203: Intensive Intermediate Italian (4 credits)
ITAL498D: Special Topics in Italian Literature: Italian Language and Culture (3 credits)
The credit you earn during this program will count as resident credit.
You will stay in shared accommodations in bed & breakfast structures near Palazzo Ducale, the cultural center of Genoa where classes are held. Wireless internet connection is available in both the classrooms and at the place of residences.
Costs are current for winter 2018.
Application Fee
$50
Billable Costs
Billable costs are charged to your student account. They are due based on the Bursar's payment schedule. Be sure to check your statements when they are available.
Education Abroad Fee
$500
This fee is charged to your account when the application status changes from "Accepted" to "Committed." This fee includes Education Abroad services including registration, billing, advising, risk management, and pre-departure orientation.
International Health Insurance
$37
Tuition
$2,663
This fee is charged to your UMD account upon course registration. This fee includes: Tuition, in-country transportation, course related activities, group meals, and teaching services.
Housing Fee
$1,000
This fee represents the housing provided during the program.
TOTAL PROGRAM FEE
$4,200
Out-of-pocket Costs
Meals (estimate)
$500
Visa
$0
Passport
$140
Roundtrip Airfare (estimate)
$1,300
Course Materials
$89
Optional Activities/incidental expenses
$300
Optional trip cancelation/interruption Insurance (estimate)
$180
TOTAL ESTIMATED COST OF ATTENDANCE:
$6,759
NOTE: If you are a non-UMD graduate student, you will need to pay a $75 application fee to the UMD graduate school to participate in this program.
Please refer to the following resources for more information on funding study abroad
PLEASE NOTE: All University of Maryland study abroad programs are financially self-supporting and, therefore, subject to cancelation due to low enrollment.
Stefania Amodeo holds a laurea from the University of Genoa, Italy, in Lettere e Filosofia with a thesis in medieval history. She did graduate work in Belgium at the University of Louvain and at Harvard University from which she received an M.A. in Italian Literature. She has taught at Wellesley College and at Harvard University as a teaching fellow. Her main research interest is in language pedagogy and the use of computer technology in teaching foreign languages. She recently developed an Italian language course centered on the history and cultural importance of food in Italy.
For course, itinerary or in-country information, please contact the Program Director. For general questions or assistance with applying, contact EA Short-term Programs.
As a part of this program, you will engage in the following activities:
Intensive language immersion for language learners of different levels
Practical experience using Italian in everyday life
Visits to historically important cultural sites
| Term | Year | Application Deadline | Admission Notification | Program Start | Program End |
| --- | --- | --- | --- | --- | --- |
| Winterterm | 2018 | 10/01/2017 | 10/11/2017 | 12/30/2017 | 01/20/2018 |