Groupe ESA: France: From the Farm to the Table: A Sustainable Food System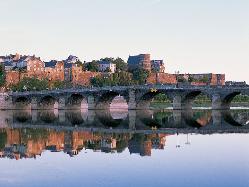 Groupe ESA AGNR Summer Program
What's the Scoop?
The Groupe ESA summer program is located in Angers, France, which is a dynamic city situated in the west of France, only 90 minutes from Paris.  The city is situated within the heart of the Loire valley, part of which has been declared a UNESCO World Heritage Site.  Angers and its region possesses rich historical and cultural attributes, notably its superb castle and its stately homes ('châteaux'). Through the Anjou region flow numerous rivers, creating some vast natural spaces. It's considered by many to be one of the most beautiful regions of Europe.
Because of the long tradition of horticulture in Anjou, Angers is today the most important centre for crop production and processing in Europe, notably seeds. Because it was already a high technology crop centre, the European Union decided to establish in Angers its central office for the protection of new plant varieties and their breeders, the CPVO (Community Plant Variety Office) .

What do I take?
The purpose of the Groupe ESA summer program in Angers, France is to introduce students to the French way of life, the France's role in the European Union and the rich heritage of French culture, while at the same time providing concentrated study in one of four fields:
- Agriculture & Agribusiness
- Horticulture
- Viticulture & Wine Making
- Rural Tourism & Gastronomy
With some basic instruction in French but all other classes conducted entirely in English, the program combines lectures, educational field trips, and cultural visits in a wide variety of places. You can learn more by viewing the Summer Program Brochure.

This program fee includes tuition, lodging and food, cultural excursions & organized outings, field trips, academic materials, transportation during the program.  Program fees are paid directly to Groupe ESA - Angers. 
Program cost does not include: airfare, personal expenses, insurance, passport fees, home university fees and costs. 
Costs are listed for summer 2017:
| | |
| --- | --- |
| Application Fee | $50 |
| Program Fee | $3791 (includes housing and meals) |
| Education Abroad Fee | $500 |
| Health Insurance | $40 |
| Round-trip Airfaire (estimate) | $1,300 |
| Passport  | $140 |
| Student Visa Application | Not applicable to US Citizens |
| Course Materials | $0 |
| Personal expenses and individual travel (estimate)  | $500 |
| Optional international trip cancellation/interruption insurance (estimate) | $350 |
| Total Estimated Cost of Attendance | $6671 |
Where do I live?
Students live with a host family. Lunches are taken at the university cafeteria and dinners are with the host family. 
Who's here to help?
 
AGNR majors who are interested in this program can start by meeting with meeting with Conrad Zeutenhorst, the UMD Education Abroad Advisor for France.  Contact information for regional advisors can be found on the "Make an Appointment" page.
Additional Information and Resources:
To apply to this program, you must complete two main steps:
Submit a UMD approval application - start by clicking "apply now" at the top of this page. This application allows UMD Education Abroad to approve your study abroad program selection so you may earn credit in a program outside of UMD.
This application will require you to meet with your EA advisor, who will communicate important details related to participating in this program. If you do not complete this application by the stated deadline, you may not receive credit for your study abroad program and will lose your student status for the time you are not studying at UMD.
Apply directly to the program provider. After receiving UMD approval, you should submit the program application directly to the program sponsor by their deadline. Your program sponsor will determine your official acceptance to a program. You must adhere to the provider's timeline, eligibility standards, and application requirements.
After being accepted to your program, your EA advisor will guide you through the course pre-approval process where you will determine which credits you will fulfill abroad.
| Term | Year | Application Deadline | Admission Notification | Program Start | Program End |
| --- | --- | --- | --- | --- | --- |
| Summerterm | 2018 | 03/15/2018 | 01/01/2018 | | |