UMD-Winter: India: International Opportunities in Information Studies (INST)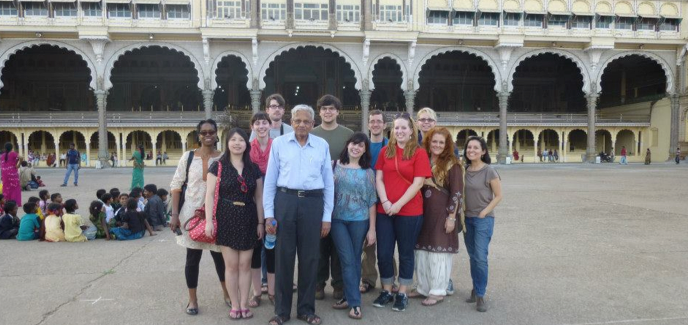 This program is a great opportunity to visit the citites of Bangalore and Mysore, India while understanding the culture from a developing country perspective. You will be able to meet and engage with your peers and citizens of India to develop and expose new perspectives on the information profession comprehending the differences between the developed and developing countries focusing on information management practices. This program will also give you an opportunity to understand the information management models to understand "outsourcing" and observe the role of tacit knowledge in oral societies.
With the Study Tour, you will develop a global view of information management.  Apply now to impact your understanding of a developing country overall and specifically of the challenges of development in your chosen professional fields, information management, librarianship, and information science.
You must be in good academic and judicial standing and you must not have any registration blocks to participate in this program. The minimum GPA for this program is listed above.
This course is for any UMD or non-UMD graduate student interested in understanding information management practices in developing countries.
After you commit to the program, Education Abroad will enroll you in the following three (3) credit UMD course:
INST 729: International Opportunities in Information Studies
The credit you earn during this program will count as resident credit.
In Bangalore we will be staying at XIME -- a business school. Executive accommodations will be provided with well furnished rooms with attached bath rooms. WI-FI is also available as well as other facilities: transportation, laundry, and requested meals.
In Mysore we will be staying at Infosys -- one of the leading consulting firms in the world -- and all facilities listed under XIME are also available here.
These costs are current for Winter 2017.
Billable Costs
Application Fee
$50
Program Fee
$2,549
This fee is collected in two installments: 1) $250 non-refundable deposit: Due by October 18th or within 48 hours of acceptance if accepted on or after that date 2) Remainder of program fee: Charged to your UMD account upon course registration and due December 20th.
The program fee includes: $250 deposit, International Health Insurance, tuition, housing, and Education Abroad services including registration, billing, advising, and pre-departure orientation.
Out-of-pocket Costs
Meals (estimate)
$50
Passport
$140
Visa
$0
Roundtrip Airfare (estimate)
$1,500
Optional activities/ incidental expenses (estimate)
$50 - $100
Optional International Trip Cancelation/Interruption Insurance (estimate)
$50
TOTAL ESTIMATED COST OF ATTENDANCE:
$4,389 - $4,439
NOTE: If you are a non-UMD graduate student, you will need to pay a $75 application fee to the UMD graduate school to participate in this program.
Please refer to the following resources for more information on funding study abroad
PLEASE NOTE: All University of Maryland study abroad programs are financially self-supporting and, therefore, subject to cancelation due to low enrollment.
Dr. Taverekere Srikantaiah (Kanti) had a distinguished career at the World Bank where he headed varied and important assignments in the areas of information and knowledge management at the World Bank's headquarters in Washington D.C., and as well as at several field offices in Africa and Asia. He was also the director and senior professor at the Center for Knowledge Management at Dominican University in Chicago. Currently, he is a visiting professor at the iSchool, University of Maryland. For several years, he has been involved in educational outreach programs in developing countries. He has taught at 12 universities in India and USA. In the U.S., he has worked at the Library of Congress as an area specialist, and as a professor at multiple universities.  He has given workshops in South Africa, Singapore, Thailand, China and India. His area of specialization includes Organization of Information, Management of Information Repositories, Environmental Scanning, Information Audit, Project Management and Knowledge Management.
For course, itinerary or in-country information, please contact the Program Director. For general questions or assistance with applying, contact EA Short-term Programs
As a part of this program, you will engage in the following activities:
Learn outsourcing activities by visiting leading consulting firms like Tata, Infosys, HCL, Happiest minds Technologies, etc.
Engage in guest lectures on innovation and leadership by the leading authorities in India.
Interact with local people and understand the importance of tacit knowledge.
Visit NGOs and understand their work in development
| Term | Year | Application Deadline | Admission Notification | Program Start | Program End |
| --- | --- | --- | --- | --- | --- |
| Winterterm | 2017 | 10/01/2016 | 10/11/2016 | 01/03/2017 | 01/17/2017 |