UMD-Summer: Austria: Salzburg Academy on Media and Global Change (JOUR/HONR/AMST/GVPT)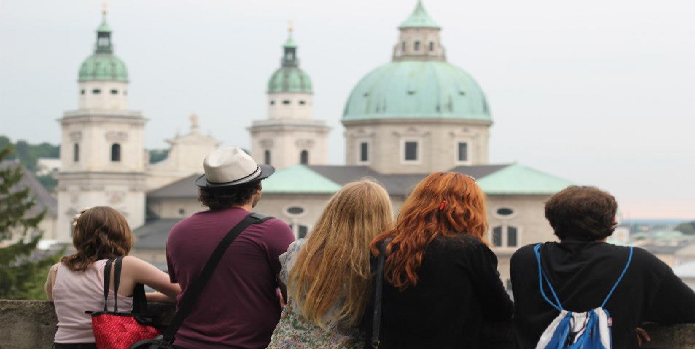 Take part in this three week program to explore how media can help solve global problems and empower social change. Live and work with faculty and undergraduate and graduate students from five continents. You will study, eat and live at Schloss Leopoldskron in Salzburg, Austria—an 18th-century Rococo palace built by the Prince Archbishop of Salzburg, owned by King Ludwig I of Bavaria, renovated by Max Reinhardt the founder of the Salzburg Music Festival, and filmed as the von Trapp home in "The Sound of Music." This 6-credit offering is unique among journalism programs in the world in its comparative approach to media research, story telling and digital design. If you are preparing for international employment or graduate studies you will find particularly valuable the combination of theory, concrete skill-building and international networking. Apply now to join a global network of young media innovators working to integrate current digital culture into the media industry.
For more information visit the program blog.
You must be in good academic and judicial standing and you must not have any registration blocks to participate in this program. The minimum GPA for this program is listed above.
All undergraduate and graduate students are eligible to participate in this program.
After you commit to the program, Education Abroad will enroll you in two of the following UMD courses for a total of six (6) credits:
Course 1: Global Media Literacy
You will choose to receive credit for one of the following:

JOUR434,
JOUR734
AMST369
HONR338B, or

Course 2: Global Change, Global Cooperation, Global News
You will choose to receive credit for one of the following:

JOUR435,
JOUR735,
GVPT399J, or
HONR338G
The courses your complete during this program will count as resident credit.
JOUR434 and 435 have been approved for the Diversity-Understanding Plural Societies and Scholarship in Practice requirements of the General Education program.
You will live in the beautifully renovated 17th-century Meierhof building and the world-renowned Schloss Leopoldskron, and 18th-century Rococo palace. Full board, including buffet-style breakfast, lunch and dinner, as well as coffee and tea breaks, will be provided.
The following budget is an estimate based on the costs for Summer 2015. Budgets are not yet available for Summer 2016 and will be updated in the coming weeks.
Billable Costs
Application Fee
$50
Program Fee
$6,455
This fee is collected in two installments: 1) $250 non-refundable deposit: Due by March 18th or within 48 hours of acceptance if accepted on or after that date 2) Remainder of program fee: Charged to the student's UMD account upon course registration. Due May 20th.

The program fee includes: $250 deposit, International Health Insurance, 3 credits of tuition, housing, all meals, weekly excursions, in country transportation, and Education Abroad services including registration, billing, advising, risk management, and pre-departure orientation.

Out-of-pocket Costs
Passport
$140
Roundtrip Airfare (estimate)
$1,500
Optional activities/ incidental expenses (estimate)
$450
TOTAL ESTIMATED COST OF ATTENDANCE:
$8,595
NOTE: If you are a non-UMD graduate student applying to this program, you will be required to submit a $75 application fee to the UMD Graduate School.
Please refer to the following resources for more information on funding study abroad
PLEASE NOTE: All University of Maryland study abroad programs are financially self-supporting and, therefore, subject to cancelation due to low enrollment.
Dr. Susan Moeller, Director of the International Center for media and the Public Agenda, will be the instructor of record. A graduate of Harvard and Yale universities and an author of a number of well-regarded books, Moeller is an expert in media and international affairs.
Dr. Paul Mihailidis, a professor at Emerson College, and one of the world's leading experts on media literacy, is the Academy director. Dr. Mihailidis has authored a number of publications on media education, global media, and higher education.
For course, itinerary or in-country information, please contact the Program Director. For general questions or assistance with applying, contact EA Short-term Programs
As a part of this program, you will engage in the following activities:
Lead global research projects on media literacy, engaged citizenship, and global participation.
Work with an international and interdisciplinary group of students and faculty.
Engage in a global and collaborative community as you discuss real world topics and potential innovations.
| Term | Year | Application Deadline | Admission Notification | Program Start | Program End |
| --- | --- | --- | --- | --- | --- |
| Summerterm | 2015 | 03/09/2015 | 02/09/2015 | 07/19/2015 | 08/09/2015 |