UMD-Summer: Israel: Ethiopian Immigrants in Israel: Children, Families and Education (EDCI)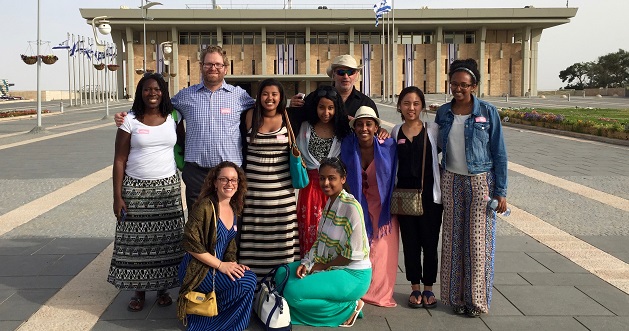 Before departing for Israel, we will investigate factual accounts of the Israeli government's 1984 airlifts (Operation Moses) of 8,000 Falashas or Beta Israel who were fleeing religious persecution, political instability, and famine in Ethiopia and the government's subsequent 1991 airlifts (Operation Solomon) of 14,000 additional Ethiopian Jews. During our 2 weeks in Israel, we will continue our study by reading about the government's efforts to integrate its new citizens into modern society and then by visiting selected programs, schools, community centers, youth villages, and neighborhoods. Additionally, we will meet Ethiopian immigrants to Israel and will be invited to interview them about their experiences (Translators will be present). We will stay in Haifa, Jerusalem, and Tel Aviv, with a day trip to Masada and the Dead Sea.
For more information, check out the program's video blog.
You must be in good academic and judicial standing and you must not have any registration blocks to participate in this program. The minimum GPA for this program is listed above.
All UMD and non-UMD undergraduate and graduate students are eligible to apply.
After you commit to the program, Education Abroad will enroll you in one of the following three (3) credit UMD courses:
EDCI 488K: From Ethiopia to Israel: Immigration, Education, and Acculturation
EDCI 788K: From Ethiopia to Israel: Immigration, Education, and Acculturation
AASP498V: 
The credit you earn during this program will count as resident credit.
You will be expected to participate in pre-departure meetings as well as readings in advance of the course.  There will also be a post-travel meeting during the Fall 2016 semester.
In Haifa and Jerusalem, you will stay in guest houses. You will will share rooms and bathrooms (3-4 to a room) and have access to a kitchen and meeting area. In Tel Aviv, you will stay in apartments and will have access to laundry machines.
 
Costs listed are for summer 2017.
Application Fee
$50
Billable Costs
Billable costs are charged to your student account. They are due based on the Bursar's payment schedule. Be sure to check your statements when they are available.
Education Abroad Fee
$500
This fee is charged to your account when the application status changes from "Accepted" to "Committed." This fee includes Education Abroad services including registration, billing, advising, risk management, and pre-departure orientation.
International Health Insurance
$40
Tuition
$1,630
This fee is charged to your UMD account upon course registration. This fee includes: Tuition, in-country transportation, course related activities, group meals, and teaching services.
Housing Fee
$980
This fee represents the housing provided during the program.
TOTAL PROGRAM FEE
$3.150
Out-of-pocket Costs
Meals (estimate)
$420
Visa
$0
Passport
$140
Roundtrip Airfare (estimate)
$1,100
Course Materials
$0
Optional Activities/incidental expenses
$50
Optional trip cancelation/interruption Insurance (estimate)
$180
TOTAL ESTIMATED COST OF ATTENDANCE:
$5,165
NOTE: If you are a non-UMD graduate student, you will need to pay a $75 application fee to the UMD graduate school to participate in this program.
Please refer to the following resources for more information on funding study abroad
PLEASE NOTE: All University of Maryland study abroad programs are financially self-supporting and, therefore, subject to cancelation due to low enrollment.
Dr. Melissa Landa is the Program Director. She received her B.A. from Oberlin College, her M.A. from Tufts University, and her Ph.D. in education from the University of Maryland. She is currently an Assistant Clinical Professor in the College of Education at the University of Maryland. Her teaching and research interests include early literacy, social identity, and language and culture. Melissa presents her work at national and international conferences, and her most recent publication appears in the journal, "Multicultural Perspectives." She has lived in South Africa, England, and Israel, and has visited Israel 14 times throughout her life. This is the third time Melissa is leading this study abroad program and is looking forward to another exciting experience.
Jennifer Albro is the Co-Director. Jennifer taught in Kansas City, Missouri, as a classroom teacher (2nd and 3rd grades) and as a reading specialist (5th and 6th grades). In 2011, she founded Pages & Chapters, a nonprofit empowering teachers to engage families in literacy. Jennifer has consulted for after-school literacy programs for foundations and nonprofits, supporting lesson plan development, goal-setting, and professional learning communities implementation. She holds a BS in interdisciplinary studies and early childhood education, an MA in holistic education, an MA in reading education, and is a PhD candidate in literacy education at the University of Maryland, College Park, in the department of Teaching and Learning, Policy and Leadership. In September 2015 Jennifer was honored by the International Literacy Association as one of their inaugural class of 30 Under 30 honorees in the field of literacy
For course, itinerary or in-country information, please contact the Program Director. For general questions or assistance with applying, contact EA Short-term Programs
As a part of this program, you will engage in the following activities:
Discussions with teachers, principals, students, government officials, artists, and Ethiopian immigrants to Israel.
Meetings with individuals in their homes, in schools, at a Youth Village,  an absorption center, an artists' workshop, and in public and private programs designed to support Ethiopian-Israeli students and professionals.
Participation in a traditional Friday night Sabbath meal, a tour of Jerusalem's Old City, climbing Masada, swimming in the Dead Sea, and lunch on a kibbutz.
Term
Year
Application Deadline
Admission Notification
Program Start
Program End
Summerterm
2017
03/21/2017
03/11/2017
05/23/2017
06/07/2017
There will also be a post-program meeting during the Fall 2017 semester.