UMD-Summer: Austria: Freud's Footsteps: Psychotherapy Then and Now (PSYC)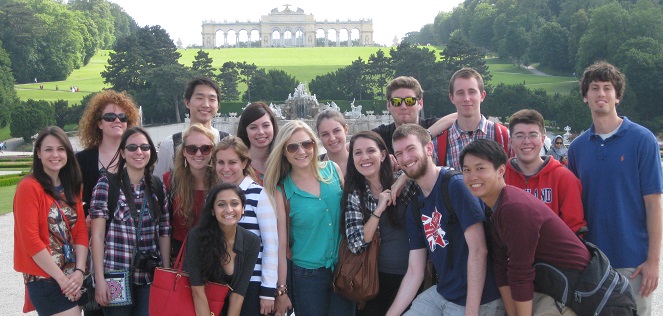 There is no better place to learn about the history and development of psychotherapy than the ancient, exciting "City of Dreams," Vienna, Austria, where Dr. Sigmund Freud established his "talking cure." Freud lived in Vienna for almost his entire life and practiced his own theory of psychoanalysis for nearly 50 years. On this program you will learn about the history of the mental health movement in Europe, the zeitgeist of the Austrian region and culture in the late 19th century and early 20th century, the life and contributions of Freud and other mental health practitioners of his time, and the changes to psychotherapy that have occurred in contemporary times. Overnight trips to Salzburg, Austria and Budapest, Hungary are included, as are a variety of cultural excursions, traditional meals, and sight-seeing opportunities. Come study psychology through the years, and explore beautiful Vienna with us!
You must be in good academic and judicial standing and you must not have any registration blocks to participate in this program. The minimum GPA for this program is listed above.
UMD and non-UMD freshmen, sophomores, juniors, seniors, and graduate students are eligible to apply. 
Successful completion of PSYC100 and STAT100 or PSYC200 (or comparable course) are required. 
If you are interested in this program but do not meet the eligibility requirements, reach out to the program director (listed in the Contacts tab) to discuss your interest in the program.
After you commit to the program, Education Abroad will enroll you in the following three (3) credit UMD course:
PSYC438F Psychotherapy Then and Now
The credit you earn during this program will count as resident credit.
You will stay in shared student apartments in Vienna, separated by gender. The apartments have kitchen facilities and internet.  On field trips, you will stay in shared rooms in local hotels/hostels.
The costs listed are for Summer 2017.
Application Fee
$50
Billable Costs
Billable costs are charged to your student account. They are due based on the Bursar's payment schedule. Be sure to check your statements when they are available.
Education Abroad Fee
$500
This fee is charged to your account when the application status changes from "Accepted" to "Committed." This fee includes Education Abroad services including registration, billing, advising, risk management, and pre-departure orientation.
International Health Insurance
$40
Tuition
$2,830
This fee is charged to your UMD account upon course registration. This fee includes: Tuition, in-country transportation, course related activities, group meals, and teaching services.
Housing Fee
$860
This fee represents the housing provided during the program.
TOTAL PROGRAM FEE
$4,230
Out-of-pocket Costs
Meals (estimate)
$400
Visa
$0
Passport
$140
Roundtrip Airfare (estimate)
$1,600
Course Materials
$60
Optional Activities/incidental expenses
$300
Optional trip cancelation/interruption Insurance (estimate)
$180
TOTAL ESTIMATED COST OF ATTENDANCE:
$7,035
NOTE: If you are a non-UMD graduate student, you will need to pay a $75 application fee to the UMD graduate school to participate in this program.
Please refer to the following resources for more information on funding study abroad
PLEASE NOTE: All University of Maryland study abroad programs are financially self-supporting and, therefore, subject to cancelation due to low enrollment.
Program Director Dr. Kevin McGann holds a Ph.D. in counseling psychology from the University of Maryland, College Park. He works for the Office of Undergraduate Studies in the Department of Psychology, providing advising and programming, and teaching courses for students. His primary teaching experiences include: Introduction to Psychology, Counseling Psychology, Career Development, and Cultural Competence in Counseling. He has eight years of experience providing psychotherapy to college students, adults, couples, and families, with experiences in college counseling and private practice settings. His interests in cultural psychology date back to his first experience studying abroad in Bangkok, Thailand and travelling throughout Southeast Asia. He has offered this same program previously in 2013, and he has experience facilitating other intensive immersion-learning experiences for college students.
Lori Kader, M.A., is the Assistant Director of Undergraduate Studies in the Department of Psychology and has been with the department for over 12 years. Lori is a proud Maryland alumnus and received her master's degree from George Washington University in Education and Human Development. For over 30 years, Lori has worked directly with college students at American University, University of North Carolina, UMDNJ, and University of Maryland. Lori is proud to be the recipient of the 2009 BSOS Outstanding Undergraduate Advisor Award. For years, Lori worked as a counselor for students with learning disabilities, and she has experiences teaching college courses related to learning and adjustment in college. Lori has traveled extensively throughout Europe, Israel and Canada. Several years ago, Lori visited UMD students at the Danish Institute for Study Abroad in Copenhagen, Denmark.
For course, itinerary or in-country information, please contact the Program Director. For general questions or assistance with applying, contact EA Short-term Programs.
As a part of this program, you will engage in the following activities:
Guided tour of Narrenturm, one of Europe's oldest inpatient psychiatric hospitals
Guided tour of the famous Schönbrunn Palace, former summer home of Habsburg royalty for over 300 years
Overnight trips to historic and beautiful Salzburg, Austria and Budapest, Hungary
Guest lectures from Austrian faculty and visits with local students in Vienna.
Cultural field trips around Vienna, including visits to the opera/symphony, Belvedere Palace, and historic restaurants and coffee houses
| Term | Year | Application Deadline | Admission Notification | Program Start | Program End |
| --- | --- | --- | --- | --- | --- |
| Summerterm | 2017 | 03/01/2017 | 03/11/2017 | 06/05/2017 | 06/29/2017 |