UMD-Summer: Italy: Architecture, Urbanism and Landscape (ARCH)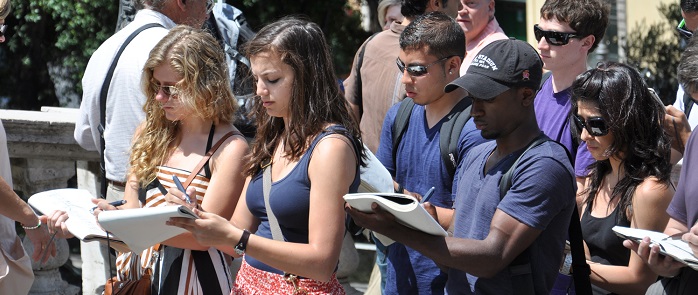 Students  will gain exposure to the architectural, landscape, urbanistic, and artistic traditions of Italy, which are considered by many academics to be at the foundations of these disciplines. 
In Italy we will explore Rome, Florence, Vicenza, and Como and learn by direct exposure to architectural, landscape, and urban sites. 
All coursework will be conducted on-site, directly in the buildings, gardens, piazzas and cities being studied. 
Students will be enrolled in the following courses for a total of six (6) UMD credits: ARCH448V/648V and ARCH478R/678R. 
You must be in good academic and judicial standing and you must not have any registration blocks to participate in this program. The minimum GPA for this program is listed above.
This program is only open to undergraduate Architecture majors and/or graduate students of architecture enrolled in the M.Arch program.
Undergraduates must have successfully completed ARCH 400 Architecture Design Studio I to be eligible. All graduate students of architecture are eligible.
After you commit to the program, Education Abroad will enroll you in the following courses for a total of six (6) UMD credits:
ARCH 448V/648V: Selected Topics in Visual Studies in Architecture - The Building and the City
ARCH 478R/678R: Selected Topics in Architecture - Representation & Inquiry
The credit you earn during this program will count as resident credit.
Students will be expected to participate in pre-departure meetings, lectures, as well as readings in advance of the course.
The class will be housed in shared accommodations, either apartments or hotels.
Costs listed are for summer 2017.
Application Fee
$50
Billable Costs
Billable costs are charged to your student account. They are due based on the Bursar's payment schedule. Be sure to check your statements when they are available.
Education Abroad Fee
$500
This fee is charged to your account when the application status changes from "Accepted" to "Committed." This fee includes Education Abroad services including registration, billing, advising, risk management, and pre-departure orientation.
International Health Insurance
$80
Tuition
$4,923
This fee is charged to your UMD account upon course registration. This fee includes: Tuition, in-country transportation, course related activities, group meals, and teaching services.
Housing Fee
$1,797
This fee represents the housing provided during the program.
TOTAL PROGRAM FEE
$7,300
Out-of-pocket Costs
Meals (estimate)
$900
Passport
$140
Roundtrip Airfare (estimate)
$1,500
Optional Activities/incidental expenses
$300
Optional trip cancelation/interruption Insurance (estimate)
$180
TOTAL ESTIMATED COST OF ATTENDANCE:
$10,095
NOTE: If you are a non-UMD graduate student, you will need to pay a $75 application fee to the UMD graduate school to participate in this program.
Please refer to the following resources for more information on funding study abroad
PLEASE NOTE: All University of Maryland study abroad programs are financially self-supporting and, therefore, subject to cancelation due to low enrollment.
Michael Ambrose, AIA is the Associate Program Director of Architecture and will lead the students throughout the program and teach one of the courses. Italian Architect, and Kea Distinguished Professor of Architecture Filippo Caprioglio will be teaching one of the courses. Both Professors Ambrose and Caprioglio have years of experience teaching design studios and education abroad courses in Italy. 
For course, itinerary or in-country information, please contact the Program Director. For general questions or assistance with applying, contact EA Short-term Programs
As a part of this program, you will engage in the following activities:
Visit important cultural sites.
Take part in an annual education abroad show in the Kibel / Linear Gallery at the School of Architecture, Planning, and Preservation.
| Term | Year | Application Deadline | Admission Notification | Program Start | Program End |
| --- | --- | --- | --- | --- | --- |
| Summerterm | 2017 | 03/15/2017 | 03/11/2017 | 05/25/2017 | 07/07/2017 |