UMD-Winter: Southeast Asia: Global Immersion Experience (CPSP/HONR)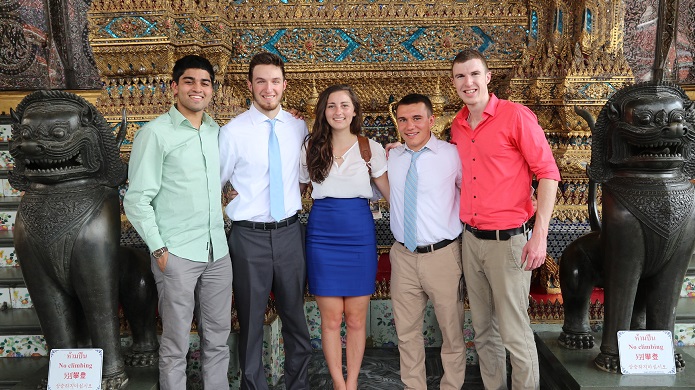 Southeast Asia is a fascinating and important region of the world, characterized by remarkable diversity in culture, history, politics, and social dynamics. This global immersion experience to Southeast Asia highlights the diversity and commonalities of the region in terms of political systems, business practices, and modernization trends, religious traditions, ethnic identities, foodways, emerging social issues and dominant cultural systems. As part of the program, you will visit various cultural and business centers in order to gain firsthand knowledge about the transformation of Singapore, Malaysia, Thailand, and Vietnam as increasingly important players in regional and international affairs. Last year's visits included those to companies such as the Housing Development Board, International Flavors and Fragrances, Petronas, Royal Selangor, AirAsia, A*STAR and Fusion World, Yahoo, Marina Bay Sands, Singapore Airlines, APL, Universal Studios, ESPN, and BHP Billiton and cultural centers such as the Singapore Zoo, Singapore Flyer, DUKw Tours, Parliament of Singapore, Food Playground, Gardens by the Bay, Siloso Beach, Asian Civilizations Museum, Singapore National Museum, and Kuala Gandah Elephant Sanctuary. This program will travel to Singapore, Kuala Lumpur in Malaysia, Ho Chi Minh City in Vietnam, and Bangkok, Chaing Mai, and Phuket in Thailand.
 
You must be in good academic and judicial standing and you must not have any registration blocks to participate in this program. The minimum GPA for this program is listed above.
All UMD students are eligible to apply.
Pre­departure meetings will be held. The tentative dates are: 11/8 11/15 11/29 12/6. The purpose of these pre­departure meetings is to orient and prepare the students for both the culture and business environment they will experience. In preparation for the trip the students will get an overview of each country, have guest speakers about the current business climate they will experience and be required to complete course readings and videos. 
Cities:
Bangkok 
Phuket, 
Kuala Lumpur  
Singapore, 
Phnom Penh, 
Ho Chi Minh City, 
* The list of Cities may change given unforeseen situations such as new travel warning, changing political conditions, risk management issues, etc.   
At the end of the study trip, each participant will complete a final exam and a reflection/study trip journal. A final class session will take place where they must submit their work and discuss the lessons learned from the course.
If you are interested in this program but do not meet the eligibility requirements, reach out to the program director (listed in the Contacts tab) to discuss your interest in the program.
After you commit to the program, Education Abroad will enroll you in one of the following three (3) credit UMD courses:
CPSP 379M - Advanced Practicum: Study Abroad
HONR 348C - Advanced Honors Seminar 
The credit you earn during this program will count as resident credit.
CPSP 379M is approved for the Understanding Plural Societies (DVUP) General Education requirement.
You will be required to attend pre-departure meetings to became familiar with Singaporean and Malaysian news issues and concerns, challenges and opportunities of doing business in South East Asia, and its business environment.
 
You will stay in shared accomodations in hotels throughout the program.
Costs are current for winter 2018.
Application Fee
$50
Billable Costs
Billable costs are charged to your student account. They are due based on the Bursar's payment schedule. Be sure to check your statements when they are available.
Education Abroad Fee
$500
This fee is charged to your account when the application status changes from "Accepted" to "Committed." This fee includes Education Abroad services including registration, billing, advising, risk management, and pre-departure orientation.
International Health Insurance
$37
Tuition
$1,992
This fee is charged to your UMD account upon course registration. This fee includes: Tuition, in-country transportation, course related activities, group meals, and teaching services.
Housing Fee
$966
This fee represents the housing provided during the program.
TOTAL PROGRAM FEE
$3,495
Out-of-pocket Costs
Meals (estimate)
$200
Visa
$50
Passport
$140
Roundtrip Airfare (estimate)
$1,300
Course Materials
$0
Optional Activities/incidental expenses
$300
Optional trip cancelation/interruption Insurance (estimate)
$180
TOTAL ESTIMATED COST OF ATTENDANCE:
$5,715
NOTE: If you are a non-UMD graduate student, you will need to pay a $75 application fee to the UMD graduate school to participate in this program.
Please refer to the following resources for more information on funding study abroad
PLEASE NOTE: All University of Maryland study abroad programs are financially self-supporting and, therefore, subject to cancelation due to low enrollment.
Dr. Mark H. Wellman is currently a faculty member in the Department of Management and Organization at the University of Maryland's Robert H. Smith School of Business and he serves as director of the College Park Scholars Business, Society and Economy (BSE) program. Dr. Wellman is recognized for his innovative courses and his memorable, relevant experiences outside of the classroom. He has designed global study courses to the United Arab Emirates, Singapore, Malaysia, and Australia as the faculty director for the programs, and over 425 students have participated in his global immersion programs since 2009.  He is the recipient of many honors, including the prestigious University of Maryland Brit Kirwan Award and the Outstanding Faculty Educator Award.
For course, itinerary or in-country information, please contact the Program Director. For general questions or assistance with applying, contact EA Short-term Programs.
As a part of this program, you will engage in the following activities:
Pre-departure guest lectures from leading experts and a trip the Embassy of the Republic of Singapore in Washington, D.C.
Organizational visits to the Housing Development Board, International Flavors and Fragrances, Petronas, Royal Selangor, AirAsia, A*STAR and Fusion World, Yahoo, Marina Bay Sands, Singapore Airlines, APL, Universal Studios, ESPN, and BHP Billion.
Cultural visits to the Singapore Zoo, Singapore Flyer, DUKw Tours, Parliament of Singapore, Food Playground, Gardens by the Bay, Siloso Beach, Asian Civilizations Museum, Singapore National Museum, and Kuala Gandah Elephant Sanctuary.
Kayaking and scuba diving in Phuket, Thailand
| Term | Year | Application Deadline | Admission Notification | Program Start | Program End |
| --- | --- | --- | --- | --- | --- |
| Winterterm | 2018 | 10/01/2017 | 09/01/2017 | 12/29/2017 | 01/15/2018 |