UMD-Spring Break: Cuba: International Investigations in Cuban Education (EDHI)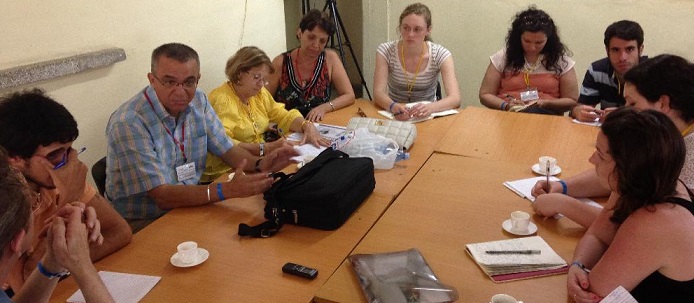 Immerse yourself in the complex global education and social issues facing the world today by participating in International Investigations in Cuban Education. In this program, which takes place in Havana, you will have the opportunity to conduct international research related to your academic interests and receive feedback from an international audience. The workshop style of the program allows you to engage with local Cuban educators through scholarly lectures, collaborative exchanges, interviews, and site visits.
You must be in good academic and judicial standing and you must not have any registration blocks to participate in this program. The minimum GPA for this program is listed above.
UMD graduate students are eligible to apply.
This program is ideal for graduate students who wish to conduct research alongside Cuban educators. While students from all majors within the College of Education, Anthropology, Latin American Studies, and Public Policy will be given preference, all majors are welcome to apply. You must be open to engaging with the complex issues involving global education policy.  Knowledge of Spanish is not required but preferred.
After you commit to the program, Education Abroad will enroll you in the following three (3) credit UMD course:
EDHI788X: Special Topics in Education Policy and Administration: International Investigations in Cuban Education
The credit you earn during this program will count as resident credit.
After admission to the program, you will meet with the faculty director to discuss course requirements and the research component of the course. This program also includes two pre-trip sessions and an online course space to facilitate pre-departure discussions and provide context for the course content.
The course will meet once upon return to the US.
You will stay in shared hotel accommodations. Internet access is limited.
Costs are current for Spring Break 2018.
Application Fee
$50
Billable Costs
Billable costs are charged to your student account. They are due based on the Bursar's payment schedule. Be sure to check your statements when they are available.
Education Abroad Fee
$500
This fee is charged to your account when the application status changes from "Accepted" to "Committed." This fee includes Education Abroad services including registration, billing, advising, risk management, and pre-departure orientation.
International Health Insurance
$22
Tuition
$1,078
This fee is charged to your UMD account upon course registration. This fee includes: Tuition, in-country transportation, course related activities, group meals, and teaching services.
Housing Fee
$1,050
This fee represents the housing provided during the program.
TOTAL PROGRAM FEE
$2,650
Out-of-pocket Costs
Meals (estimate)
$200
Visa
$0
Passport
$140
Roundtrip Airfare (estimate)
$500
Course Materials
$50
Optional Activities/incidental expenses
$25
Optional trip cancelation/interruption Insurance (estimate)
$180
TOTAL ESTIMATED COST OF ATTENDANCE:
$3,795
NOTE: If you are a non-UMD graduate student, you will need to pay a $75 application fee to the UMD graduate school to participate in this program.
Please refer to the following resources for more information on funding study abroad
PLEASE NOTE: All University of Maryland study abroad programs are financially self-supporting and, therefore, subject to cancelation due to low enrollment.
Taylor C. Woodman is a Ph.D. student of International Education Policy at UMD. He received his M.A. in International Education Policy from UMD. He has taught courses on topics such as; Issues in Study Abroad and International Exchanges and Cultural Practices of American Higher Education Institutions. He has worked in the field of International Education for six years and specializes in nontraditional locations and underrepresentation in Education Abroad. Taylor is no stranger to study abroad. He studied abroad in South Africa, Senegal, Brazil, Argentina and Cuba and led his own study abroad courses in Ghana, Dominican Republic and Cuba. He is excited to connect educators across borders to share in best international practices of education research.
For course, itinerary or in-country information, please contact the Program Director. For general questions or assistance with applying, contact EA Short-term Programs
As a part of this program, you will engage in the following activities:
Visits to schools, research centers, and institutions of higher education
Workshops on education practices, policies and research methods
Lectures from Cuban and American scholars
| Term | Year | Application Deadline | Admission Notification | Program Start | Program End |
| --- | --- | --- | --- | --- | --- |
| Spring Break | 2018 | 10/15/2017 | 10/11/2017 | 02/17/2018 | 02/25/2018 |