UMD-Summer: United Kingdom: Great Cathedral Libraries of England (INST)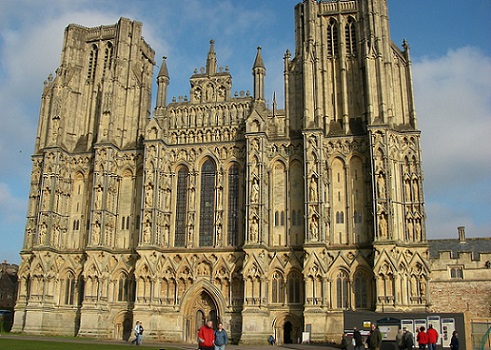 We will visit  Canterbury Cathedral, Exeter Cathedral, Hereford Cathedral, York Minster, Lambeth Palace, and Westminster Abbey where we will go behind the scenes to meet with the professional librarians and archivists. Students will learn about the history of cathedral libraries in England, special collections within the libraries, and the libraries' roles in contemporary cathedral life. We will learn about and view rich treasures of western history that have been collected, preserved, and guarded by the libraries for more than 1,000 years. 
English cathedrals are significant in historical, architectural, artistic and archaeological senses -- Canterbury Cathedral and Westminster Abbey have been designated by UNESCO as World Heritage Sites; but English Cathedrals are not museums. Each is the active central church for its diocese and a focal point for larger communities. The cathedrals continue to grow and change, which makes their libraries especially interesting to study as they develop new ways to preserve and make their unique collections accessible to 21st century users.
Check out the program blog from the summer 2016 cohort. 
You must be in good academic and judicial standing and you must not have any registration blocks to participate in this program. The minimum GPA for this program is listed above.
UMD and non-UMD graduate students are eligible to apply to this program. Preference will be given to students in the MLS degree program or history master's program. Graduate students in English and Cultural Studies may find the course useful as well. Alumni and other individuals with graduate education in library and information studies, history, or other relevant fields are eligible to apply, as well.
After you commit to the program, Education Abroad will enroll you in the following three (3) credit UMD course:
INST 729E: International Opportunities in Information Studies: Great Cathedral Libraries of England
The credit you earn during this program will count as resident credit.
You will stay in hotels for the duration of the program.
These costs are current for Summer 2017.
Application Fee
$50
Billable Costs
Billable costs are charged to your student account. They are due based on the Bursar's payment schedule. Be sure to check your statements when they are available.
Education Abroad Fee
$500
This fee is charged to your account when the application status changes from "Accepted" to "Committed." This fee includes Education Abroad services including registration, billing, advising, risk management, and pre-departure orientation.
International Health Insurance
$40
Tuition
$2,050
This fee is charged to your UMD account upon course registration. This fee includes: Tuition, in-country transportation, course related activities, group meals, and teaching services.
Housing Fee
$1,385
This fee represents the housing provided during the program.
TOTAL PROGRAM FEE
$3,975
Out-of-pocket Costs
Meals (estimate)
$200
Passport
$140
Roundtrip Airfare (estimate)
$1,000
Optional Activities/incidental expenses
$200
Optional trip cancelation/interruption Insurance (estimate)
$50
TOTAL ESTIMATED COST OF ATTENDANCE:
$5,690
NOTE: If you are a non-UMD graduate student, you will need to pay a $75 application fee to the UMD graduate school to participate in this program.
Please refer to the following resources for more information on funding study abroad
PLEASE NOTE: All University of Maryland study abroad programs are financially self-supporting and, therefore, subject to cancelation due to low enrollment.
Dr. Ann Carlson Weeks, Program Director,  was co-instructor of the very successful offerings of this course in 2015 and 2016 and will serve as the primary instructor for 2017.  Dr. Weeks created the graduate level Education Abroad class for the iSchool and, in addition to the course in England, Dr. Weeks has organized and led Maryland Education Abroad courses to Nicaragua, Germany, Namibia, and Russia.  In addition to the Maryland courses, she also has led delegations of library professionals to China, Cuba, South Africa, and Russia. She has extensive experience in librarianship and library education.
Dr. Diane L. Barlow designed and directed the Great Cathedral Libraries course in 2015 and 2016 and will be co-instructor in 2017. She has extensive experience in librarianship and library education. She is currently concentrating on writing about the history of librarianship and selected current issues  in the field.  
Both instructors have developed deep professional relationships with experts in the cathedral library community in England as the course has evolved since planning began in 2014.
For course, itinerary or in-country information, please contact the Program Director. For general questions or assistance with applying, contact EA Short-term Programs
As a part of this program, you will engage in the following activities:
Behind-the-scene visits to some of the oldest libraries in western culture.
Introductory lecture by Dr. David Shaw, noted bibliographer and historian. 
 In-depth investigation of topics of individual or small team interest. 
Tours of some of the great historic buildings in England. 
Tours of Canterbury and York and visits to museums in those cities and London.
| Term | Year | Application Deadline | Admission Notification | Program Start | Program End |
| --- | --- | --- | --- | --- | --- |
| Summerterm | 2017 | 03/15/2017 | 03/11/2017 | 06/03/2017 | 06/16/2017 |