UMD-Summer: Iceland: The NABO Gufuskalar Historical Ecology Fieldschool (ANTH)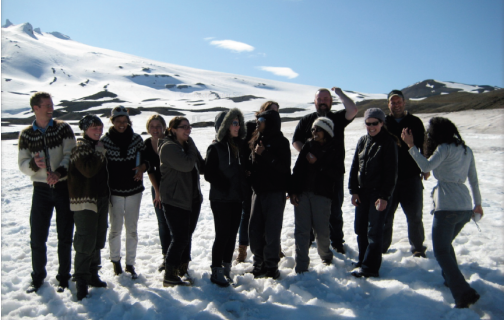 Interested in learning how to do Field Archaeology? Interested in Environmental Science, Medieval and Early Modern History, Geology, and/or Marine Biology? Ever wanted to go to Iceland? Then apply for the NABO Gufuskalar Fieldschool in Iceland. Centered on the excavation of the site of Gufuskalar at the end of the Snæfellsnes Peninsula about 2 hours north of Reykjavik, this fieldschool will train you in archaeological field methods, as well as introduce you to a variety of environmental science issues dealing with everything from fisheries management to how past cultures survived previous episodes of climate change. You will learn how to excavate using the single-context excavation method. You will learn how to record all the data that you produce through excavation. Mapping as well as accurate drawing of layers and profiles will be taught. The opening and closing of an archaeological site will also be included in the training. You will participate in post-excavation field conservation and artifact recording methods. Gufuskalar has some of the best preservation of artifacts and faunal material in Iceland and you will obtain a basic knowledge of medieval and early modern artifacts as well as of faunal analysis. The site of Gufuskalar was inhabited from the 10th century until the middle of the 20th century but our excavation activities will concentrate on the early Settlement Period farm (10th-11th centuries) and on the High Medieval and Early Modern Period fishing station (13th-18th centuries).
A team of experienced excavators from a variety of US and European Universities, who have been working this site for the last 6 years will guide your field training. You will also work with a variety of specialists who will come through the site to engage in their particular specialties, such as geoarchaeology and mapping using GPS and drones. There will be a series of specialists who will give guest lectures on subjects such as the use of ancient DNA to assist present day fisheries managers, the colonization of Iceland by humans in the 9th century, the place of medieval and early modern Iceland in the wider world, the birth of a commodity based economy and long distance trade system in Iceland during the Medieval Period, and the complex interplay between human and natural systems that can be revealed through archaeological data.
The site itself is located below the Snæfellsjökul Glacier at the end of a peninsula formed by volcanic activity. When we are not excavating we will visit the glacier, a local volcanic lava cave, as well as some of the local villages. We will go to hot springs and Icelandic hot baths as much as we possibly can (there is nothing nicer after a long day of excavation than sitting in a geothermal hot tub). We will take a tour of some of the outlying islands as well as visit some of the areas better museums and cultural centers. The Snæfellsnes Peninsula is one of the most beautiful areas in Iceland. The glacier and the lava fields create an extraordinary backdrop for work and we often have maritime visitors in the form of seals and the occasional pod of orcas who come visit the site. It is the sub-arctic and conditions can get nasty, even in July, but it is a beautiful location and a superb archaeological site.
If you like hard work and the outdoors, interesting and cutting edge scholarship, beautiful and dramatic landscapes, and want the experience of working in Iceland then please send in an application for the NABO Gufuskalar Historical Ecology Fieldschool.
For more information about the NABO Gufuskalar Fieldschool, visit the program website and Facebook page.
You must be in good academic and judicial standing and you must not have any registration blocks to participate in this program. The minimum GPA for this program is listed above.
All UMD and non-UMD freshmen, sophomores, juniors, seniors and graduate students are eligible to apply.
If you are interested in this program but do not meet the eligibility requirements, reach out to the program director (listed in the Contacts tab) to discuss your interest in the program.
After you commit to the program, Education Abroad will enroll you in the following six (6) credit UMD course:
ANTH 496: Historical Ecology and Field Methods in Archaeology at Gufuskalar Iceland
The credit you earn during this program will count as resident credit.
There will be a pre-departure orientation on May 1st, 2017. 
You will be staying in apartments either at a facility right next to the excavation site or in rented houses in the local town of Hellissandur (about 5 minutes away from the site by car). You will be sharing rooms with other field school participants. Meals will be tasty and ample and will be communal in terms of their preparation, eating and clean-up.
Costs listed are for summer 2016. The updated budget for summer 2017 will be published when available.
Application Fee
$50
Billable Costs
Billable costs are charged to your student account. They are due based on the Bursar's payment schedule. Be sure to check your statements when they are available.
Education Abroad Fee
$500
This fee is charged to your account when the application status changes from "Accepted" to "Committed." This fee includes Education Abroad services including registration, billing, advising, risk management, and pre-departure orientation.
International Health Insurance
$40
Tuition
$2,410
This fee is charged to your UMD account upon course registration. This fee includes: Tuition, in-country transportation, course related activities, group meals, and teaching services.
Housing Fee
$800
This fee represents the housing provided during the program.
TOTAL PROGRAM FEE
$3,750
Out-of-pocket Costs
Meals (estimate)
$100
Passport
$140
Roundtrip Airfare (estimate)
$900
Optional Activities/incidental expenses
$200
Optional trip cancelation/interruption Insurance (estimate)
$50
TOTAL ESTIMATED COST OF ATTENDANCE:
$5,190
NOTE: If you are a non-UMD graduate student, you will need to pay a $75 application fee to the UMD graduate school to participate in this program.
Please refer to the following resources for more information on funding study abroad
PLEASE NOTE: All University of Maryland study abroad programs are financially self-supporting and, therefore, subject to cancelation due to low enrollment.
Dr. George Hambrecht is the Program Director and an assistant professor in the Anthropology Department at the University of Maryland, College Park. He is an archaeologist specializing in environmental archaeology and zooarchaeology. Dr. Hambrecht has worked on archaeological excavations in Iceland for over 12 years. He has lead field schools in Iceland as well as the Carribbean. He has worked extensively on the Gufuskalar site which is probably his favorite archaeological site in the North Atlantic.
Kevin Gibbons is a PhD candidate in the Anthropology Department at the University of Maryland, College Park. He holds a MS in Environmental Archaeology from the University of Sheffield in the UK. His BA, from the University of Georgia was in Archaeology. He has worked in excavations in the US, Iceland, the UK, and the Caribbean. Kevin has assisted in running fieldschool in Georgia and the UK.
Frank Feeley is a PhD candidate in Anthropology at the Graduate Center of the City University of New York. Frank is an experienced excavator who has worked in the US, the Caribbean, Scotland, Iceland and Greenland. Frank is co-Director of the Gufuskalar excavations and has trained numerous undergraduates as well as graduate students in archaeological methods and in historical ecology method and theory.
For course, itinerary or in-country information, please contact the Program Director. For general questions or assistance with applying, contact EA Short-term Programs.
As a part of this program, you will engage in the following activities:
Hands on training in archaeological field methods.
Guest lectures by scholars in a variety of fields covering archaeology, history, and environmental science.
Excursions to volcanic hot springs, a glacier, historical sites, and a variety of natural wonders and curiosities.
Work with Icelandic and European scholars in the fields of archaeology and environmental science.
Work in between the North Atlantic, the Snæfellsjökul Glacier, and miles of lava flows.
| Term | Year | Application Deadline | Admission Notification | Program Start | Program End |
| --- | --- | --- | --- | --- | --- |
| Summerterm | 2017 | 03/01/2017 | 03/11/2017 | 06/11/2017 | 07/03/2017 |