UMD-Summer: Greece: Cities and Sanctuaries of Ancient Greece (ARCH)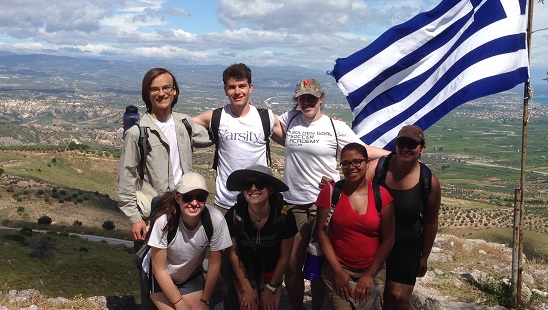 Take part in an archaeological project focused in Greece. You will begin your assignments during the spring semester by reviewing data collected on site and completing readings. The class will introduce you to the architecture of ancient Greece from the Late Bronze Age into the Byzantine period. We will learn about the monuments by traveling through the Greek countryside and visiting the sites. Once in Greece, you will record various monuments on the site. Visits to Athens, Corinth, Mycenae, Tiryns, Tolo, Epidauros, Nafplion, Nemea, Mistras, Messene, Olympia, Patras, and Delphi will augment our archaeological investigations.
You must be in good academic and judicial standing and you must not have any registration blocks to participate in this program. The minimum GPA for this program is listed above.
Sophomores, juniors, seniors, and graduate students are eligible to apply for this program.
After you commit to the program, Education Abroad will enroll you in one of the following three (3) credit UMD courses:
ARCH 428: The Architecture of Ancient Greece
ARCH 628: The Architecture of Ancient Greece
The courses your complete during this program will count as resident credit.
Sophomores, juniors, seniors, and graduate students are eligible to apply.
You will stay in hotels in shared accommodations.  All breakfasts, several picnic lunches, and several dinners are included.
Costs listed are for summer 2017.
Application Fee
$50
Billable Costs
Billable costs are charged to your student account. They are due based on the Bursar's payment schedule. Be sure to check your statements when they are available.
Education Abroad Fee
$500
This fee is charged to your account when the application status changes from "Accepted" to "Committed." This fee includes Education Abroad services including registration, billing, advising, risk management, and pre-departure orientation.
International Health Insurance
$40
Tuition
$2,184
This fee is charged to your UMD account upon course registration. This fee includes: Tuition, in-country transportation, course related activities, group meals, and teaching services.
Housing Fee
$886
This fee represents the housing provided during the program.
TOTAL PROGRAM FEE
$3,610
Out-of-pocket Costs
Meals (estimate)
$150
Course Materials
$25
Passport
$140
Roundtrip Airfare (estimate)
$1,000
Optional Activities/incidental expenses
$100
Optional trip cancelation/interruption Insurance (estimate)
$180
TOTAL ESTIMATED COST OF ATTENDANCE:
$5,330
NOTE: If you are a non-UMD graduate student applying to this program, you will be required to submit a $75 application fee to the UMD Graduate School.
Please refer to the following resources for more information on funding study abroad
PLEASE NOTE: All University of Maryland study abroad programs are financially self-supporting and, therefore, subject to cancelation due to low enrollment.
Professor R. Lindley Vann of the UMD School of Architecture, Planning, and Preservation. Prof. Vann is an expert in architectural history, teaching both general survey courses, and also upper division and graduate classes in the fields of Greek, Roman, Islamic, and Pre-Columbian architecture. He has excavated at Sardis (Turkey), Carthage (Tunisia), Humeima (Jordan), and Sigiriya (Sri Lanka); co-directed underwater excavations in the harbor of Herod the Great at Caesarea (Israel); and since 1991 has directed the University of Maryland Survey of Ancient Harbors in Turkey. Beginning in 2001 he has also co-directed projects in Pompeii and Stabia (Italy). Professor Vann has led study abroad courses to Mexico, Peru, Vietnam, Cambodia, Thailand and Myanmar, Italy, and Egypt.
For course, itinerary or in-country information, please contact the Program Director. For general questions or assistance with applying, contact EA Short-term Programs
As a part of this program, you will engage in the following activities:
The landscape: We spend most of our time touring the countryside visiting the various historic sites. The mountainous topography of Greece is an endless source of beauty.
The sea: We will spend several days during the third week visiting some of the Greek islands, taking ferries to and from the port of Pireaeus.
Greek food al fresco: Shish kebobs, gyros, fish, and the ever-present Greek salad all taste better when you are eating out-of-doors. This hold true for a picnic or two that we usually prepare for ourselves along the way.
The antiquities: Travelers have been attracted to Greece for centuries by the monumental remains of the ancient world. We will see the most famous buildings like the Parthenon in Athens and the Temple of Zeus in the sanctuary at Olympia. We will visit the most important museums in the country with their treasures of marble and bronze sculpture.
Greece in Perspective: Our focus is on the ancient world but as we travel through Greece we will be introduced to many other phases of its history, culture, and music.
| Term | Year | Application Deadline | Admission Notification | Program Start | Program End |
| --- | --- | --- | --- | --- | --- |
| Summerterm | 2017 | 03/15/2017 | 03/11/2017 | 06/03/2017 | 06/16/2017 |