UMD-Summer: Indonesia: Community Resilience Internship Program (START)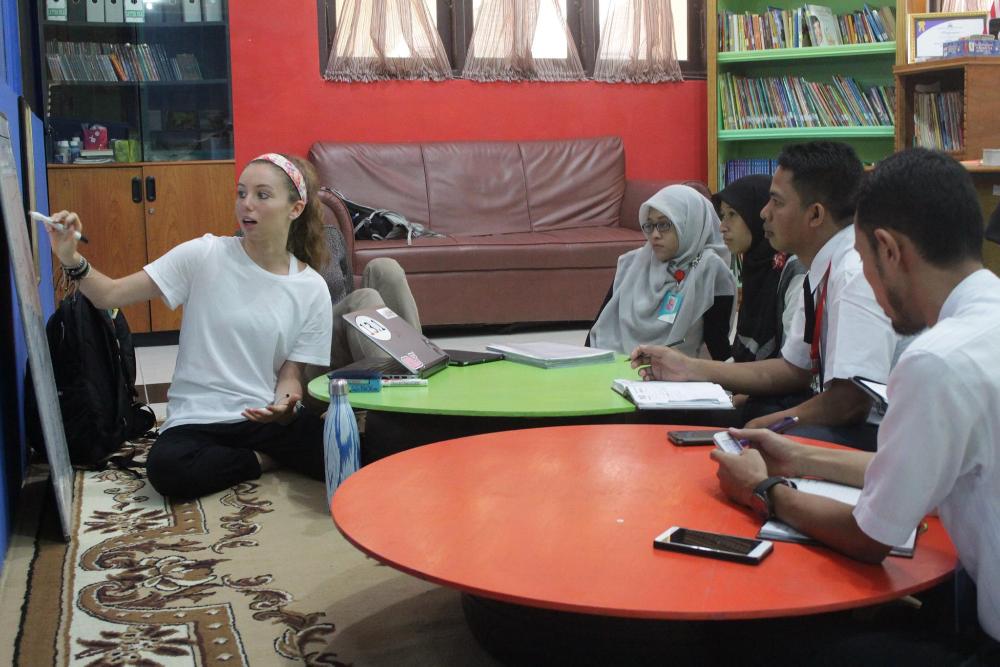 START Community Resilience Internship Program offers a unique opportunity for students who are studying community resilience and violent extremism and are interested in becoming practitioners in the field of Countering Violent Extremism (CVE) to build their professional and cross-cultural skill-sets in Indonesia this summer. While studying principles and practices of CVE and gaining a background in international development and citizen diplomacy, students will spend seven weeks in Yogyjakarta, interning with a combination of an interfaith non-governmental organization, boys and girls madrasas (religious schools), and the Indonesian version of planned parenthood. Working in small groups of three to five, students will engage in a series of concrete two-week projects that support the operations and programs of these partner organizations. Examples of projects include supporting interfaith workshops, administering English language and culture clubs for more than 500 madrasa students (most of whom have never met an American before), and compiling analytical reports on public health challenges in Indonesia. Through this innovative internship, students will earn 6 credits while they develop professional skill sets in communications, research, and analysis and reporting that will be building blocks for future careers in government or the not-for-profit sector. At the same time, students will study Bahasa Indonesian language, engage in cultural activities, and learn about Islamic culture in Southeast Asia through an array of seminars at Gadjah Mada University and cultural exchanges. This internship will also include opportunities to meet with Indonesian experts on terrorism and other forms of political violence. This class is limited to 15 students for the summer of 2017 and requires a 10-week commitment, with course work beginning prior to students' departure for Indonesia.
This program is open to all students. Non-UMD students may apply to participate through the University of Maryland's Office of Education Abroad and will earn UMD credit which can transfer back to their home institution. Students may earn graduate or undergraduate credit, depending on their course standing.
Students must have at least a 2.75 to participate and you must be in good academic and judicial standing with your university in order to participate.
Successful participants will earn 6-credits at the graduate or undergraduate level depending on their course standing from the Terrorism Studies Department of the University of Maryland. The course is coordinated online through web-meeting platforms and the University's ELMS course space. There are required pre- and post-program activities.
Students are housed either in dormitories on the campus of an AUA partner university or in private group housing arranged through the program.
In Indonesia, students live in double occupancy rooms at a guest house near the campus of Gadjah Mada University in Yogyjakarta. Each room is equipped with air conditioning, a bathroom, a mini-fridge, and wi-fi access. There is also a communal kitchen and cleaning services.
The updated budget for summer 2017 will be published when available.
Application Fee
$50
Billable Costs
Billable costs are charged to your student account. They are due based on the Bursar's payment schedule. Be sure to check your statements when they are available.
Education Abroad Fee
$500
This fee is charged to your account when the application status changes from "Accepted" to "Committed." This fee includes Education Abroad services including registration, billing, advising, risk management, and pre-departure orientation.
International Health Insurance
$40
Tuition
$TBD
This fee is charged to your UMD account upon course registration. This fee includes: Tuition, in-country transportation, course related activities, group meals, and teaching services.
Housing Fee
$TBD
This fee represents the housing provided during the program.
TOTAL PROGRAM FEE
$6,220
Out-of-pocket Costs
Meals (estimate)
$TBD
Passport
$140
Roundtrip Airfare (estimate)
$2,100
Optional Activities/incidental expenses
$TBD
Optional trip cancelation/interruption Insurance (estimate)
$50
TOTAL ESTIMATED COST OF ATTENDANCE:
$TBD
NOTE: If you are a non-UMD graduate student, you will need to pay a $75 application fee to the UMD graduate school to participate in this program.
Please refer to the following resources for more information on funding study abroad
PLEASE NOTE: All University of Maryland study abroad programs are financially self-supporting and, therefore, subject to cancelation due to low enrollment.
Ben Orbach is the Founding Director of the America's Unofficial Ambassadors initiative at Creative Learning and the author of Live from Jordan: Letters Home from My Journey through the Middle East (Amacom Books 2007). Prior to joining Creative Learning, he was Creative Associates International's Resident Country Director for the West Bank and Gaza, where he developed and managed a small grant program of 100 projects that developed community leadership at the grassroots level in West Bank cities, villages, and refugee camps. From 2004-2007, Ben was the Deputy Regional Coordinator at the U.S. Department of State's Middle East Partnership Initiative (MEPI) where he received superior achievement and meritorious achievement awards for designing democratic reform projects. Orbach earned a Masters degree from Johns Hopkins University (SAIS) and a BA from the University of Michigan. A speaker of Arabic and Hebrew, he has lived in Jerusalem, Amman, and Cairo, and traveled extensively throughout the Middle East, North Africa, and Asia.
Dr. Katherine Worboys Izsak (kworboys@umd.edu or education@start.umd.edu) is the University of Maryland's Undergraduate and Graduate Director for Terrorism Studies and the Education Director for the National Consortium for the Study of Terrorism and Responses to Terrorism. She also maintains a Faculty Affiliation in UMD's Department of Anthropology. Izsak holds a Ph.D. in History and Anthropology from the University of Michigan and has taught widely on impacts of terrorism and responses to terrorism, as well as other topics related to national and international security. Izsak has taught short-term study abroad programs for UMD in Singapore, Netherlands, Germany, France, and Australia, and is leading an upcoming trip to Japan. She also co-taught the UMD/Coursera Massive Open Online Course, Understanding Terrorism and the Terrorist Threat, where she facilitated a cross-cultural dialogue on terrorism between 20,000 participants.
As a part of this program, students engage in a 30-hour week internship with a specific scope of work that and their own individual work plan. For examples of the type of work students complete in their internships, visit this page. Outside of their internships, students engage in the following activities:
Cultural excursions that enable students to learn about their host community in a fun and engaging way. In past years, these trips have included touring the UNESCO heritage sites of Prambanan and Borobudur in Indonesia.
Language classes three to four hours a week, with a focus on "survival skills" that will help students build bridges within their community. Unofficial ambassadors to Indonesia study Bahasa. Classes are not for credit.
Lectures with leading experts from their host community and religious leaders.
Visits to families' homes and participation in Ramadan break-fasts (depending upon the time of the holiday).
Group discussions on a variety of topics with students from their host community.
Term
Year
Application Deadline
Admission Notification
Program Start
Program End
Summerterm
2017
03/15/2017
01/01/2017
06/29/2017
08/19/2017
Admission to this program is on a competitive basis. Applications to the program are reviewed on a rolling basis starting on 12/15/2016 with decisions on admission beginning in January of 2017. Education Abroad will send admissions notifications on or after the decision date.There are multiple sessions, so do not make travel plans until directed to do so. All program participants are required to participate in all pre-departure programming.