UMD-Summer: Rwanda: Service-Learning and Leadership across Cultural, Ethnic and Community Lines (HESI)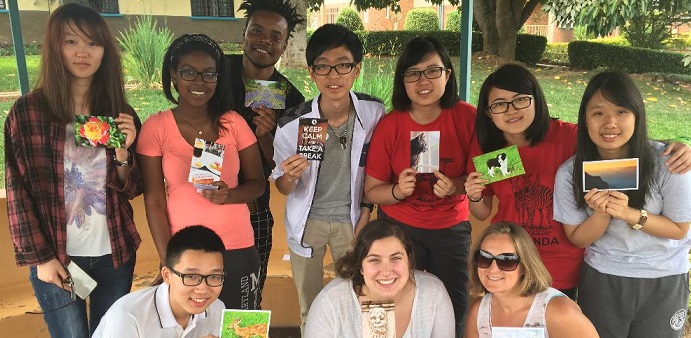 Have you dreamed of traveling abroad, but are unable to for an entire semester? Would you like to experience working on a virtual team with classmates from a different country? Are you interested in engaging in leadership and service while earning credit? If so, this course may be for you! Students have the opportunity this summer to spend two weeks in Kigali, Rwanda working with a local association, AEE, and a team of students from Hong Kong Polytechnic University (PolyU). Throughout the spring semester UMD and PolyU students will meet virtually to learn about and from one another. Together they will develop and implement a service-learning project with a community in rural Kigali. In the summer, students will spend approximately two weeks working side by side with community members and PolyU students to assess the need and impact of technology in rural Rwanda, while simultaneously applying and reflecting upon leadership practices and global competencies in a cross-cultural context.
You must be in good academic and judicial standing and you must not have any registration blocks to participate in this program. The minimum GPA for this program is listed above.
All UMD undergraduate and graduate students are eligible to apply.  
If you are interested in this program but do not meet the eligibility requirements, reach out to the program director (listed in the Contacts tab) to discuss your interest in the program.
After you commit to the program, Education Abroad will enroll you in the following UMD courses for a total of six (6) credits:
On-campus 7 week intensive course (Spring 2017 semester, beginning the week of March 27 and ending the week of May 8, meeting times TBD)
  HESI 418T: Technology Beyond Borders: Service-Learning and Leadership across Cultural, Ethnic and Community Lines (3 credits) 
You will be enrolled in the following course for the in-country program (Summer 2017):
HESI 418T: Technology Beyond Borders: Service-Learning and Leadership across Cultural, Ethnic and Community Lines (3 credits) 
The credit you earn during this program will count as resident credit.
You will stay in shared accommodations in guest houses.
These costs are current for Summer 2017.
Application Fee
$50
Billable Costs
Billable costs are charged to your student account. They are due based on the Bursar's payment schedule. Be sure to check your statements when they are available.
Education Abroad Fee
$500
This fee is charged to your account when the application status changes from "Accepted" to "Committed." This fee includes Education Abroad services including registration, billing, advising, risk management, and pre-departure orientation.
International Health Insurance
$40
Tuition
$1,020
This fee is charged to your UMD account upon course registration. This fee includes: Tuition, in-country transportation, course related activities, group meals, and teaching services.
Housing Fee
$150
This fee represents the housing provided during the program.
TOTAL PROGRAM FEE
$1,710
Out-of-pocket Costs
Meals (estimate)
$50
Visa
$30
Passport
$140
Roundtrip Airfare (estimate)
$1,700
Course Materials
$0
Optional Activities/incidental expenses
$50
Optional trip cancelation/interruption Insurance (estimate)
$200
TOTAL ESTIMATED COST OF ATTENDANCE:
$3,930
NOTE: If you are a non-UMD graduate student, you will need to pay a $75 application fee to the UMD graduate school to participate in this program.
Please refer to the following resources for more information on funding study abroad
PLEASE NOTE: All University of Maryland study abroad programs are financially self-supporting and, therefore, subject to cancelation due to low enrollment.
Natasha Chapman is the Program Director. She currently serves as the Coordinator for the Leadership Studies Program at the University of Maryland, where she provides oversight to the day to day functions of the Leadership Studies Minor, Certificate and to the curriculum design, instructional delivery and evaluation of undergraduate leadership courses. In her previous roles, Natasha served as a member of the WVU Leadership Studies faculty, as the Director of the Leadership Center at TCU, and as the Director of Minority Recruitment and Retention for the Graduate School at UNC-Chapel Hill. In 2005, Natasha earned her Ph.D. at the University of Nebraska-Lincoln, where she completed her dissertation on the experiences of multiracial students on college campuses. Natasha's scholarly interests also include curriculum design, teaching, and learning in leadership education, critical perspectives in leadership studies, and the development of leader educator identity.
Anne Spear is a PhD student in the International Education Policy program at University of Maryland. She conducted research on a mothers' association (AME) in Burkina Faso for a master's degree in International Studies at the University of Wyoming. She participated in the Master's International Peace Corps Program in which she completed an US Peace Corps assignment as a Girls' Education and Empowerment Volunteer in Burkina Faso. In addition, Ms. Spear is a certified teacher and holds a M.S.ED in Education and Social Change at the University of Miami.
For course, itinerary or in-country information, please contact the Program Director. For general questions or assistance with applying, contact EA Short-term Programs.
As a part of this program, you will engage in the following activities:
Explore famous Akagera National Park, Safari. 
Visit Genocide Memorials and learn about historical and contemporary events that shape current day Rwanda. 
Experience working virtually and in-person with students from Polytechnic University, Hong Kong. 
Contribute to a service-learning project and its sustainability in meeting the needs of the community. 
Term
Year
Application Deadline
Admission Notification
Program Start
Program End
Summerterm
2017
03/21/2017
03/11/2017
06/14/2017
07/01/2017
Students will participate in a 3-credit on-campus 7 week intensive course during the Spring 2017 semester.