UMD-Summer: Ghana: Corporate Social Responsibility: A Strategy for Sustainable Development (AAPS)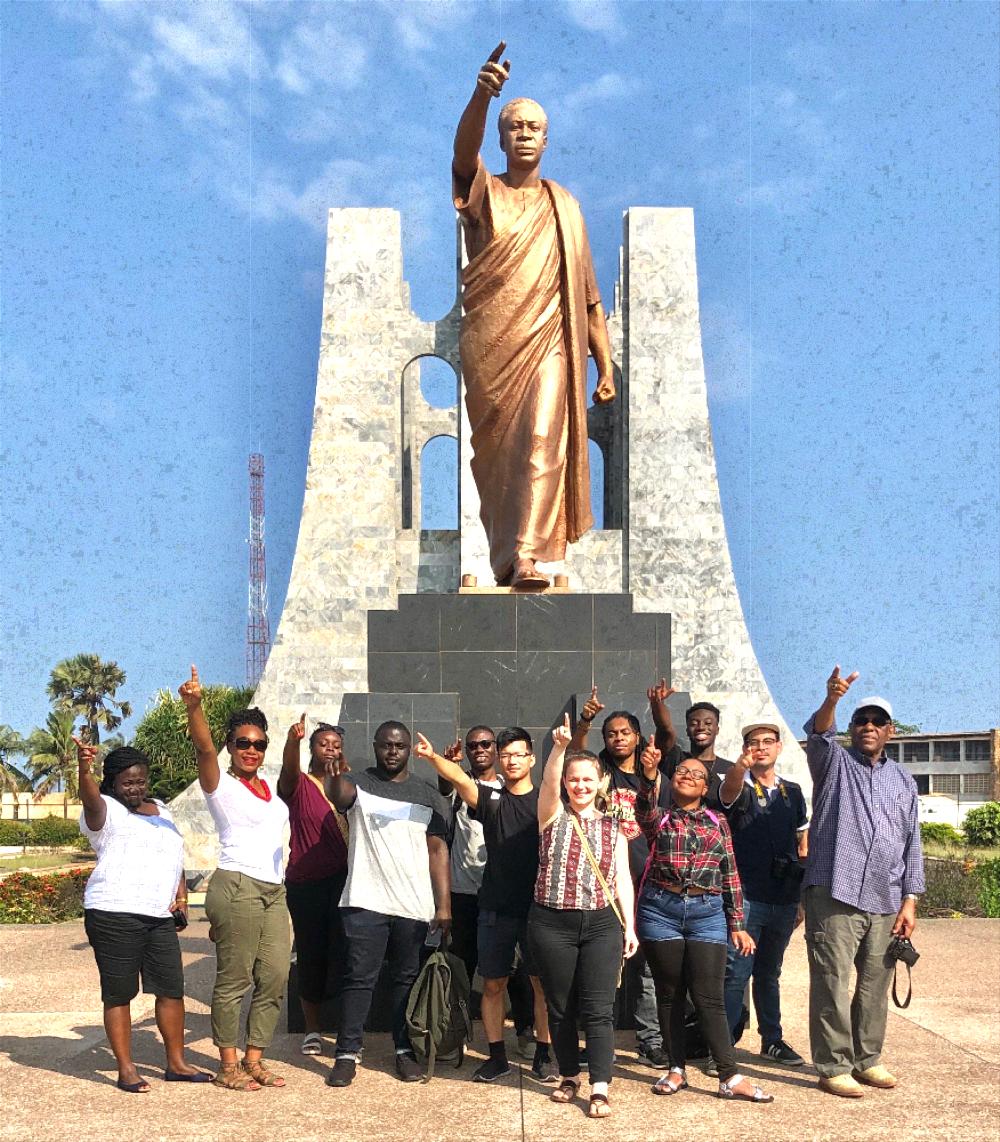 The persisting underdevelopment within regions of the world, particularly in Africa suggests that tried initiatives have failed to eradicate poverty. To these ends, Corporate Social Responsibility (CSR) is considered an alternative development strategy that recognizes the power of Multinational Corporations in a globalized world, as an agent with the potential to bring about positive change in developing nations. Student Ambassadors will explore the practice of CSR and its ability to affect social development in Ghana from a multi-stakeholder perspective. In Ghana, Student Ambassadors will be engaged in experiential learning, allowing for the transfer of theory into practice, and a transformation of preconceived beliefs based on their lived Ghanaian experience and understanding. Student Ambassadors' will learn of the Ghanaian perspective through lectures by professors of the University of Ghana, engage with Ghanaian students, meet with development experts, learn from representatives from non-governmental organizations and multinational corporations. 
A holistic perspective of the Ghanaian livelihood will be experienced as we travel from the city to rural Ghana, and all spaces in between via historical and cultural excursions. Student Ambassadors will partner with a non-profit organization in Ghana on a service learning project that has been jointly designed with sensitives to local needs and one that is sustainable - having a long term impact on the community. The overall objective of the course is to explore approaches to sustainable development, advocate for social justice, and to consider the value of cultural norms in the development agenda. The sum of the experience is to result in global citizens!
Click here for scholarship information! 
You must be in good academic and judicial standing and must not have any registration blocks to participate in this program. The minimum GPA for this program is listed above.
UMD and non-UMD freshmen, sophomores, juniors, seniors and graduate students are eligible to apply. 
TRiO program participants are strongly encouraged to apply (Student Support Services, Ronald E. McNair Post-baccalaureate Achievement Program, and Educational Opportunity Center)
If you are interested in this program but do not meet the eligibility requirements, reach out to the Program Leader (listed in the Contacts tab) to discuss your interest in the program.
After you commit to the program, Education Abroad will enroll you in the following three (3) credit UMD course:
AAPS300: Corporate Social Responsibility: Ghana  A Strategy for Sustainable Development
The credit you earn during this program will count as resident credit.
Students will reside at the University of Ghana Guest Center on-campus housing 
*Costs listed are current for summer 2019 and will be updated by February 1, 2020 for summer 2020.
Application Fee
$50
Billable Costs
Billable costs are charged to your student account. They are due based on the Office of Student Financial Services and Cashiering payment schedule. Be sure to check your statements when they are available.
Education Abroad Fee
$500
This fee is charged to your account when the application status changes from "Accepted" to "Committed." This fee includes Education Abroad services including registration, billing, advising, risk management, and pre-departure orientation.
International Health Insurance
$43
Tuition
$2,457
This fee is charged to your UMD account upon course registration. This fee includes: Tuition, in-country transportation, course related activities, group meals, and teaching services.
Housing Fee
$500
This fee represents the housing provided during the program.
TOTAL PROGRAM FEE
$3,500
Out-of-pocket Costs
Meals (estimate)
$0
Visa
$60
Passport
$145
Roundtrip Airfare (estimate)
$1,500
Course Materials
$25
Optional Activities/incidental expenses
$200
Optional trip cancelation/interruption Insurance (estimate)
$180
TOTAL ESTIMATED COST OF ATTENDANCE:
$5,660
NOTE: If you are a non-UMD graduate student, you will need to pay a $75 application fee to the UMD graduate school to participate in this program.
Please refer to the following resources for more information on funding study abroad
PLEASE NOTE: All University of Maryland study abroad programs are financially self-supporting and, therefore, subject to cancelation due to low enrollment.
Dr. Rhea Roper Nedd is the Program Leader. Her professional experiences consist of teaching and higher education program administration specializing in the development of interventions and services that lead to the retention and graduation of underrepresented groups. As the Associate Director of the McNair Scholars Program she works with a select group of high academic achievers to prepare them for matriculation into doctoral programs upon graduation, through the teaching of research methodologies and the dissertation writing process. Prior to joining the McNair Scholars Program she served as the Assistant Director of the Pre-College Programs-Upward Bound Programs at the University of Maryland, College Park. As an Adjunct Professor at Howard University, she has taught a number of courses in the field of Political Science and International Relations.
Her primary research and teaching interests focus on educational and social development of marginalized populations defined by racial, ethnic, and gendered underrepresentation, as well as socio-economic status. Her research and work explores the intersections between: education and social development; cognitive and non-cognitive indicators of development; access to higher education; corporate social responsibility as a strategy of sustainable development; good governance; and poverty reduction initiatives. 
Dr. Roper Nedd is experienced at conducing field work internationally and has collaborated with businesses, non-governmental organizations, community leaders and other stakeholders for the purposes of data collection. The Corporate Social Responsibility: Ghana program would be fourth education abroad program led by Dr. Roper Nedd. In 2007 and 2008 she was the lead researcher on two 7-day education abroad programs to Puerto Rico. Each Program consisted of 10 University of Maryland's Upward Bound Program students. The Program was a science based research project titled the "Exploration of Ecosystems" and it consisted of pre and post departure classes as well as the Puerto Rico based field work that was conducted in collaboration with the University of Puerto Rico. The 2018 Corporate Social Responsibility: Ghana program will be her second trip to Ghana.
Dr. Jerry L. Lewis is Executive Director of Academic Achievement Programs, (AAP) University of Maryland, College Park, MD. As Executive Director of AAP, he supervises two state programs, Summer Transitional Program (STP), Intensive Educational Development Program (IED) and three Federal TRIO programs, EOC, McNair and SSS. Dr. Lewis directed the Upward Bound at UMD for 17 years and at Creighton University, Omaha, Nebraska for two and one half years. He is the original author the UMD's Talent Search, McNair and EOC programs. He has more than 43 years of Higher Education administration experience and more than 40 years of TRIO program administration experience.
Dr. Lewis has played major roles in the development of TRIO presence in the National Policy arena; he is a Founders of MEAEOPP, his regional TRIO professional association, he is also a founder of National Coordinating Council, now, Council for Opportunity in Education (COE). He has testified before the House of Representatives and the US Senate Appropriation and Authorization Committees on several occasions on behalf of TRIO programs. He has served on the COE's Board of Directors in several capacities. Dr. Lewis is a Certified Grant Writer (writing more 27 million dollars in grants at UMD during his tenure), Public Speaker, and National Consultant (teaching--federal program regulations and legislation, leadership development, program and staff development, documentation and recordkeeping, budgeting, program-to-campus interface assessments, organizational communication and strategic planning).
For course, itinerary or in-country information, please contact the Program Leader. For general questions or assistance with applying, contact EA Short-term Programs.
As a part of this program, you will engage in the following activities:
Attend lectures at the University of Ghana by leading researchers and practitioners in the field of CSR
Plant trees in support of environmental sustainability and in response to local needs-input
Partner with a local school to read and mentor students in support of sustainable educational development
Meet with top executives on one of Africa's leading multinational corporations to learn of their CSR strategies and initiatives
Explore Cape Coast Slave Castle
Cross the rope bridges of Kakum Canopy Walk - a world renowned "bucket list" environmentally-conscious activity
Practice Kente cloth weaving and visit the original Kente weaving village - Bonwire
Visit  Ntonso, the home of Adinkra symbols - participate in the ink-making process, and leave a permanent stamp of your symbol
Participate in an African drumming and dance class
Visit Kwame Nkrumah Mausoleum  
Bargain with artisans and vendors at the Accra Arts Market
Visit an Asante traditional home -  one of the last remaining testimonies of the great Asante civilization  recognized by the United Nations
| Term | Year | Application Deadline | Admission Notification | Program Start | Program End |
| --- | --- | --- | --- | --- | --- |
| Summerterm | 2020 | 03/01/2020 | 03/11/2020 | 08/03/2020 | 08/13/2020 |