UMD-Summer: United Kingdom: Art & Design in the Global Market (ARTT)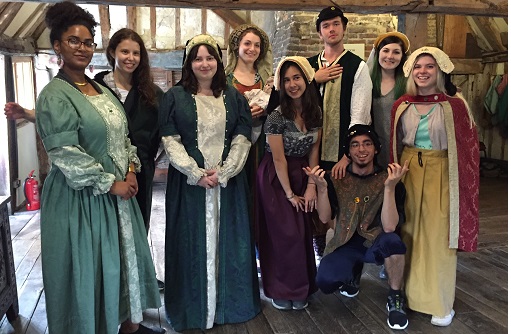 London's rich history spans over 2000 years and has been one of the great cities and significant cultural capitals of the world ever since. Indeed, London has emerged as an epicenter for international design-led innovation and creative entrepreneurship. This course will provide you with an in-depth understanding and appreciation of the historical and cultural influence of many art and design fields including painting and sculpture, architecture, product and furniture design and communication design. In addition to visits to an impressive array of design museums and art galleries, and on-site lectures, you will be exposed to world-class practitioners of art and design, the environments and objects they have created, the culture which nurtured their creativity and the savvy business practices that make their viable international presence possible.
You must be in good academic and judicial standing and you must not have any registration blocks to participate in this program. The minimum GPA for this program is listed above.
UMD sophomores, juniors, seniors, and graduate students are eligible to apply. 
Preference will be given to students who have completed a course in art studio, art history, architecture history, art literacy, design literacy, or art theory. 
If you are interested in this program but do not meet the eligibility requirements, reach out to the program director (listed in the Contacts tab) to discuss your interest in the program.
After you commit to the program, Education Abroad will enroll you in the following three (3) credit UMD course:
The credit you earn during this program will count as resident credit.
Subject to the approval of your department, this course can fulfill an art, design or architecture history or theory course. 
You will stay in apartments in double-occupancy rooms. Each apartment has a kitchenette and WIFI. There are laundry facilities in the basement. 
The updated budget for summer 2017 will be published when available.
Application Fee
$50
Billable Costs
Billable costs are charged to your student account. They are due based on the Bursar's payment schedule. Be sure to check your statements when they are available.
Education Abroad Fee
$500
This fee is charged to your account when the application status changes from "Accepted" to "Committed." This fee includes Education Abroad services including registration, billing, advising, risk management, and pre-departure orientation.
International Health Insurance
$40
Tuition
$2,275
This fee is charged to your UMD account upon course registration. This fee includes: Tuition, in-country transportation, course related activities, group meals, and teaching services.
Housing Fee
$1,095
This fee represents the housing provided during the program.
TOTAL PROGRAM FEE
$3,910
Out-of-pocket Costs
Meals (estimate)
$200
Visa
$0
Passport
$140
Roundtrip Airfare (estimate)
$1,200
Course Materials
$15
Optional Activities/incidental expenses
$200
Optional trip cancelation/interruption Insurance (estimate)
$180
TOTAL ESTIMATED COST OF ATTENDANCE:
$5,970
NOTE: If you are a non-UMD graduate student, you will need to pay a $75 application fee to the UMD graduate school to participate in this program.
Please refer to the following resources for more information on funding study abroad
PLEASE NOTE: All University of Maryland study abroad programs are financially self-supporting and, therefore, subject to cancelation due to low enrollment.
Professor Emerita Ruth Lozner is the Program Director. She has been teaching at UMD for nearly 30 years. Her expertise lies in the applied design area- graphic design, illustration, the history and theory of visual communications. It will be her 12th trip to London, including a research grant from American Institute of Graphic Artists and a sabbatical semester. This will be the 5th British Art and Design course in London she has taught.
Instructor/Lecturer Steve Jones will be the teaching assistant. He has been teaching sculpture and drawing at UMD for over 15 years.
For course, itinerary or in-country information, please contact the Program Director. For general questions or assistance with applying, contact EA Short-term Programs.
As a part of this program, you will engage in the following activities:
Site visits and lectures at world-class museums and galleries.
Site visits and lectures by practitioners at fabrication labs, studios and design firms.
Visits to End- of -Year portfolio shows by graduating art and design students. 
Prompted photographic safaris will help focus on the historic and contemporary examples of the daily lessons.
| Term | Year | Application Deadline | Admission Notification | Program Start | Program End |
| --- | --- | --- | --- | --- | --- |
| Summerterm | 2017 | 03/21/2017 | 03/11/2017 | 06/11/2017 | 06/27/2017 |