UMD-Summer: United Kingdom and Ireland: Sport, Commerce, and Culture in the Global Marketplace (KNES)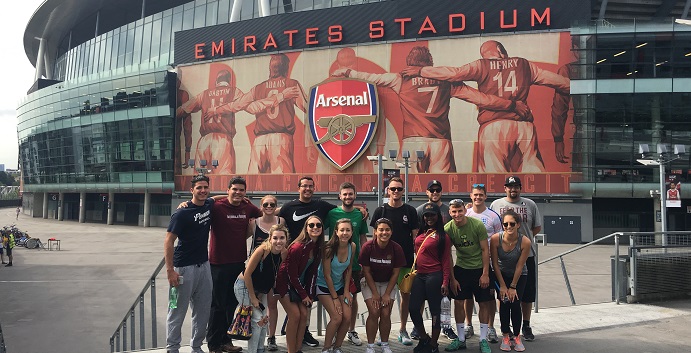 You will be given the opportunity for first hand experience in, and through understanding of, the rapidly expanding global sport marketplace. You will visit two cities (London, England and Dublin, Ireland) across three weeks and will be fully immersed in the global and local complexities and relations of the European sports industry. There will be formal lectures delivered by trip leaders and prominent guest lecturers from European universities; meetings with executives and sport directors who outline the workings of sport organization in their respective countries; field visits to globally prominent European sport enterprises and facilities; and physical activities and experience to actively explore the European sport landscape.
Both UMD and non-UMD freshmen, sophomores, juniors and seniors are welcome to apply for this program. While the program is open to students of all majors and backgrounds, it is intended for students with personal and professional interests in the area(s) of: sport management, sport policy, tourism and event management, sport sociology, sport coaching, sport science, kinesiology, public health, physical activity, and/or physical education.
You must be in good academic and judicial standing and you must not have any registration blocks to participate in this program. The minimum GPA for this program is listed above.
If you are interested in this program but do not meet the eligibility requirements, reach out to the program director (listed in the Contacts tab) to discuss your interest in the program.
After you commit to the program, Education Abroad will enroll you in the following three (3) credit UMD course:
KNES 342: Sport, Commerce, Culture in the Global Marketplace - United Kingdom and Ireland Study Abroad
The credit you earn during this program will count as resident credit.
 KNES students who have completed KNES 287 will receive upper level options credit for this course. 
There will be a pre-departure meeting to prepare for the processes and procedures relative to the program. You will be expected to complete reading, writing, and discussion assignments prior to departure.
Information about accommodations will be provided soon.
Costs listed are for Summer 2017.
Application Fee
$50
Billable Costs
Billable costs are charged to your student account. They are due based on the Bursar's payment schedule. Be sure to check your statements when they are available.
Education Abroad Fee
$500
This fee is charged to your account when the application status changes from "Accepted" to "Committed." This fee includes Education Abroad services including registration, billing, advising, risk management, and pre-departure orientation.
International Health Insurance
$40
Tuition
$3,809
This fee is charged to your UMD account upon course registration. This fee includes: Tuition, in-country transportation, course related activities, group meals, and teaching services.
Housing Fee
$1,150
This fee represents the housing provided during the program.
TOTAL PROGRAM FEE
$5,499
Out-of-pocket Costs
Meals (estimate)
$500
Visa
$0
Passport
$140
Roundtrip Airfare (estimate)
$1,000
Course Materials
$0
Optional Activities/incidental expenses
$300
Optional trip cancelation/interruption Insurance (estimate)
$180
TOTAL ESTIMATED COST OF ATTENDANCE:
$7,744
NOTE: If you are a non-UMD graduate student, you will need to pay a $75 application fee to the UMD graduate school to participate in this program.
Please refer to the following resources for more information on funding study abroad
PLEASE NOTE: All University of Maryland study abroad programs are financially self-supporting and, therefore, subject to cancelation due to low enrollment.
Adam Beissel is the Faculty Director for this program and is a member of the PCS Research Group in the Department of Kinesiology. His research agenda advances the critical and theoretical study of sport and physical culture, with particular regard to the complex relationship between sport and the various facets (social, cultural, political, economic, and technological) of early twenty-first century life. Adam's areas of focus include: development economics of sport; sport for social development and peace; international development of sport; sport sociology; physical cultural studies; the cultural and political economies of sport and the active body; sport, health, and equitable development; physical activity, public policy, and community development; & qualitative research methods for sport and physical culture.
For course, itinerary or in-country information, please contact the Program Director. For general questions or assistance with applying, contact EA Short-term Programs.
As a part of this program, you will engage in the following activities:
Site visits to sport organizations, leagues, and facilities
Meetings with sport industry executives, managers, and leaders
Experience sport and physical activity firsthand through participation in a range of physical activities (e.g. cycling, ropes course, hiking, bubble soccer)
University accommodation will allow for the interaction with other international students from around the world.
| Term | Year | Application Deadline | Admission Notification | Program Start | Program End |
| --- | --- | --- | --- | --- | --- |
| Summerterm | 2017 | 03/21/2017 | 03/11/2017 | 06/01/2017 | 06/25/2017 |