UMD-Winter: Slovakia: Fake News: Journalists Confront Lies, Propaganda and Extremism (JOUR)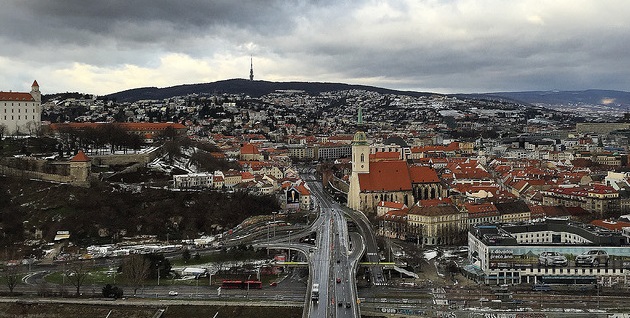 Fake news is a problem beyond the U.S. It was a problem in last year's Slovak elections as well. What will happen in democracies if citizens cannot figure out which social media reports are journalism and which are contrived? How are journalists working to counteract propaganda or other stories published to make mischief? What strategies can journalists use to be sure the truth is heard?
In this course, you will be immersed in a European society, a crossroads shaped by the Hapsburgs and eventually the Soviet Union. You will learn the basics of qualitative methods as you conduct interviews with Slovak journalists. You will work with Slovak students as they debate strategies to combat fake news and improve consumers' media literacy. You will produce team papers on your findings and produce short videos highlighting the observations of Slovak journalists.
You must be in good academic and judicial standing and you must not have any registration blocks to participate in this program. The minimum GPA for this program is listed above.
Students interested in journalism, communications, public policy and government will find this course of interest.
If you are interested in this program but do not meet the eligibility requirements, reach out to the program director (listed in the Contacts tab) to discuss your interest in the program.
After you commit to the program, Education Abroad will enroll you in one of the following three (3) credit UMD courses:
This course will meet the research methods requirement for journalism majors.
The credit you earn during this program will count as resident credit.
You will stay in shared rooms in hotels.
Costs are current for winter 2018. 
Application Fee
$50
Billable Costs
Billable costs are charged to your student account. They are due based on the Bursar's payment schedule. Be sure to check your statements when they are available.
Education Abroad Fee
$500
This fee is charged to your account when the application status changes from "Accepted" to "Committed." This fee includes Education Abroad services including registration, billing, advising, risk management, and pre-departure orientation.
International Health Insurance
$37
Tuition
$1,448
This fee is charged to your UMD account upon course registration. This fee includes: Tuition, in-country transportation, course related activities, group meals, and teaching services.
Housing Fee
$325
This fee represents the housing provided during the program.
TOTAL PROGRAM FEE
$2,310
Out-of-pocket Costs
Meals (estimate)
$250
Visa
$0
Passport
$140
Roundtrip Airfare (estimate)
$1,000
Course Materials
$0
Optional Activities/incidental expenses
$200
Optional trip cancelation/interruption Insurance (estimate)
$180
TOTAL ESTIMATED COST OF ATTENDANCE:
$4,130
NOTE: If you are a non-UMD graduate student, you will need to pay a $75 application fee to the UMD graduate school to participate in this program.
Please refer to the following resources for more information on funding study abroad
PLEASE NOTE: All University of Maryland study abroad programs are financially self-supporting and, therefore, subject to cancellation due to low enrollment.
Deborah Nelson, J.D., a Pulitzer Prize-winning journalist and Fulbright specialist in investigative reporting on the faculty of the Philip Merrill College of Journalism. She reported for the Washington Post, Los Angeles Times, Seattle Times and Chicago Sun-Times. She led a winter-term journalism program to Latvia and Estonia in 2014.
Sandy Banisky, J.D., is the Abell Professor in Baltimore Journalism at the Philip Merrill College of Journalism. She was a reporter, national correspondent, national editor, metro editor and deputy managing editor for news at The Baltimore Sun. She led a winter-term program in 2015 to Slovakia and Hungary.
For course, itinerary or in-country information, please contact the Program Director. For general questions or assistance with applying, contact EA Short-term Programs.
As a part of this program, you will engage in the following activities:
Work with Slovak students on a reporting project
Interview journalists for a research project
Visit the historic cities of Bratislava, Kosice and Vienna
 Play in the snow in the Tatra Mountains
Sample culture, including opera and ballet
| Term | Year | Application Deadline | Admission Notification | Program Start | Program End |
| --- | --- | --- | --- | --- | --- |
| Winterterm | 2018 | 10/15/2017 | 10/11/2017 | 01/02/2018 | 01/16/2018 |