UMD-Spring Break: Nicaragua: From Revolution to Immigration (SPAP/LASC)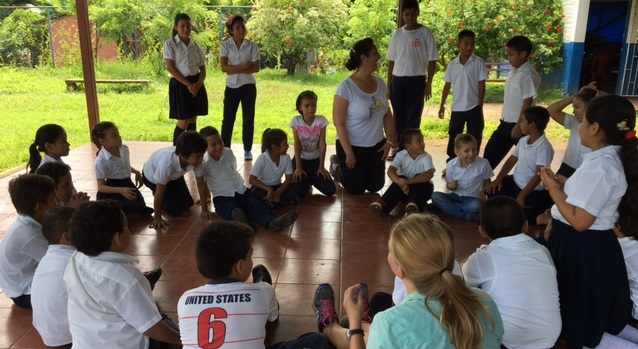 The program in Nicaragua is an elective, professor-led one-credit course. This course will provide students with the opportunity to immerse themselves in the Spanish language, explore the history, politics, literature and culture of Nicaragua, as well as participate in a service-learning activity. You will spend time in Managua, Granada and San Juan del Sur, located 25 miles from the Nicaragua-Costa Rica border. In addition to historical and cultural excursions, highlights of the program will include meeting and talking to important intellectuals and activists. We will visit the Peñas Blancas border and speak with experts at the border to gain a better understanding of immigration flows across the region and beyond. In addition, students will participate in a service-learning activity with the San Juan del Sur mobile library, which supports 33 elementary schools on a rotating basis. You will travel with the bookmobile staff to visit schools and participate in various activities with local children. Your final project will include a critical reflection and digital story based on your work in Nicaragua. This course is ideal for students in fields related to education, immigration, and community organizing.
By the end of this course, students will be able to:
·       Explain and analyze issues in Nicaraguan history, politics, and culture by responding to questions and writing daily travel-blog entries. 
·       Communicate and collaborate effectively with community members and students by assisting in learning activities and creating digital stories (videos) at local sites. 
·       Demonstrate use of digital story methodologies and an application to complete videos. 
·       Demonstrate use of standard English (or Spanish) grammar to write and edit scripts for digital stories. 
·       Evaluate service-learning experience by writing critical reflection at end of program.
You must be in good academic and judicial standing and you must not have any registration blocks to participate in this program. The minimum GPA for this program is listed above.
SPAP majors and minors would highly benefit from this program.  Additionally, Latin American Certificate Students, students interested in history, politics, culture, education and service-learning activities related to literacy would enjoy this program. 
If you are interested in this program but do not meet the eligibility requirements, reach out to the program director (listed in the Contacts tab) to discuss your interest in the program.
After you commit to the program, Education Abroad will enroll you in one of the following one (1) credit UMD courses:
SPAN369: Special Topics and Study Abroad
LASC369A: Special Topics and Study Abroad
The credit you earn during this program will count as resident credit.
You will stay in double rooms in hotels throughout the course. 
Costs are current for spring break 2018. 
Application Fee
$50
Billable Costs
Billable costs are charged to your student account. They are due based on the Bursar's payment schedule. Be sure to check your statements when they are available.
Education Abroad Fee
$500
This fee is charged to your account when the application status changes from "Accepted" to "Committed." This fee includes Education Abroad services including registration, billing, advising, risk management, and pre-departure orientation.
International Health Insurance
$22
Tuition
$1,243
This fee is charged to your UMD account upon course registration. This fee includes: Tuition, in-country transportation, course related activities, group meals, and teaching services.
Housing Fee
$520
This fee represents the housing provided during the program.
TOTAL PROGRAM FEE
$2,285
Out-of-pocket Costs
Meals (estimate)
$75
Visa
$10
Passport
$140
Roundtrip Airfare (estimate)
$850
Course Materials
$50
Optional Activities/incidental expenses
$100
Optional trip cancelation/interruption Insurance (estimate)
$180
TOTAL ESTIMATED COST OF ATTENDANCE:
$3,740
NOTE: If you are a non-UMD graduate student, you will need to pay a $75 application fee to the UMD graduate school to participate in this program.
Please refer to the following resources for more information on funding study abroad
PLEASE NOTE: All University of Maryland study abroad programs are financially self-supporting and, therefore, subject to cancelation due to low enrollment.
Ana Patricia Rodríguez is Associate Professor in the Department of Spanish and Portuguese and Coordinator of Community Engagement for the SLLC at UMD. She teaches classes on Latin American, Central American, and U.S. Latina/o literatures and cultures. She has published widely on Central American transnational cultural production. She is the author of Dividing the Isthmus: Central American Transnational Histories, Literatures, and Cultures (University of Texas Press, 2009) and co-editor (with Linda Craft and Astvaldur Astvaldsson) of De la hamaca al trono y al más allá: Lecturas críticas de la obra de Manlio Argueta (San Salvador: Universidad Tecnológica, 2013). 
Lily Griner and Patricia Herron are University of Maryland library faculty who have accompanied Professors and students on previous study abroad courses to Nicaragua. They will accompany Ana and the students on this study abroad course. 
For course, itinerary or in-country information, please contact the Program Director. For general questions or assistance with applying, contact EA Short-term Programs.
As a part of this program, you will engage in the following activities:
Service ­learning/Community Engagement project 
Guest lectures by leading local experts
Total immersion in the Spanish language 
Exploration of various locales - capital city (Managua), volcanos (Masaya and Mombacho), Granada (a colonial town) and San Juan del Sur (a small town on the Pacific (opportunities for zip lining, beaches, etc.)
| Term | Year | Application Deadline | Admission Notification | Program Start | Program End |
| --- | --- | --- | --- | --- | --- |
| Spring Break | 2018 | 10/01/2017 | 10/10/2017 | 03/17/2018 | 03/25/2018 |