UMD-Summer: Italy: Advanced Sculpture Studio - Digital Assisted Carving in Tuscan Marble (ARTT)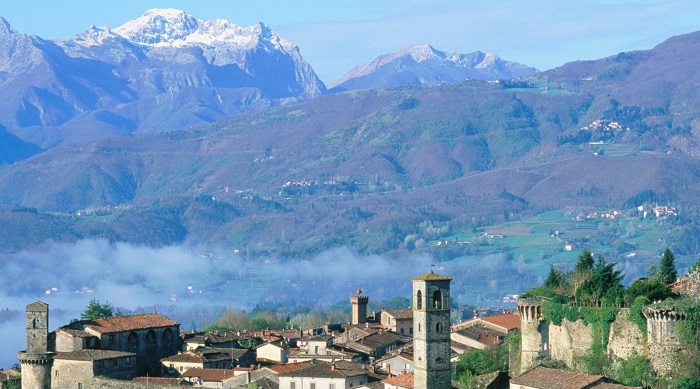 This program is scheduled to run in Summer 2019. Please contact the program director, John Ruppert, for more details.
In June The Digital Stone Project and Garfagnana Innovazione are collaborating for the sixth time to bring students, artists, designers and
architects, to the historic Garfagnana region of Italy (see photo above) to work with new technology and world-renowned Tuscan marble.
The workshop is an intensive one month long residency in which each artist produces a marble sculpture carved with a 7-axis robot and finished by hand. This is a unique collaboration between artists, engineers and the advanced technologies at Garfagnana Innovazione. Together they integrated ancient techniques with contemporary digital practice. These new strategieGarfagnana Innovazione to create all of the computational data that drives the robotic cutting arm. In addition to using computer aided design (CAD) and computer aided machinery (CAM) the artists have the opportunity to employe direct modeling, scanning, VR and animation software to develop their sculptures. The work will be experimental, exploratory, and visually dynamic.
During the workshop period there will be several guided excursions to Florence, Pietrasanta, Lucca, Barga and the Focolaccia Quarry.
By participating in this program, student will:
Develop an understanding of how the aesthetic and conceptual aspect of a sculpture is impacted as it is transformed from the weightless virtual world of the computer to the tangible work in marble.
Develop technical skill in the use of finishing tools and methods working with marble.
Gain insight into the profession through working along side professional artist, designers and architects, collaborating with industry to realize their sculptures and by helping to organize and install the exhibition of the finished work in an public art gallery.
Continue to develop skill in visual literacy and personal expression though the chronicling their experiences in an illustrated journal.
You must be in good academic and judicial standing and you must not have any registration blocks to participate in this program. The minimum GPA for this program is listed above.
UMD and Non-UMD sophomores, juniors, seniors and graduate students are eligible to apply.
In order to be considered for this study abroad program, interested participants must first submit a 3D Model Project Proposal to the DSP Workshop by February 1st, 2018. See Proposal requirements below: 
Proposal Requirements: 
Please submit a single PDF under 25 MB to dspgarfinno@gmail.com with the following information. You will need to copy the program leader, John Ruppert on this submission. Please name pdf in this format: givenname_surname_DSP2018.pdf
1) Name and Contact info.
2) please indicate ... student, faculty, or professional artist
3) Academic affiliation / title (if applicable):
4) Professional arts organization/gallery affiliation (if applicable):
5) Statement of Interest should indicate general project description, proficiency in digital 
file preparation and hand carving abilities.
6) CV/Resume section to include: Education, Teaching Experience, Exhibitions, 
Collections, Commissions, Awards, Publications...
7) 5 - 10 images of select past projects produced in any medium/process with annotations
and descriptions
8) 5 - 10 images of your 3D workshop project proposal with annotations and descriptions.
*Note that if your project is accepted your 3D files for machining must be submitted by March 1st. This begins a process of dialogue about the machining process for your sculpture. All works are machined prior to your arrival for the workshop. The workshop time is used for finishing, dialogue, and exhibition. *
If you have any questions regarding this process, please contact the program director, John Ruppert at ruppertj@umd.edu
If you are interested in this program but do not meet the eligibility requirements, reach out to the program director to discuss your interest in the program.
After you commit to the program, Education Abroad will enroll you in the following six (6) credit UMD course:
ARTT409A: Study Abroad Special Topics: Digital Stone Workshop; Digital Assisted Carving in Tuscan Marble
The credit you earn during this program will count as resident credit.
Journal: Simultaneously to the Stone Carving Workshop students will be expected to keep a journal both written and illustrated documenting and internalizing their experiences, especially from the organized excursions to the various cities / sites. Documentation can be in the form of, but not limited to, drawing/collogue, photography, video and sound. The group will meet several times during the workshop to discuss their findings and approach.
Students and faculty will stay in a small family run hotel, within a short walking distance from the workshop studio.  Most of the meals will be provided and served family style at the hotel and reflect the local cuisine, with vegetarian options on request.
 
 
Costs listed are for summer 2018.
Application Fee
$50
Billable Costs
Billable costs are charged to your student account. They are due based on the Bursar's payment schedule. Be sure to check your statements when they are available.
Education Abroad Fee
$500
This fee is charged to your account when the application status changes from "Accepted" to "Committed." This fee includes Education Abroad services including registration, billing, advising, risk management, and pre-departure orientation.
International Health Insurance
$74
Tuition
$5,326
This fee is charged to your UMD account upon course registration. This fee includes: Tuition, in-country transportation, course related activities, group meals, and teaching services.
Housing Fee
$1,000
This fee represents the housing provided during the program.
TOTAL PROGRAM FEE
$6,900
Out-of-pocket Costs
Meals (estimate)
$250
Visa
$0
Passport
$140
Roundtrip Airfare (estimate)
$2,000
Course Materials
$0
Optional Activities/incidental expenses
$400
Optional trip cancelation/interruption Insurance (estimate)
$180
TOTAL ESTIMATED COST OF ATTENDANCE:
$9,920
NOTE: If you are a non-UMD graduate student, you will need to pay a $75 application fee to the UMD graduate school to participate in this program.
Please refer to the following resources for more information on funding study abroad
PLEASE NOTE: All University of Maryland study abroad programs are financially self-supporting and, therefore, subject to cancelation due to low enrollment.
John Ruppert - the program director- is a full professor and former Chair of the Art Department at the University of Maryland, College Park, where he has taught sculpture since 1987. He received his MFA from the School for American Craftsman, Rochester Institute of Technology, New York, in 1977. Ruppert's work has been featured in numerous solo and group exhibitions in museums, sculpture parks and galleries both in the United States and abroad. These include Omi International Sculpture Park (NY), Southeastern Center for Contemporary Art (NC), Kreeger Museum (DC), Katonah Art Museum (NY), 2010 Miami Sculpture Biennale (FL), National Museum of Contemporary Art (KUMU) in Tallinn, Estonia, Material Terrain, commissioned by Laumeier international Sculpture Park, St Louis (MO), which traveled to eight museums across the country and "Urban Garden" at the Rose Fitzgerald Kennedy Greenway in Boston (MA). curated by Nick Capasso of the DeCordova Sculpture Park and Museum. He has a planned exhibition in 2019 at the Center for Art, Design and Culture, University of Maryland Baltimore County, Baltimore, MD,
For course, itinerary or in-country information, please contact the Program Director. For general questions or assistance with applying, contact EA Short-term Programs.
As a part of this program, you will engage in the following activities:
Students will work along side professional artists, designers and architects  to transform a virtual sculpture made in a computer into a tangible object made from marble.
There will be several visiting artist lectures/discussions in the evenings.
Students will learn modern and ancient stone working techniques.
Several sessions of basic Italian will be offered to the group.
Students will travel to and have guided tours of several famous cities. (Florence, Pietrasanta, Lucca, Barga and the Focolaccia Quarry).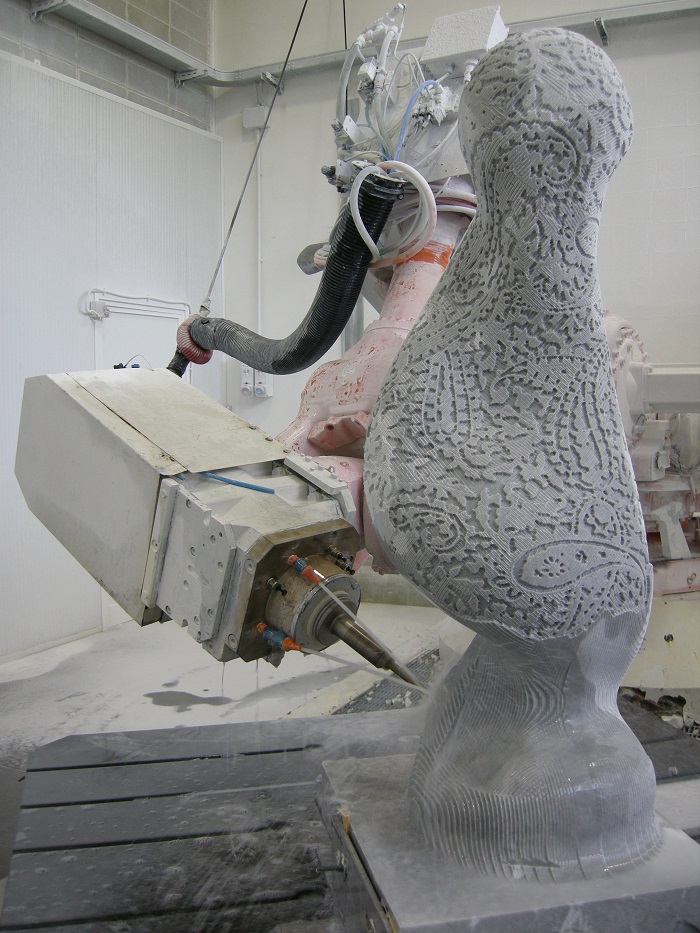 Term
Year
Application Deadline
Admission Notification
Program Start
Program End
Summerterm
2018
02/01/2018
02/11/2018
06/01/2018
07/01/2018
Please see the Eligibility tab for application instructions.