Virtual Global Opportunities Summer 2020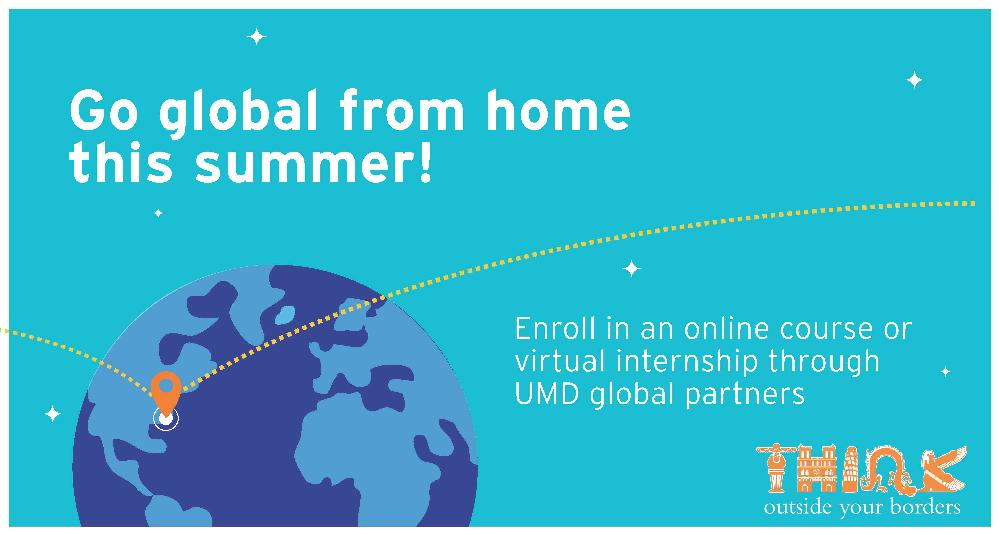 Go global from home!
Online Courses at UMD's Global Partners | Virtual Internships | Registration Process

---
Staying globally connected is more important than ever.  This summer, our #FearlessTerps may do so from home! Enroll in an
online course
or gain valuable work experience through a
virtual internship
offered by one of UMD's global partners. These global learning opportunities will allow you to:  
Investigate the world beyond your immediate borders and focus on addressing significant global challenges with students from around the world
Recognize perspectives, others' and your own and communicate those ideas effectively
Grow your global network by connecting with international faculty, students and organizations
Gain experience designing projects that improve the global common good
UMD Approved Summer Online Coursework through Global Partner
How does the credit work? 
UMD will award transfer credit for courses taken through the above pre-approved programs. Refer to the Study Abroad Database (SACD) for details on the status of approval for each course, including credit conversions.
What is the cost?
UMD students will enroll directly at one of our partner universities and pay any associated tuition and fees directly. Many program costs are less than tuition at UMD for the summer. In addition, a $500 EA fee will be charged if you decide to transfer the course back to UMD. 
 

Virtual internship with an international organization 
SIT - School for International Training Summer Online Internships
Jordan: Virtual Internship in Counseling & Humanitarian Action
Kenya: Virtual Internship in Public Health in the Tropics
Netherlands: Online Internship in Sexuality and Gender
Serbia and Kosovo: Virtual Internship in Transitional Justice, Human Rights, and Memory  
South Africa: Virtual Internship in Social Justice & Activism  
Credit for an SIT Internship
Students seeking credit for the SIT internship and course can enroll in UMD's course EDCP386 for 5 credits. 
Costs
SIT internship placement and program fees range from $1,000 - $2,000 and cover a confirmed placement with an international organization, mentorship from an SIT faculty member and academic director, and learning material and activities. For students concurrently enrolling in UMD's EDCP386 for 5 credits, there is an additional $500 charge.
Questions about SIT internship placements? Contact UMD's representative, Javonni McGlaurin - javonni.mcglaurin@sit.edu. 
CAPA Global Education Network
Global Internship Placements - Barcelona, Buenos Aires, Dublin, Florence, London, Shanghai or Sydney
CAPA offers internship placements across the globe in a range of fields, including advertising & PR, business, data analytics, game design & development, IT & computer systems, sports management and video editing & animation. 
Credit for a CAPA Internship
ARHU students seeking credit for the CAPA internship and course can enroll in UMD's course ARHU286 or ARHU486 to earn 3 credits. 
Students in other colleges interested in earning credit for a CAPA internship should contact educationabroad@umd.edu. 
 

Registration Process
Submit a short registration form (click on the "Apply Now" button at the top of this page) to let EA know that you're interested in one of these opportunities. An EA advisor will follow up with you to provide more details on earning credit at UMD for your selected opportunity. 
Apply directly with the program partner.
Questions? Don't hesitate to reach out to us at educationabroad@umd.edu.  
| Term | Year | Application Deadline | Admission Notification | Program Start | Program End |
| --- | --- | --- | --- | --- | --- |
| Summerterm | 2020 | 06/06/2020 | 01/01/2020 | | |