UMD-Spring Break: Japan: Disaster Recovery (BSST)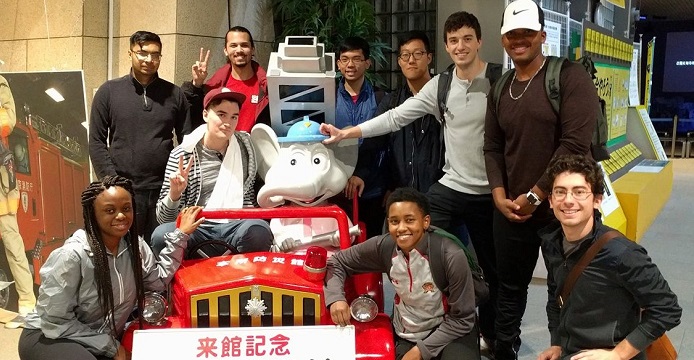 Earthquakes in Ecuador. Flash floods in Pakistan. Terrorist attacks in Belgium. Natural and man-made disasters like these have far-reaching consequences for communities around the world. How do nations and communities prepare for, respond to, and recover from these events? And what role can each of us play?
 
In March 2018 University of Maryland students will travel to Japan in search of answers to these questions. Through meetings and activities with government officials, non-profit workers, students, educators, and small business owners in Tokyo, Sendai, Kesennuma, and elsewhere in the Tohoku region, University of Maryland students will learn how Japan's experiences of disaster—both natural and man-made—have shaped both public policy and communities. Students will develop broad knowledge of global disaster risk reduction, management, and recovery; and will also develop deep knowledge of Japan's March 2011 Great East Japan Earthquake, tsunami, and nuclear disaster.  Students will find that there are often no easy answers when it comes to disaster, but will finish the program equipped with foundational knowledge and skills to further explore the roles that they might play in disaster risk reduction, management, and recovery within their chosen academic or professional fields.
 
Students in this program participate in 2 weeks of pre-departure online and in-person coursework in the U.S.; 1 week of study and travel in Japan during spring break; and 2 additional weeks of U.S.-based online and in-person coursework, culminating in a Maryland-based service project designed by the students in order to share and apply in their own community what they have learned in Japan.
 
Students of all majors and all years are encouraged to apply: disaster affects all sectors of society, and students of all backgrounds can benefit from—and contribute to—this program. Regardless of your major, this program will give you valuable experience interacting with individuals from different cultures in an international setting, learning first-hand how to address real world issues and develop potential solutions.
To learn more about the program:
You must be in good academic and judicial standing and you must not have any registration blocks to participate in this program. The minimum GPA for this program is listed above.
UMD and Non-UMD sophomores, juniors, seniors and graduate students are eligible to apply.
UMD freshmen who show particularly strong aptitude and maturity may also be considered.
Whenever possible, arrangements will be made to accommodate students with disabilities. Due to some rough terrain in the Tohoku region, certain activities (such as beach clean ups) may be inaccessible to students with mobility limitations.  Alternative arrangements can be made, in this case.  This program requires a substantial amount of walking and students will occasionally need to carry their own luggage up/down stairs; pack light and bring comfortable shoes.  Students with mobility impairments should contact the instructor to determine what accommodations are possible.
 
Students with anxiety disorders, claustrophobia, and/or agoraphobia should be aware that public transportation and train stations in Tokyo, which we will make use of, can be extremely crowded during rush hour.  Students may need to ride in a densely packed train car for 20 to 30 minutes once or twice per day during our time in Tokyo.
If you are interested in this program but do not meet the eligibility requirements, reach out to the program director (listed in the Contacts tab) to discuss your interest in the program.
After you commit to the program, Education Abroad will enroll you in one of the following three (3) credit UMD courses:
BSST358J: Disaster Recovery in Japan
BSST638J: Disaster Recovery in Japan
The credit you earn during this program will count as resident credit.
You will stay in shared hotel accommodations with wireless internet service and laundry service available for extra cost, with the exception of one night in a group homestay experience.
Costs are current for spring break 2018. 
Application Fee
$50
Billable Costs
Billable costs are charged to your student account. They are due based on the Bursar's payment schedule. Be sure to check your statements when they are available.
Education Abroad Fee
$500
This fee is charged to your account when the application status changes from "Accepted" to "Committed." This fee includes Education Abroad services including registration, billing, advising, risk management, and pre-departure orientation.
International Health Insurance
$22
Tuition
$1,373
This fee is charged to your UMD account upon course registration. This fee includes: Tuition, in-country transportation, course related activities, group meals, and teaching services.
Housing Fee
$445
This fee represents the housing provided during the program.
TOTAL PROGRAM FEE
$2,340 
Out-of-pocket Costs
Meals (estimate)
$300
Visa
$0
Passport
$140
Roundtrip Airfare (estimate)
$1,100
Course Materials
$20
Optional Activities/incidental expenses
$150
Optional trip cancelation/interruption Insurance (estimate)
$180
TOTAL ESTIMATED COST OF ATTENDANCE:
$4,280
NOTE: If you are a non-UMD graduate student, you will need to pay a $75 application fee to the UMD graduate school to participate in this program.
Please refer to the following resources for more information on funding study abroad
PLEASE NOTE: All University of Maryland study abroad programs are financially self-supporting and, therefore, subject to cancelation due to low enrollment.
Dr. Katherine Worboys Izsak serves as Director of the program. She is University of Maryland's Undergraduate and Graduate Director for Terrorism Studies and the Education Director for the National Consortium for the Study of Terrorism and Responses to Terrorism. She also maintains a Faculty Affiliation in UMD's Department of Anthropology. Dr. Izsak holds a Ph.D. in History and Anthropology from the University of Michigan and has taught widely on impacts of terrorism and responses to terrorism, as well as other topics related to national and international security. She has taught short-term study abroad programs for UMD in Singapore, Netherlands, Germany, France, and Australia, and has directed this program since 2016. She also co-taught the UMD/Coursera Massive Open Online Course, Understanding Terrorism and the Terrorist Threat, where she facilitated a cross-cultural dialogue on terrorism between 20,000 participants.
For course, itinerary or in-country information, please contact the Program Director. For general questions or assistance with applying, contact EA Short-term Programs.
As a part of this program, you will engage in the following activities:
Cultural exchange and service learning with Japanese university students in the Tohoku region, which was hardest hit by the March 2011 disaster.
Disaster preparedness training, including undergoing simulations of earthquakes, fires, and typhoons (bring your towel!).
Immersion in Japanese culture-- including a crash-course in Japanese etiquette and basic travel phrases-- and visits to places such as trendy Harajuku and historic Asakusa in Tokyo, and the beautiful Sanriku coast in Tohoku. Also: karaoke.
| Term | Year | Application Deadline | Admission Notification | Program Start | Program End |
| --- | --- | --- | --- | --- | --- |
| Spring Break | 2018 | 10/15/2017 | 10/11/2017 | 03/17/2018 | 03/24/2018 |