UMD-Summer: Austria: Salzburg Academy on Media and Global Change (JOUR/HONR/AMST/GVPT)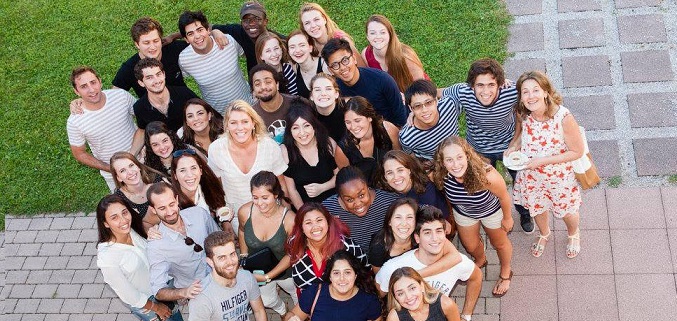 Take part in this three-week program to explore how media can help solve global problems and empower social change. Live and work with faculty and undergraduate and graduate students from five continents. You will study, eat and live at Schloss Leopoldskron in Salzburg, Austria — an 18th-century Rococo palace built by the Prince Archbishop of Salzburg, owned by King Ludwig I of Bavaria, renovated by Max Reinhardt the founder of the Salzburg Music Festival, and filmed as the von Trapp home in "The Sound of Music." 
This 6-credit offering is unique among Study Abroad programs in its joining of the media and storytelling skills of journalism and the digital design tools of HCIL programs with policy and cultural research from the social sciences and humanities.  If you are preparing for employment or graduate studies you will find particularly valuable the combination of research and theory, concrete skill-building and international networking. Apply now to join a global group of young innovators working to solve today's critical cross-border problems.
For more information visit our partner site http://media-academy.salzburgglobal.org/ or our Facebook page: https://www.facebook.com/SalzburgMediaAcademy/?fref=ts 
You must be in good academic and judicial standing and you must not have any registration blocks to participate in this program. The minimum GPA for this program is listed above.
All undergraduate and graduate students are eligible to participate in this program.
After you commit to the program, Education Abroad will enroll you in two of the following UMD courses for a total of six (6) credits:
Course 1: Global Media Literacy
You will choose to receive credit for one of the following:

JOUR434,
JOUR734
AMST369
HONR338B, or

Course 2: Global Change, Global Cooperation, Global News
You will choose to receive credit for one of the following:

JOUR435,
JOUR735,
GVPT399J, or
HONR338G
The courses your complete during this program will count as resident credit.
JOUR434 and 435 have been approved for the Diversity-Understanding Plural Societies and Scholarship in Practice requirements of the General Education program.
The program fee includes housing on the grounds of Schloss Leopoldskron, in the four-star 17th century Meierhof hotel immediately next door to the palace.  See here for information about the hotel:  http://ter.ps/salzbrghotel 
 
All meals for the three weeks of the program are included in the program fee.  Students will be given buffet-style breakfast, lunch and dinner every day, as well as coffee and tea breaks, served at the hotel.  
 
Costs listed are for summer 2018.
Application Fee
$50
Billable Costs
Billable costs are charged to your student account. They are due based on the Bursar's payment schedule. Be sure to check your statements when they are available.
Education Abroad Fee
$500
This fee is charged to your account when the application status changes from "Accepted" to "Committed." This fee includes Education Abroad services including registration, billing, advising, risk management, and pre-departure orientation.
International Health Insurance
$37
Tuition
$5,213
This fee is charged to your UMD account upon course registration. This fee includes: Tuition (6 credits),  meals, in-country transportation, course related activities, weekly excursions, and teaching services.
Housing Fee
$1,100
This fee represents the housing provided during the program.
TOTAL PROGRAM FEE
$6,850
Out-of-pocket Costs
Passport
$140
Roundtrip Airfare (estimate)
$1,600
Optional Activities/incidental expenses
$300
Optional trip cancelation/interruption Insurance (estimate)
$180
TOTAL ESTIMATED COST OF ATTENDANCE:
$9,120
NOTE: If you are a non-UMD graduate student applying to this program, you will be required to submit a $75 application fee to the UMD Graduate School.
Please refer to the following resources for more information on funding study abroad
PLEASE NOTE: All University of Maryland study abroad programs are financially self-supporting and, therefore, subject to cancelation due to low enrollment.
Dr. Susan Moeller is the lead faculty member for students attending the Salzburg Academy through the University of Maryland.  Professor Moeller is a professor in the Merrill College of Journalism and an affiliated faculty member at the School of Public Policy at UMD.  She is the co-founder of the Salzburg Academy, now in its 11th year, director of the International Center for Media & the Public Agenda and an author of multiple books and articles on media, human rights and international affairs. 
For course, itinerary or in-country information, please contact Professor Moeller. For general questions or assistance with applying, contact EA Short-term Programs
As a part of this program, you will engage in the following activities:
Work with international leaders on real-world projects, using media to address issues of global concern, such as extremism, climate change, and social justice abuses.
Live and eat with an international and interdisciplinary group of students and faculty coming from five continents, at an historic 18th century palace and its 17th century hotel next door
Engage in activities with a global and collaborative community on campus, including relaxing in an onsite cafe that has foosball, karaoke and dancing, and heading off campus, including taking walks to downtown Salzburg and swimming and playing mini-golf at the pool complex next door, and taking trips farther afield into the Alps and to historic sites in the region.
Term
Year
Application Deadline
Admission Notification
Program Start
Program End
Summerterm
2018
03/15/2018
02/15/2018
07/14/2018
08/04/2018
This program is rolling admissions with acceptance notifications beginning on February 15th.After committing to the program, students should plan to purchase an overnight flight to ensure that they will arrive in Austria the morning of 07/15/18.