UMD-Summer: Ireland: James Joyce's Dublin (ARHU/HONR/ENGL)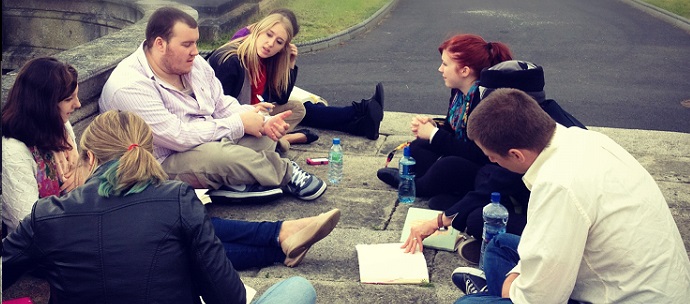 Explore Ireland's rich history by engaging in study of literary giant James Joyce.  In this course we will use one of the most influential and ambitious modernist texts, Ulysses, as a springboard into short lectures and discussions regarding Irish culture and history as well as more literary discussions regarding the book's early reception and controversies surrounding it. Further discussions will range over a broad number of topics including for instance how we experience our own lives as narrative, the nature of subjectivity, and how to read and get the most out of a difficult text.  
 
While in Ireland, you will be housed primarily in a hostel in Dublin, Ireland. Excursions include: The National Library, the James Joyce Center, the James Joyce Museum and Martello Tower in Sandycove, day trips to Glendalough and Howth, as well as several walking tours to the many sites in Dublin described in Ulysses. Also included is a 2-3 day sight-seeing trip to Galway, including Inis Mor, one of the famous Aran Islands.  The course culminates in our participation with the Bloomsday Festival on June 16, which is  the largest literary event of its kind in the world, as the city of Dublin explodes into a multi-venue celebration of the book we will have finished reading including musical acts, film showings, readings in town squares, pubs, and parks,  theater events, participatory costume balls and meals served at various locations, and much more.
 
You must be in good academic and judicial standing and you must not have any registration blocks to participate in this program. The minimum GPA for this program is listed above.
UMD and Non-UMD freshmen, sophomores, juniors, and seniors are eligible to apply.
After you commit to the program, Education Abroad will enroll you in one of the following three (3) credit UMD courses:
ARHU351: James Joyce's Dublin:  Ulysses
ENGL369J: James Joyce's Dublin:  Ulysses
HONR349L: James Joyce's Dublin:  Ulysses
The credit you earn during this program will count as resident credit.
*ARHU351, ENGL369J and HONR349L  are approved to fulfill the general education humanities requirement.
There will be two pre-departure orientations: time and date TBD
Students are required to complete readings prior to departure.
While abroad students are required to present one episode of Ulysses to the class; you will also complete a reading accountability test.  There is an additional paper due within one week of return.
 
You will stay in hostels in both Dublin and Galway with shared rooms; both hostels have access to laundry, breakfast included, and internet access.
Costs listed are for summer 2018.
Application Fee
$50
Billable Costs
Billable costs are charged to your student account. They are due based on the Office of Student Financial Services and Cashiering payment schedule. Be sure to check your statements when they are available.
Education Abroad Fee
$500
This fee is charged to your account when the application status changes from "Accepted" to "Committed." This fee includes Education Abroad services including registration, billing, advising, risk management, and pre-departure orientation.
International Health Insurance
$37
Tuition
$1,952
This fee is charged to your UMD account upon course registration. This fee includes: Tuition, in-country transportation, course related activities, group meals, and teaching services.
Housing Fee
$1,510
This fee represents the housing provided during the program.
TOTAL PROGRAM FEE
$3,999
Out-of-pocket Costs
Meals (estimate)
$400
Passport
$140
Roundtrip Airfare (estimate)
$1,100
Optional Activities/incidental expenses
$300
Optional trip cancelation/interruption Insurance (estimate)
$180
TOTAL ESTIMATED COST OF ATTENDANCE:
$6,259
NOTE: If you are a non-UMD graduate student, you will need to pay a $75 application fee to the UMD graduate school to participate in this program.
Please refer to the following resources for more information on funding study abroad
PLEASE NOTE: All University of Maryland study abroad programs are financially self-supporting and, therefore, subject to cancelation due to low enrollment.
Johnna Schmidt obtained her MFA in Creative Writing: Fiction from the University of Maryland in 2004. She is the Director of the Jimenez-Porter Writers' House on the UMD campus, and teaches fiction writing. Publications include the anthology Dear Robot, as well as stories and poems that appear in the following journals: Little Patuxent Review, On the Issues, Beltway Journal for the Arts, and water like chocolate. Johnna is one of the co-founders of the James Joyce's Dublin program and will be co-leading the program for the fourth time. She has also co-led the winter-term program to Santiago and Valparaiso, Chile, almost every year for over a decade. She lives with dogs and humans in Hyattsville, MD. 
Zein El-Amine obtained his MFA in Poetry from the University of Maryland in 2010. He teaches creative writing and Global Literature and Social Change in the English Department, as well as Arabic language and culture courses in the Arabic Department. Zein has led literary study abroad trips to Egypt and continues to lead one to Ireland. Additionally, he hosts the radio show Shay Wa Naa Naa, a program that focuses on Middle Eastern culture, on the Pacifica Station in Washington D.C. His poems have been published by Wild River Review, Folio, Foreign Policy in Focus, Beltway Quarterly, DC Poets Against the War Anthology, Penumbra, GYST, Joybringer and Middle East Report magazine, and his short stories have been published by Boundoff and Uno Mas magazines.
For course, itinerary or in-country information, please contact the Program Director. For general questions or assistance with applying, contact EA Short-term Programs
As a part of this program, you will engage in the following activities:
Historical and literary walking tours of the city of Dublin.
Admission and tours of the James Joyce Tower, the James Joyce Center, and the National Library.
Bloomsday, an annual city-wide festival in Dublin celebrating Ulysses and James Joyce.
A two-day trip to Galway, including a ferry ride and bicycle rental to discover Inis Mor, one of the famous Aran Islands.
| Term | Year | Application Deadline | Admission Notification | Program Start | Program End |
| --- | --- | --- | --- | --- | --- |
| Summerterm | 2018 | 03/15/2018 | 03/11/2018 | 05/26/2018 | 06/17/2018 |