UMD-Summer: Italy: Landscape Architecture, Architecture and Music (LARC/HONR)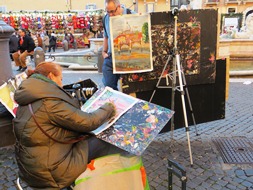 Come and explore the common language of architecture and music as we travel through six Italian cities learning about public open spaces, architectural monuments, music, and culture. This course is open to all majors and includes many historic, cultural, built, and natural sites and monuments. ?Investigate Italy through the study of historical town planning, public piazzas, landscape architecture, music, and architecture, in this three-week course sponsored by the Department of Plant Science and Landscape Architecture. You will travel throughout cities in Italy including Rome, Sorrento, Verona, Venice, and San Remo.  Musical performances, tours, and many historic sites and cities are included in this fast paced, exciting course.
You will record your observations, reactions, and knowledge of the sites visited throughout Italy in a journal (provided) and be requested to discuss your observations in a daily class meeting. Common useful language phrases will be taught throughout the course.
You must be in good academic and judicial standing and you must not have any registration blocks to participate in this program. The minimum GPA for this program is listed above.
Freshmen, sophomores, juniors, and seniors of all majors are eligible to apply.
After you commit to the program, Education Abroad will enroll you in one of the following three (3) credit UMD courses:
LARC 489A: Landscape Architecture, Architecture, and Music
HONR 338A: Landscape Architecture, Architecture, and Music
The courses your complete during this program will count as resident credit.
All students are required to attend two meetings prior to travel in order to fully understand the requirements, receive their research assignments, and to orient the students to travel abroad.
Prior to departure, students will need to do some reading and preparation including visits to important places in and around Washington DC.
Housing throughout the course is in carefully selected family owned hotels. Each venue has access to the public transportation systems. You will stay in six locations throughout Italy in shared accommodations.
Costs listed are for summer 2018.
Application Fee
$50
Billable Costs
Billable costs are charged to your student account. They are due based on the Office of Student Financial Services and Cashiering payment schedule. Be sure to check your statements when they are available.
Education Abroad Fee
$500
This fee is charged to your account when the application status changes from "Accepted" to "Committed." This fee includes Education Abroad services including registration, billing, advising, risk management, and pre-departure orientation.
International Health Insurance
$37
Tuition
$2,748
This fee is charged to your UMD account upon course registration. This fee includes: Tuition, in-country transportation, course related activities, group meals, and teaching services.
Housing Fee
$625
This fee represents the housing provided during the program.
TOTAL PROGRAM FEE
$3,910
Out-of-pocket Costs
Meals (estimate)
$250
Student Visa Application 
$0
Passport
$140
Roundtrip Airfare (estimate)
$1,600
Course Materials
$35
Optional Activities/incidental expenses
$100
Optional trip cancelation/interruption Insurance (estimate)
$180
TOTAL ESTIMATED COST OF ATTENDANCE:
$6,265
Please refer to the following resources for more information on funding study abroad
PLEASE NOTE: All University of Maryland study abroad programs are financially self-supporting and, therefore, subject to cancelation due to low enrollment.
Dennis Nola, ASLA, is the Program Director and the chair of the undergraduate Landscape Architecture program at the University of Maryland. He is a licensed landscape architect who has practiced throughout the US and internationally. He has won awards for his design of campus projects, environmental restoration, and for his work with undeserved communities. He has held many positions on executive and review boards at local, state, and national levels. Dennis created this course and has successfully taught it for the past 13 years. His family origins are from Sorrento and he brings many personal insights and experiences to the course content. 
 
For course, itinerary or in-country information, please contact the Program Director. For general questions or assistance with applying, contact EA Short-term Programs
As a part of this program, you will engage in the following activities:
Visits to historical and cultural monuments.
Field-trips to important musical venues and performances.
Conversational Italian courses.
Explore the common languages of Architecture and Music.
Develop a field sketching journal recording natural, built, and cultural systems.
| Term | Year | Application Deadline | Admission Notification | Program Start | Program End |
| --- | --- | --- | --- | --- | --- |
| Summerterm | 2018 | 03/15/2018 | 03/11/2018 | 05/31/2018 | 06/17/2018 |