UMD-Summer: Scandinavia: Culture + Place (ARCH)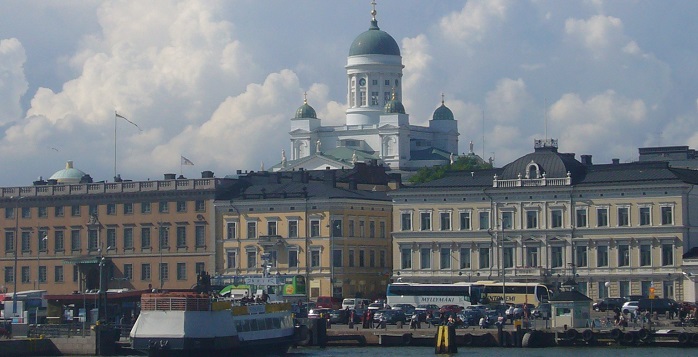 Learn first hand about the role culture, geography, and history play in architectural form by investigating the built and natural environment in Scandinavia. Spend time in Sweden, Denmark, Finland, and Norway; the itinerary involves extended stays in the national capitals of Copenhagen, Helsinki, and Stockholm using these urban locales as bases for excursions into the wider metropolitan milieu.
You must be in good academic and judicial standing and you must not have any registration blocks to participate in this program. The minimum GPA for this program is listed above.
This program is only open to UMD and non-UMD Architecture majors with junior, senior, or gradaute student standing.
ARCH 400 is a prerequisite.
If you are interested in this program but do not meet the eligibility requirements, reach out to the program director (listed in the Contacts tab) to discuss your interest in the program.
After you commit to the program, Education Abroad will enroll you two courses for a total of six (6) UMD credits.
Graduate Students:
ARCH 678F Scandinavia: Craft & Culture (3 credits)
ARCH 678K Scandinavia: Culture & Place (3 credits)
Undergraduate Students:
ARCH 478F Scandinavia: Craft & Culture (3 credits)
ARCH 478Z Scandinavia: Culture & Place (3 credits)
The credit you earn during this program will count as resident credit.
You will keep a sketch and writing journal, and complete in country analysis and drawing assignments.
You will stay in a hostel while in Copenhagen, a hotel and a residence hall in Helsinki, hostels in Finland, a hostel in Stockholm, and ferry cabins while on an overnight cruise.
Costs listed are for summer 2018.
Application Fee
$50
Billable Costs
Billable costs are charged to your student account. They are due based on the Bursar's payment schedule. Be sure to check your statements when they are available.
Education Abroad Fee
$500
This fee is charged to your account when the application status changes from "Accepted" to "Committed." This fee includes Education Abroad services including registration, billing, advising, risk management, and pre-departure orientation.
International Health Insurance
$37
Tuition
$3,428
This fee is charged to your UMD account upon course registration. This fee includes: Tuition, in-country transportation, course related activities, all breakfasts, four (4) group meals, and teaching services.
Housing Fee
$1,885
This fee represents the housing provided during the program.
TOTAL PROGRAM FEE
$5,850
Out-of-pocket Costs
Meals (estimate)
$800
Passport
$140
Roundtrip Airfare (estimate)
$1,250
Course Materials 
$20
Optional Activities/incidental expenses
$250
Optional trip cancelation/interruption Insurance (estimate)
$180
TOTAL ESTIMATED COST OF ATTENDANCE:
$8,540
NOTE: If you are a non-UMD graduate student, you will need to pay a $75 application fee to the UMD graduate school to participate in this program.
Please refer to the following resources for more information on funding study abroad
PLEASE NOTE: All University of Maryland study abroad programs are financially self-supporting and, therefore, subject to cancelation due to low enrollment.
Peter Noonan, AIA, LEED, BD+C is the Professor of the Practice and an architect and Principal at McInturff Architects, a nationally recognized firm dedicated to excellence in design and building craft. The work includes residential, commercial and institutional projects. His work with the firm includes over forty highly crafted projects, and he is typically involved in the entire range of architectural services, utilizing a process with considerable client interaction and involvement in an effort to tailor buildings to the needs of their users. Many of the projects he has executed with the firm have been published both locally and nationally. The firm has received more than 250 design awards, including National AIA Honor Awards for both 1247 Wisconsin Avenue, and the Martin-Schocket House, with Mr. Noonan as the Project Architect for each. Current and recent projects include a The Textile Museum, 20,000 square foot mixed-use project in Washington, DC, an alumni dining hall for the West Virginia University President's House, and several award winning houses at Merry-Go-Round Farm in Potomac, Maryland.
Karl Du Puy is the co-director. Professor Emeritus Du Puy is an architect and professor of architecture. He directs design studios in architecture and urban design at all levels of the graduate and undergraduate programs, and offers lecture and seminar courses in urban design theory, practice, and history. Professor Du Puy has directed the architecture program and coordinated its design studio sequence; he has directed more than 150 masters' theses over the past eighteen years.  A practicing architect and urban designer with over 35 years experience, Professor Du Puy has worked in New York City as well as the District of Columbia, Maryland, and Virginia. He is licensed in both New York and Maryland. For the past 20 years he has been involved with Rockville, Maryland's planning efforts as an urban design consultant and as a member of Rockville's urban design review committee. Professor Du Puy is a veteran of many education abroad programs including Paris and extended semester long studies in the United Kingdom. 
For course, itinerary or in-country information, please contact the Program Directors. For general questions or assistance with applying, contact EA Short-term Programs.
As a part of this program, you will engage in the following activities:
Guest lectures by leading Scandinavian Design experts.
Professional office visits to leading UM Architecture Alumni working in the region.
Field visits with sketching, observation and analysis to over 100 significant architectural sites in the region including buildings, landscapes, and urban designs.
Term
Year
Application Deadline
Admission Notification
Program Start
Program End
Summerterm
2018
03/01/2018
02/05/2018
05/25/2018
06/23/2018
Admissions for the program are made on a rolling basis and applications will be reviewed in the order that they are completed. For best consideration, please submit your application to Education Abroad by January 15th, 2018. Once committed to the program, students should plan to purchase an overnight flight to ensure that they will arrive in Denmark the morning of 05/26/18.