UMD-Summer: Spain: Culture, Language, and Literature in Salamanca and Barcelona (SPAN)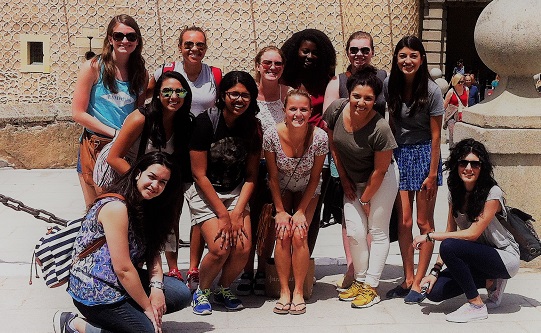 Take your language learning to the next level by spending six weeks in an intensive language learning program in Salamanca and Barcelona. This program is designed by the UMD Department of Spanish and Portuguese in cooperation with El Colegio Hispano Continental and International House Barcelona. In this program, you will develop Spanish proficiency and experience Spanish culture by attending language classes, living in a homestay, and taking part in excursions throughout the cities and surrounding countryside.
Check out the program's twitter account: @TerpsInSpain and Facebook page.
You must be in good academic and judicial standing and you must not have any registration blocks to participate in this program. The minimum GPA for this program is listed above.
UMD and non-UMD sophomores, juniors, and seniors are eligible to apply to this program.
You must have successfully completed SPAN301 and preferably also SPAN303 prior to the start of the program.
After you commit to the program, Education Abroad will enroll you two courses for a total of six (6) UMD credits. All students will be enrolled in:
SPAN 333: Spanish culture, Civilization and Literature III
And ONE of the following courses
SPAN311: Advanced Conversation and Grammar Review
SPAN 408X: A Peregrine Land: Displacements and Diaspora(s) to Spain, in Spain and from Spain
All courses are taught in Spanish. Prior to departure, you will be required to attend pre-departure meetings.
The courses you complete during this program will count as resident credit.
You will live with Spanish families in Salamanca. In Barcelona, you will share rooms in a student residence.
Costs listed are for summer 2018.
Application Fee
$50
Billable Costs
Billable costs are charged to your student account. They are due based on the Office of Student Financial Services and Cashiering payment schedule. Be sure to check your statements when they are available.
Education Abroad Fee
$500
This fee is charged to your account when the application status changes from "Accepted" to "Committed." This fee includes Education Abroad services including registration, billing, advising, risk management, and pre-departure orientation.
International Health Insurance
$74
Tuition
$3,116
This fee is charged to your UMD account upon course registration. This fee includes: Tuition, in-country transportation, course related activities, group meals, and teaching services.
Housing Fee
$1,060
This fee represents the housing provided during the program.
TOTAL PROGRAM FEE
$4,750
Out-of-pocket Costs
Meals (estimate)
$200
Passport
$140
Roundtrip Airfare (estimate)
$1,600
Optional Activities/incidental expenses
$50
Optional trip cancelation/interruption Insurance (estimate)
$180
TOTAL ESTIMATED COST OF ATTENDANCE:
$6,970
NOTE: If you are a non-UMD graduate student, you will need to pay a $75 application fee to the UMD graduate school to participate in this program.
Please refer to the following resources for more information on funding study abroad
PLEASE NOTE: All University of Maryland study abroad programs are financially self-supporting and, therefore, subject to cancelation due to low enrollment.
Dr. Eyda M. Merediz in the head of the Department of Spanish and Portuguese and arrived at the University of Maryland after finishing her doctoral degree at Princeton University. Her academic interests concentrate primarily on the fields of Colonial Latin American Studies and Early Modern Transatlantic Literatures and Cultures, Spain and Cuba, and cinema.  In addition to several articles and a critical edition, she has published a monograph, an edited two volumes. Merediz has served as Director of Graduate Studies and the Departmental Honors Program, as well as the Undergraduate Advisor for the Certificate on Latin American Studies. She has enriched curricular offerings at all levels in her areas of specialization have designed several Study Abroad programs and courses for the winter, summer and semester terms.  She co-designed the summer in Salamanca/Barcelona-Spain in 2002 that has run successfully since then. 
Mariluz Bort is a fifth year Ph.D. student at the Department of Spanish and Portuguese, whose field of study and interest is literature of 20th Century Spain, more specifically, travel and exile writing, poetry and women studies. She is from Huelva (Andalusia, Spain) and holds a B.A in English Studies and a M.A in "European Literatures and Teaching Languages". She taught for two years in the Department of Romance Languages and Literatures at Harvard University before coming to UMD. She was awarded the International Graduate Student Fellowship to conduct research in Salamanca in 2017. She attended to numerous conferences and collaborated in some workshops, projects and conferences at UMD. She has taught several Spanish courses from beginner levels to upper-division undergraduate at UMD. She was an instructor and the coordinator helper in Salamanca-Barcelona Study Abroad Program for Summer 2015 and the Program Director for Summer 2017. 
For course, itinerary or in-country information, please contact the Program Director. For general questions or assistance with applying, contact EA Short-term Programs
As a part of this program, you will engage in the following activities:
Study at a Spanish Language Institute.
Homestay with a local Spanish family.
Excursions to Ávila, Segovia, Zamora, Girona, Figueres, Monserrat and Mirando do Douro in Portugal (included in cost).
Guided tours of the city highlighting history as well as contemporary culture.
| Term | Year | Application Deadline | Admission Notification | Program Start | Program End |
| --- | --- | --- | --- | --- | --- |
| Summerterm | 2018 | 03/01/2018 | 03/11/2018 | 06/01/2018 | 07/15/2018 |