UMD-Summer: United Kingdom: British Culture, Art and Life in the UK (ENGL/THET)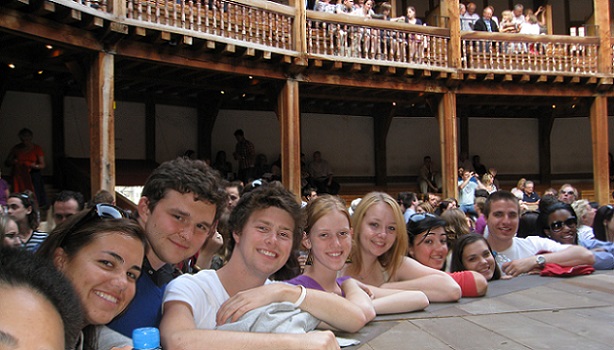 This program will provide students with a firsthand look at British culture through the lens of  six focal points:  History, Literature, and Drama as well as Art History, Archaeology, and Architecture. Lectures will be conducted on foot as the group travels around London, Norwich, Oxford, and Canterbury looking at historic and archaeological sites, buildings, galleries, museums, a backstage at several theatres and rehearsal spaces, and the homes of famous writers like Freud,  Darwin, John Keats, Jane Austin, and Dame Juliana of Norwich. Students will explore British history and life, both in London and in a small, Norfolk village of 150 homes, called Castle Acre. The course starts at 9:30 am every day and concludes with a play nearly every night. Guest lecturers include British academics, actors, program and museum directors, archaeologists, and historians.Students are required to take extensive notes, which will be evaluated during the course and handed in for grading at the end. Discussions at group meals and lunches are focused on the ideas generated by that day's visits or lectures. You are expected to read 10 books as well as the texts of the 16 or 17 plays we shall see in London. Based on research topics that engaged them in London, students are each expected to write papers on various topics, including one paper on a major topic of interest to them. These papers are due August 15. 
Scholarships will be awarded by the English Department to the first three English majors who commit to the program. 
You must be in good academic and judicial standing and you must not have any registration blocks to participate in this program. The minimum GPA for this program is listed above.
UMD and Non-UMD freshmen, sophomores, juniors, and seniors are eligible to apply.
To be considered for this program, you must set up an interview with Professor Olmert.
If you are interested in this program but do not meet the eligibility requirements, reach out to the program director (listed in the Contacts tab) to discuss your interest in the program.
 
After you commit to the program, Education Abroad will enroll you in the following three (3) credit UMD course:
ENGL 409M: Literature, Art and Architecture in London
THET 328O: Literature, Art and Architecture in London
The credit you earn during this program will count as resident credit.
There will be two pre-departure meetings in April to review the course books, intellectual content, and expectations. 
A required course paper will be due after you return to the US.
 
You will stay in shared accommodations with standard amenities (showers, bathrooms, etc.). A full English breakfast is provided each day.
Costs listed are for summer 2018.
Application Fee
$50
Billable Costs
Billable costs are charged to your student account. They are due based on the Office of Student Financial Services and Cashiering payment schedule. Be sure to check your statements when they are available.
Education Abroad Fee
$500
This fee is charged to your account when the application status changes from "Accepted" to "Committed." This fee includes Education Abroad services including registration, billing, advising, risk management, and pre-departure orientation.
International Health Insurance
$37
Tuition
$3,288
This fee is charged to your UMD account upon course registration. This fee includes: Tuition, in-country transportation, course related activities, group meals, and teaching services.
Housing Fee
$1,400
This fee represents the housing provided during the program.
TOTAL PROGRAM FEE
$5,225
Out-of-pocket Costs
Meals (estimate)
$400
Course Materials
$40
Passport
$140
Roundtrip Airfare (estimate)
$1,500
Optional Activities/incidental expenses
$250
Optional trip cancelation/interruption Insurance (estimate)
$180
TOTAL ESTIMATED COST OF ATTENDANCE:
$7,785
Please refer to the following resources for more information on funding study abroad
PLEASE NOTE: All University of Maryland study abroad programs are financially self-supporting and, therefore, subject to cancelation due to low enrollment.
Michael Olmert has written five books, over 200 magazine articles, essays, and reviews, three feature films, an IMAX film, three stage plays, and over ninety television documentaries. He has also won three Primetime Emmy Awards. He holds a PhD in English literature and is a professor in the English Department of the University of Maryland, where he has taught for 28 years, and where he was recently inducted into its Alumni Hall of Fame. His special interests are Shakespeare, the 18th Century, and Modern British Drama.
Leigh Wilson Smiley has been the Director of the School of Theatre, Dance and Performance Studies (TDPS) since 2013. Smiley served as a professor in the School and fulfilled a variety of administrative roles including Head of the first MFA in Performance cohort at TDPS, and Associate Director of Theatre for the School.  She has been nominated two times as a Philip Merrill Presidential Scholar Faculty Mentor.  Smiley has received two Creative and Performing Arts Awards for her research on the extended voice and the Visual Accent Dialect Archive. She received a Maryland Institute for Technology in the Humanities Fellowship, and the Foxworth Creative Enterprise Initiative Fellowship.  Smiley works as a Dialect and Voice Director for institutions such as Ford's Theatre, Center Stage in Baltimore, Round House Theatre and continues to develop and present the Visual Accent and Dialect Archive. She is a member of Actors Equity Association, Screen Actors Guild, American Federation of Television and Radio Artists, Association for Theatre in Higher Education, and the Voice and Speech Trainers Association.
For course, itinerary or in-country information, please contact the Program Director. For general questions or assistance with applying, contact EA Short-term Programs
As a part of this program, you will engage in the following activities:
Attend a play every night.
Meet fascinating people doing work on archaeological monuments.
Work in archaeology on the stage and in galleries in museums.
Explore the layer-cake of 6,00 years of English culture.
| Term | Year | Application Deadline | Admission Notification | Program Start | Program End |
| --- | --- | --- | --- | --- | --- |
| Summerterm | 2018 | 03/15/2018 | 03/11/2018 | 06/09/2018 | 06/29/2018 |