UMD-Winter: Germany: Germany in the New Europe (GERM/BMGT/GVPT/HONR)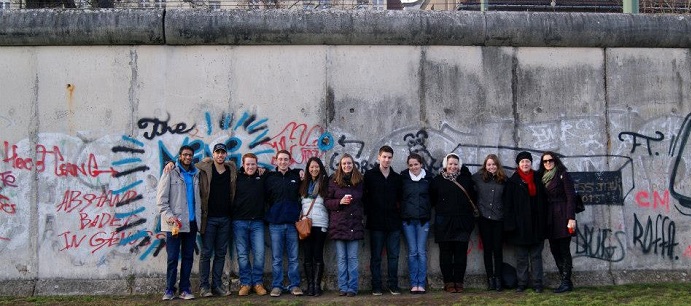 This course focuses on modern German politics, business, history and culture. Through lectures, readings, and field visits, you will explore Germany's place in the New Europe, and how German and European political, business and cultural institutions were shaped and operate today.
This program will take place in Tübingen, Munich, and Berlin. Tübingen is located in beautiful surroundings just on the edge of the Schwarzwald (the Black Forest), and many of its buildings date back to the 15th and 16th centuries. Munich, in the heart of Bavaria, offers students the opportunity to experience southern German culture from the famous Marienkirche glockenspiel to the modern architecture of the Olympic Stadium built for the 1972 Olympics. Additionally, students will take a day-trip to the concentration camp memorial at Dachau outside of Munich. Berlin has undergone dramatic changes since the opening of the Berlin Wall in 1989, which make it one of the most exciting cities in Europe today. Its reinstatement as Germany's capital in 1991 provides an especially rich background for our studies of politics, business, history, and culture.
You must be in good academic and judicial standing and you must not have any registration blocks to participate in this program. The minimum GPA for this program is listed above.
UMD and non-UMD freshmen, sophomores, juniors and seniors are eligible to apply.
If you are interested in this program but do not meet the eligibility requirements, reach out to the program director (listed in the Contacts tab) to discuss your interest in the program.
After you commit to the program, Education Abroad will enroll you in one of the following three (3) credit UMD courses:
GERM449B: Selected Topics in Germanic Studies: Germany in the New Europe: Politics, Business, and Culture
BMGT398B: Individual Study in Business and Management: Germany in the New Europe: Politics, Business, and Culture
GVPT388T: Topical Investigations: Germany in the New Europe: Politics, Business, and Culture
HONR348X: Advanced Honors Seminar: Germany in the New Europe: Politics, Business, and Culture
The credit you earn during this program will count as resident credit.
The course will be taught in English. German lessons will be provided.
In Tübingen, you will be housed in the University's comfortable guest house, typically in two person bedrooms. While in Munich and Berlin you will stay in a budget hotel or youth hostel.
 
Application Fee
$50
Billable Costs
Billable costs are charged to your student account. They are due based on the Office of Student Financial Services and Cashiering payment schedule. Be sure to check your statements when they are available.
Education Abroad Fee
$500
This fee is charged to your account when the application status changes from "Accepted" to "Committed." This fee includes Education Abroad services including registration, billing, advising, risk management, and pre-departure orientation.
International Health Insurance
$40
Tuition
$2,412
This fee is charged to your UMD account upon course registration. This fee includes: Tuition, in-country transportation, course related activities, group meals, and teaching services.
Housing Fee
$1,398
This fee represents the housing provided during the program.
TOTAL PROGRAM FEE
$4,350
Out-of-pocket Costs
Meals (estimate)
$450
Visa
$0
Passport
$140
Roundtrip Airfare (estimate)
$1,300
Course Materials
$50
Optional Activities/incidental expenses
$350
Optional trip cancelation/interruption Insurance (estimate)
$180
TOTAL ESTIMATED COST OF ATTENDANCE:
$6,870
NOTE: If you are a non-UMD graduate student, you will need to pay a $75 application fee to the UMD graduate school to participate in this program.
Please refer to the following resources for more information on funding study abroad
PLEASE NOTE: All University of Maryland study abroad programs are financially self-supporting and, therefore, subject to cancelation due to low enrollment.
Regina Ianozi is Assistant Clinical Professor and Undergraduate Advisor for Germanic Studies in the School of Languages, Literatures, and Cultures at the University of Maryland. She will be the Resident Director for the Winter-Term Tübingen program.
 
For course, itinerary or in-country information, please contact the Program Director. For general questions or assistance with applying, contact EA Short-term Programs.
As a part of this program, you will engage in the following activities:
Several day excursions to cultural and historical sites such as the Prussian Hohenzollern Castle
Visit to Haigerloch (an old beer cellar was used as an atomic research laboratory in World War II)
Weekend trip to Munich, including a visit to the 1972 Olympic Stadium and nearby concentration camp memorial Dachau
Long-weekend trip to Berlin, including a visit to the German Bundestag, Free University and the Berlin Wall museum
| Term | Year | Application Deadline | Admission Notification | Program Start | Program End |
| --- | --- | --- | --- | --- | --- |
| Winterterm | 2019 | 10/01/2018 | 10/11/2018 | 01/02/2019 | 01/25/2019 |