UMD-Summer: Singapore: Religious Rehabilitation of Terrorists (START)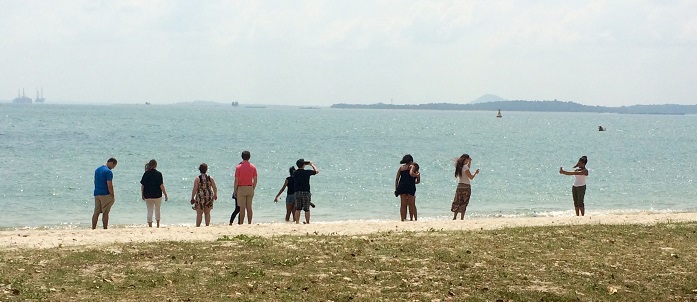 Ever wondered why people commit terrorist acts? Or why they stop? Have you thought about what happens to the ones who get arrested? What they do, once in prison? This course explores these questions through a unique opportunity to study religious rehabilitation of terrorist detainees in one of the very first countries to explore the practice. You'll study with the Singaporean Muslim clerics and religious scholars who develop and deliver religious counseling programs for detained members of Jemaah Islamiyah and the Islamic State. You'll also visit some of these programs, and you'll meet people recently released from prison. The class is open to all--no knowledge of terrorism required--and it is designed to allow you to pursue other work, internship, and study opportunities during the same summer that you travel with us. We will conduct 5 weeks of asynchronous online coursework, when you can be working from anywhere at anytime, and we will then spend 10, immersive, exciting days in Singapore. In Singapore, we won't just study--we'll also eat at a cat cafe, take a tea appreciation workshop, do a rain forest canopy walk, watch Chinese street opera and see a soccer match!
You must be in good academic and judicial standing and you must not have any registration blocks to participate in this program. The minimum GPA for this program is listed above.
All UMD and non-UMD undergraduate and graduate students are eligible to apply to this program.
After you commit to the program, Education Abroad will enroll you in one of the following three (3) credit UMD course:
BSST338S: Countering Violent Extremism and Deradicalization in International Contexts
BSST638S: Countering Violent Extremism and Deradicalization in International Contexts
The credit you earn during this program will count as resident credit.
This course meets online for approximately four weeks prior to departure and one week after returning. You do need not be located in College Park, but must be able to participate in an online course during those times.
You will stay in shared acommodations in hotels for the duration of the program.
Costs listed are for summer 2017. Costs for 2018 will be updated shortly. 
Application Fee
$50
Billable Costs
Billable costs are charged to your student account. They are due based on the Bursar's payment schedule. Be sure to check your statements when they are available.
Education Abroad Fee
$500
This fee is charged to your account when the application status changes from "Accepted" to "Committed." This fee includes Education Abroad services including registration, billing, advising, risk management, and pre-departure orientation.
International Health Insurance
$40
Tuition
$3,405
This fee is charged to your UMD account upon course registration. This fee includes: Tuition, in-country transportation, course related activities, group meals, and teaching services.
Housing Fee
$730
This fee represents the housing provided during the program.
TOTAL PROGRAM FEE
$4,675
Out-of-pocket Costs
Meals (estimate)
$200
Course Materials
$20
Passport
$140
Roundtrip Airfare (estimate)
$1,500
Optional Activities/incidental expenses
$250
Optional trip cancelation/interruption Insurance (estimate)
$180
TOTAL ESTIMATED COST OF ATTENDANCE:
$7,090
NOTE: If you are a non-UMD graduate student, you will need to pay a $75 application fee to the UMD graduate school to participate in this program.
Please refer to the following resources for more information on funding study abroad
PLEASE NOTE: All University of Maryland study abroad programs are financially self-supporting and, therefore, subject to cancelation due to low enrollment.
Dr. Kate Izsak, Undergraduate and Graduate Director of the Program in Terrorism Studies and Director of Education for the National Consortium for Terrorism and Responses to Terrorism (START), holds a Ph.D in History and Anthropology from the University of Michigan and has a faculty affiliation in the UMD Department of Anthropology. She directs the Undergraduate Minor in Global Terrorism and Graduate Certificate in Terrorism Analysis and has won numerous University accolades for her innovative teaching methods.
For course, itinerary or in-country information, please contact the Program Director. For general questions or assistance with applying, contact EA Short-term Programs
As a part of this program, you will engage in the following activities:
Lectures by leading terrorism experts from Nanyang Technological University.
Discussions on the nature of terrorist radicalization and deradicalization.
Visits to sites associated with Singapore's prisoner deradicalization and rehabilitation programs.
Cultural activities in Singapore - a small, vibrant city-state with diverse social, cultural, and religious influences.
Group activities including a night safari and a visit to the Bukit Timah Nature Reserve.
A day-trip to Kuala Lumpur, Malaysia, to study impacts of terrorism in Southeast Asia.
| Term | Year | Application Deadline | Admission Notification | Program Start | Program End |
| --- | --- | --- | --- | --- | --- |
| Summerterm | 2017 | 03/21/2017 | 03/11/2017 | 06/10/2017 | 06/18/2017 |