UMD-Summer: South Africa: Understanding Social Inequalities in Post-Apartheid South Africa (AASP)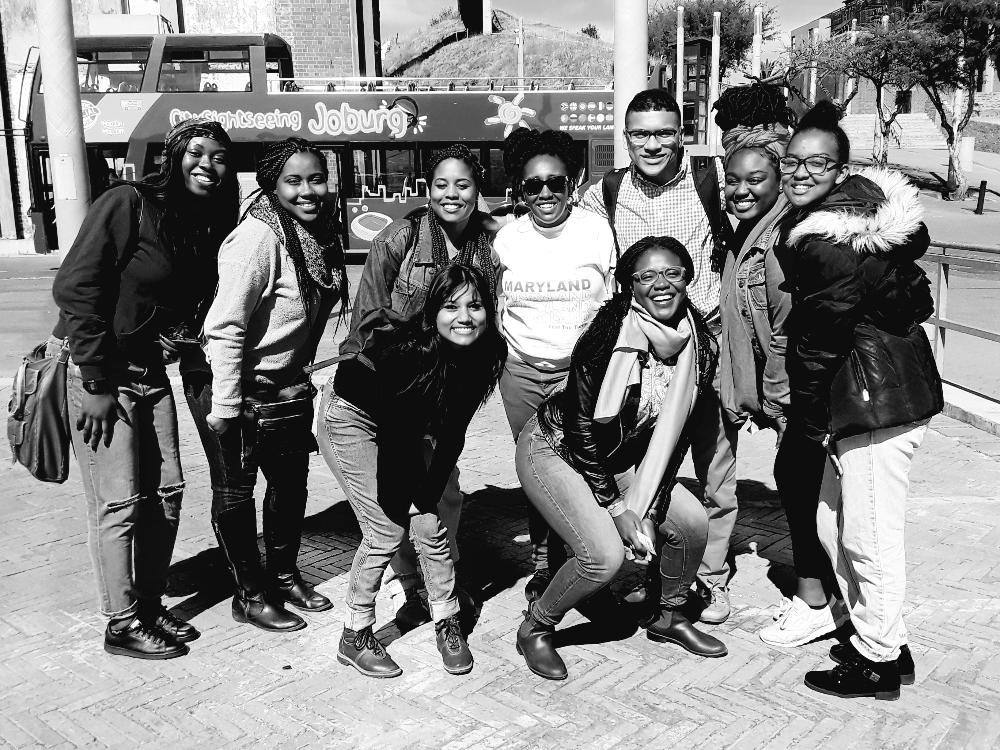 The past twenty-five years in South Africa can be characterized as a period of chaotic, peaceful and volatile mix of political harmony and turmoil, an explosion of urban-cultural creativity, growth of unstoppable entrepreneurial activity, and a time when young people are challenging the relevance of society's political, cultural and economic structures and institutions. Calls for 'economic freedom', 'decolonized education', #FeesMustFall, and #RhodesMustFall (similar to ongoing tensions about symbols of the Confederacy in the United States) are some examples of contemporary South Africa's debates.
The African American Studies Department (AASD) seeks to offer students an opportunity to be part of this evolving South African experience. Through this program, you will participate in a diverse range of activities, including volunteering with selected organizations in and around Johannesburg, visiting key historical and political struggle sites, visiting the ecological parks such as the Blyde Canyon and the Kruger National Park, home stay with families in villages in Bushbuckridge, engaging with a range of speakers and activists drawn from academia, government, NGOs and the community, and participant observations to name just a few. 
Follow this link for some photos of the 2016 cohort. 
See the "Costs" tab for information about scholarships! 
You must be in good academic and judicial standing and you must not have any registration blocks to participate in this program. The minimum GPA for this program is listed above.
UMD and Non-UMD juniors and seniors are eligible to apply.  Sophomores may be considered.
If you are interested in this program but do not meet the eligibility requirements, reach out to the program director (listed in the Contacts tab) to discuss your interest in the program.
After you commit to the program, Education Abroad will enroll you in both of the following six (3) credit UMD courses for a total of 6 credits:
AASP468Z: Special Topics in Africa and the Americas – Understanding Social Inequalities in Post-Apartheid South Africa
AASP468Y: Special Topics in Africa and the Americas – Understanding Social Inequalities in Post-Apartheid South Africa
The credit you earn during this program will count as resident credit.
AAPS468Z has been approved for the General Education Understanding Plural Societies requirement.
 
There will be a mandatory pre-program component June 4th-June 8th on the UMD College Park campus. 
In Johannesburg you will stay at a Bed & Breakfast in shared accommodations. The Bed & Breakfast is centrally located and close to WITS University, University of Johannesburg, service learning sites, restaurants, and shops. In Bushbuckridge you will stay with host families as part of your home-stay.
Costs listed are for summer 2018. Costs for summer 2019 will be updated shortly.
Application Fee
$50
Billable Costs
Billable costs are charged to your student account. They are due based on the Office of Student Financial Services and Cashiering payment schedule. Be sure to check your statements when they are available.
Education Abroad Fee
$500
This fee is charged to your account when the application status changes from "Accepted" to "Committed." This fee includes Education Abroad services including registration, billing, advising, risk management, and pre-departure orientation.
International Health Insurance
$37
Tuition
$2,827
This fee is charged to your UMD account upon course registration. This fee includes: Tuition, in-country transportation, course related activities, group meals, and teaching services.
Housing Fee
$786
This fee represents the housing provided during the program.
TOTAL PROGRAM FEE
$4,150
Out-of-pocket Costs
Meals (estimate)
$250
Course Materials
$0
Passport
$140
Roundtrip Airfare (estimate)
$1,500
Optional Activities/incidental expenses
$300
Optional trip cancelation/interruption Insurance (estimate)
$180
TOTAL ESTIMATED COST OF ATTENDANCE:
$6,570
NOTE: If you are a non-UMD graduate student, you will need to pay a $75 application fee to the UMD graduate school to participate in this program.
Please refer to the following resources for more information on funding study abroad
PLEASE NOTE: All University of Maryland study abroad programs are financially self-supporting and, therefore, subject to cancellation due to low enrollment.
Want to participate in this course but the cost makes it impossible? Please talk to us to see if we can help you find the financial resources to participate in this study abroad program.Scholarship funds are available for degree-seeking students who have demonstrated financial need.
Need-based scholarships in the range of $1000 to $4000 are available.
Pell Grant recipients are strongly encouraged to apply for the Gilman International Scholarship. Ask us if you have questions or need help with your application. 
Students who are not Pell Grant recipients but who still have financial need at University of Maryland in 2017-18 (as determined by the 2017-2018 FAFSA) may still qualify for a need-based scholarship. Students must have a FAFSA on file with the University of Maryland for 2017-18 for consideration. If you did not file a FAFSA for 2017-2018, you may still do so by visiting www.fafsa.ed.gov.
Your application for the UMD Education Abroad Fund will serve as your application for available scholarships offered specifically for this program.  

Application deadline is February 15th

For more information, contact:  Sharon A. Hodgson (Director of Administrative Services, AASD) shodgson@umd.edu
Vusi Dlamini is the Program Director and holds an MA in Development Studies from Sussex (UK). He was born and raised in Bushbuckridge and has years of experience in rural development work in South Africa. Therefore, Vusi is ideally suited to direct this program. Vusi is also well known in all the villages in which students will be staying for their homestays.
Sangeetha Madhavan, PHD, is the co-director. Dr. Madhavan is the Associate Professor in African-American Studies and Associate Director for the Maryland Population Research Center. She considers South Africa her second home. Dr. Madhavan has taught at WITS University, has been engaged in research in both rural and urban contexts for 15 years, lived in Johannesburg and Bushbuckridge, and has conversational fluency in Shangaan, the language of Bushbuckridge.
For course, itinerary or in-country information, please contact the Program Director. For general questions or assistance with applying, contact EA Short-term Programs.
As a part of this program, you will engage in the following activities:
Service learning projects in Johannesburg.
Guest lectures from a wide range of experts drawn from health, education, rural development, small business development, tourism, and governance.
Homestays in Bushbuckridge.
Visits to struggle sites in Johannesburg, Soweto and Pretoria.
Visit to the Kruger National Park.
| Term | Year | Application Deadline | Admission Notification | Program Start | Program End |
| --- | --- | --- | --- | --- | --- |
| Summerterm | 2019 | 03/01/2019 | 03/11/2019 | 07/25/2019 | 08/17/2019 |