UMD-Winter: Cuba: Critical Cultures in Contemporary Cuba (SPAN/LASC)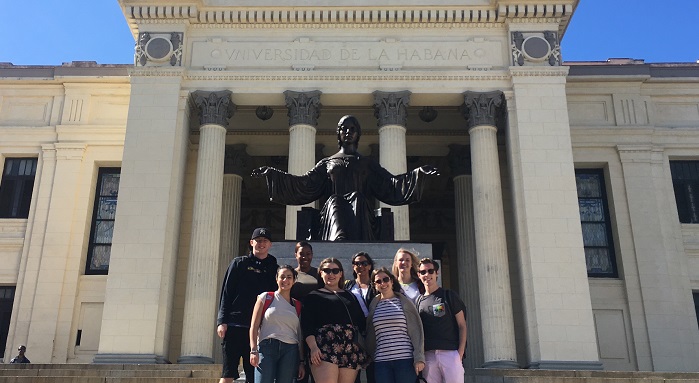 This course will focus on Havana as the site of a cultural and intellectual experience embedded in what has been known as the "Cuban Revolution". One of the signature cities of the Caribbean, Havana has a tropical climate, a breathtaking architecture and an intense cultural life. Havana is the capital and largest city of the island nation of Cuba, located just 90 miles from Key West, Florida. Site visits within the city as well as trips to Matanzas and Varadero, with their distinctive localities and rich history, will stimulate your sense of history and broaden your notions of the cultural and political complexities associated with this Caribbean nation. The center piece of our academic journey will be the examination of crucial documents and artistic expressions from the heyday of the Cuban Revolution and contemporary times.
You must be in good academic and judicial standing and you must not have any registration blocks to participate in this program. The minimum GPA for this program is listed above.
UMD and non-UMD freshmen, sophomores, juniors, seniors and graduate students are eligible to apply.
If you are interested in this program but do not meet the eligibility requirements, reach out to the program director (listed in the Contacts tab) to discuss your interest in the program.
After you commit to the program, Education Abroad will enroll you in one of the following three (3) credit UMD courses:
SPAN448: Critical Cultures in Contemporary Cuba. An Introduction to the Cuban Revolution
SPAN699: Critical Cultures in Contemporary Cuba. An Introduction to the Cuban Revolution
LASC369N: Critical Cultures in Contemporary Cuba. An Introduction to the Cuban Revolution 
The credit you earn during this program will count as resident credit.
In Havana, you will be placed in host family houses. Host families will provide daily breakfast and dinner. You will have your own room and access to laundry, Internet, and phone. (No internet)
Costs are current for winter 2019.
Application Fee
$50
Billable Costs
Billable costs are charged to your student account. They are due based on the Office of Student Financial Services and Cashiering payment schedule. Be sure to check your statements when they are available.
Education Abroad Fee
$500
This fee is charged to your account when the application status changes from "Accepted" to "Committed." This fee includes Education Abroad services including registration, billing, advising, risk management, and pre-departure orientation.
International Health Insurance
$40
Tuition
$3,460
This fee is charged to your UMD account upon course registration. This fee includes: Tuition, in-country transportation, course related activities, group meals, and teaching services.
Housing Fee
$0
This fee represents the housing provided during the program.
TOTAL PROGRAM FEE
$4,000
Out-of-pocket Costs
Meals (estimate)
$50
Visa
$0
Passport
$140
Roundtrip Airfare (estimate)
$500
Course Materials
$0
Optional Activities/incidental expenses
$100
Optional trip cancelation/interruption Insurance (estimate)
$180
TOTAL ESTIMATED COST OF ATTENDANCE:
$5,020
NOTE: If you are a non-UMD graduate student, you will need to pay a $75 application fee to the UMD graduate school to participate in this program.
Please refer to the following resources for more information on funding study abroad
PLEASE NOTE: All University of Maryland study abroad programs are financially self-supporting and, therefore, subject to cancelation due to low enrollment.
Rebeca Moreno, from Puerto Rico, received her Ph.D. in Spanish Language and Literatures from the University of Maryland, College Park in 2013. She has taught at the University of Maryland, American University, Middlebury College's Languages Schools, and currently is a visiting assistant professor at Washington College in Chestertown, Maryland. She served last year as faculty director in Cuba. She has also served twice as faculty director of UMD's Seville winter term program, and contributed as faculty assistant of UMD's Chile winter term program. Her areas of interest include Hispanic Caribbean Literature, Law & Literature, and Afro-Latin American Studies. She is the author of Escritura, derecho y esclavitud: Francisco José de Jaca ante el nomos colonial (2016).
For course, itinerary or in-country information, please contact the Program Director. For general questions or assistance with applying, contact EA Short-term Programs.
As a part of this program, you will engage in the following activities:
Guided visits to cultural/architectural/historical sites of interest.
Lectures and guides in their field of study by local professionals.
Experiential activities in order to get a deeper understanding of the history and the culture of the Cuban Revolution.
Exposure to the Cuban-Spanish language and target culture at home-stay and family activities.
| Term | Year | Application Deadline | Admission Notification | Program Start | Program End |
| --- | --- | --- | --- | --- | --- |
| Winterterm | 2019 | 10/15/2018 | 10/11/2018 | 01/02/2019 | 01/20/2019 |