UMD-Summer: Hong Kong & Cambodia: Service-Learning and Leadership across Cultural, Ethnic and Community Lines (HESI)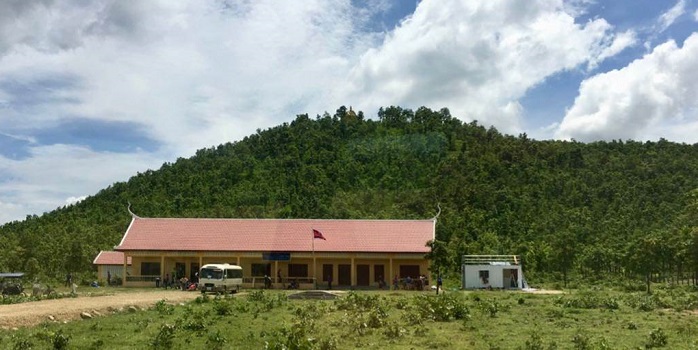 During the summer of 2018, students will travel to Hong Kong and Cambodia to explore socially responsible leadership in a cross-cultural context with university students from Hong Kong Polytechnic (PolyU) and the Royal University of Phnom Penh (RUPP). This 3 credit study-abroad course will allow students to apply leadership practices and global competencies through experiential learning with cross-institutional peers, non-profit organizations, and community members.
The first leg of the program will stop in Hong Kong where students will meet their Hong Kong colleagues. Students will stay on the PolyU campus to learn about university life, service-learning, and leadership through a specific, international lens. Students will visit political and cultural sites and examine social issues that have shaped leadership and culture in Hong Kong . 
The next two weeks will be spent in Cambodia where students will engage in a multi-prong service-learning experience with their PolyU and RUPP colleagues. This experience will involve the development of a learning center that is attached to a primary school. Activities range from conducting a community assessment, installing solar panels and technology, and providing training. 
This unique program allows students for all majors to get first hand experience of utilizing cross-cultural communication skills to incorporate program design and management in a diverse team setting. The service-learning component of this course will expose students to the needs of appropriate, sustainable technology in rural communities and the role of addressing social issues through global partnerships. Students will gain a more complex perspective of different cultures, develop meaningful peer relationships, critically reflect on the meaning and application of global leadership, and enact socially responsible leadership through service-learning.
At the end of this program, students will be able to:
Critically analyze leadership and service-learning in a global context.
Identify strategies for enhancing leadership practice as it relates to cross-cultural, team-centered settings.
Examine complex social issues to deploy appropriate solutions that address the root causes.
Use written and verbal methods of communication to analyze challenges experienced in the design, setting, and practice of service-learning. 
Learn to build upon the assets of community members and organizations to minimize the limitations of service-learning.
Reflect on the role of identity, power, and privilege in the interpretation of their cross-cultural service experience.
You must be in good academic and judicial standing and you must not have any registration blocks to participate in this program. The minimum GPA for this program is listed above.
UMD freshmen, sophomores, juniors and seniors are eligible to apply for this program.
If you are interested in this program but do not meet the eligibility requirements, reach out to the program director (listed in the Contacts tab) to discuss your interest in the program.
 
After you commit to the program, Education Abroad will enroll you in one of the following three (3) credit UMD courses:
 
HESI418T: Service-Learning and Leadership across Cultural, Ethnic and Community Lines
The credit you earn during this program will count as resident credit.
While in Hong Kong, students will stay in PolyU residence halls. While in Cambodia, students will stay in hotels.
Costs listed are for summer 2018.
Application Fee
$50
Billable Costs
Billable costs are charged to your student account. They are due based on the Bursar's payment schedule. Be sure to check your statements when they are available.
Education Abroad Fee
$500
This fee is charged to your account when the application status changes from "Accepted" to "Committed." This fee includes Education Abroad services including registration, billing, advising, risk management, and pre-departure orientation.
International Health Insurance
$37
Tuition
$1,813
This fee is charged to your UMD account upon course registration. This fee includes: Tuition, in-country transportation, course related activities, group meals, and teaching services.
Housing Fee
$300
This fee represents the housing provided during the program.
TOTAL PROGRAM FEE
$2,650
Out-of-pocket Costs
Meals (estimate)
$60
Visa
$30
Passport
$140
Roundtrip Airfare (estimate)
$1,200
Course Materials
$0
Optional Activities/incidental expenses
$100
Optional trip cancelation/interruption Insurance (estimate)
$180
TOTAL ESTIMATED COST OF ATTENDANCE:
$4,410
NOTE: If you are a non-UMD graduate student, you will need to pay a $75 application fee to the UMD graduate school to participate in this program.
Please refer to the following resources for more information on funding study abroad
PLEASE NOTE: All University of Maryland study abroad programs are financially self-supporting and, therefore, subject to cancelation due to low enrollment.
Dr. Natasha Chapman serves as the Coordinator, Leadership Studies program in which she provides support and direction to undergraduate leadership courses, a Minor, and a Certificate. She has served as a leadership educator, practitioner, and administrator in higher education collectively for over 12 years. During this time she has traveled with students on eight education abroad opportunities in 6 different countries. She is passionate about supporting students as they develop their leader identity and providing opportunities for them to explore and critically examine how they value, understand, and enact leadership.
Anne Spear is a PhD candidate in the International Education Policy program at University of Maryland. She has led student groups to Rwanda and Haiti. She participated in the Master's International Peace Corps Program in which she completed an US Peace Corps assignment as a Girls' Education and Empowerment Volunteer in Burkina Faso along with a Master's in International Studies from the University of Wyoming. In addition, Ms. Spear is a certified teacher and holds a M.S.ED in Education and Social Change at the University of Miami.
For course, itinerary or in-country information, please contact the Program Director. For general questions or assistance with applying, contact EA Short-term Programs.
As a part of this program, you will engage in the following activities:
Partner with students from Polytechnic University, Hong Kong and Royal University of Phnom Penh, Cambodia while being exposed to two different regions of the world
Learn to apply global leadership competencies to navigate complex and challenging cross-cultural dynamics
Build on community assets to develop a collaborative, sustainable service-learning project
Visit famous city landmarks in Hong Kong and the historical Angkor Wat in Cambodia
| Term | Year | Application Deadline | Admission Notification | Program Start | Program End |
| --- | --- | --- | --- | --- | --- |
| Summerterm | 2018 | 03/15/2018 | 03/11/2018 | 05/29/2018 | 06/20/2018 |