UMD-Summer: Russia: Urban Redevelopment Studio (ARCH/URSP)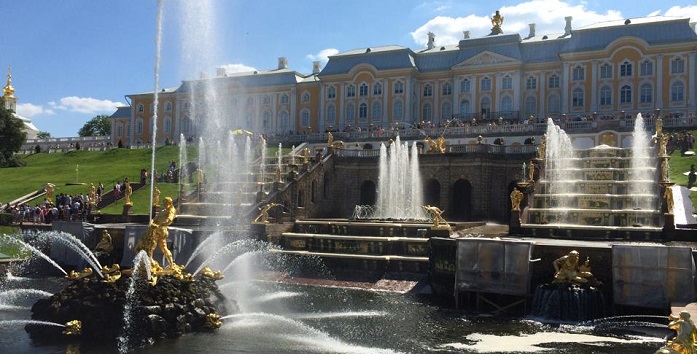 The St. Petersburg studio will bring US and Russian students together for a month of collaborative work creating a proposal for the redevelopment of a site in the former industrial zone of the city. This will be an opportunity to develop your growing professional skills on an interdisciplinary, international team that will challenge you to think in new ways as you work together with local students to reimagine the future of their city. Guided by US and Russian faculty, students of architecture, planning, economics, real estate development, and historic preservation will bring their diverse professional and cultural perspectives to envision together the next chapter in the history of the former Soviet industrial area. The studio will culminate with a presentation of your proposals to local officials. This is a real opportunity to contribute your ideas to the discourse of development in a post-Soviet city. As you gain deep knowledge of the urban issues in St. Petersburg, you will also be developing valuable skills in preparation for global practice.
   
The studio will be taught by both US and Russian faculty. Associate Professor of Architecture Madlen Simon and Clinical Assistant Professor of Real Estate Development Tanya Bansal of the University of Maryland, Professor of Economics Leonid Limonov of the National Research University Higher School of Economics (NRU HSE) and Professor of Architecture Vladimir Linov of St. Petersburg State University of Architecture and Civil Engineering (GASU) will serve as the primary program faculty. Additional US and Russian faculty contributing to the program will include Clinical Professor of Real Estate Development Margaret McFarland of the University of Maryland and Anna Kathanova of the St. Petersburg City Planning Administration and Dean Fedor Perov of GASU.
The program will offer a cultural immersion experience. Students will live and work on the campus of the State University of St. Petersburg, eat in the canteens and cafes frequented by Russian students, and travel the city by Metro. Local student participants will serve as guides and cultural interpreters for their US counterparts. You will learn to navigate a major Eastern European city, decipher signage in a new alphabet, make yourself understood in an unfamiliar language, and discover new rhythms of daily life that may challenge American norms you formerly took for granted. 
The first weekend will be filled with tours of St. Petersburg, including a visit to the Hermitage Museum and a boat trip to the Summer Palace. Dinner at a local restaurant will give US and Russian students a chance to get to know one another outside the studio setting. The White Nights (the sun sets around 11pm in July-early August) make for enjoyable evenings walking around the beautiful city, where light reflected off the river and canals illuminates the lovely architecture reminiscent of Venice. The second weekend we will board the Red Arrow train on Friday night, waking up in our sleeper compartments Saturday morning in Moscow to experience a totally different Russian city. With Moscow-based faculty as our guides, we will visit sites of professional interest, along with cultural destinations such as Red Square, Gorky Park, and the Tretyakov Museum. The third weekend students will be on their own to explore St. Petersburg or venture afield to other Russian destinations.
Please see the Eligibility tab to review additional application instructions.
 
You must be in good academic and judicial standing and you must not have any registration blocks to participate in this program. The minimum GPA for this program is listed above.
UMD and Non-UMD juniors, seniors and graduate students enrolled in the following programs are eligible to apply:
Architecture
Urban Planning
Historic Preservation
Real Estate Development
Prerequisites:
For ARCH, HISP, and URSP graduate students, completion of a minimum of one year of their graduate program.
For undergraduate ARCH students, completion of a minimum of two years of their architecture undergraduate major, including successful completion of one studio course.
For RDEV students, completion of RDEV 630 or equivalent fundamentals of real estate finance course.
If you are interested in this program but do not meet the eligibility requirements, reach out to the program director (listed in the Contacts tab) to discuss your interest in the program.
Additional application requirements include the following:
Interview with Professor Simon or Professor Bansal
Please email Professors Simon and Bansal the names and contact information (email and phone) of two UMD faculty willing to serve as references.
Students are encouraged to contact Professors Simon and Bansal right away to schedule an interview. For best consideration and acceptance by January 20th, interview should be completed by January 15th and reference names and contact information should be submitted by January 15th. The final deadline for interview completion and reference submission is March 1st. 
Visa Requirements:
Please note, you must apply for and receive a passport and visa in time to travel. The Program Director will provide information on visa type (tourist or student) as well as copy of invitation letter from in-country partner (as soon as available).
 
After you commit to the program, Education Abroad will enroll you in one of the following options:
RDEV689Y for a total of 3 credits
ARCH478S (undergraduate) or ARCH678S (graduate) for a total of 3 credits
ARCH408S (undergraduate) or ARCH608 (graduate) for a total of 6 credits**
URSP705 + URSP706 for a total of 6 credits**
**Requires 2 additional weeks of classwork at the University of Maryland, College Park campus directly following the 4 weeks abroad. On-campus dates are: Monday, August 6 through Friday, August 17.  Please note that housing is not provided for the two-week post-program component.
The credit you earn during this program will count as resident credit.
Students will stay in the hostel on the campus of the St. Petersburg State University of Architecture and Civil Engineering (GASU).
Costs listed are current for summer 2018. 
Application Fee
$50
Billable Costs
Billable costs are charged to your student account. They are due based on the Office of Student Financial Services and Cashiering payment schedule. Be sure to check your statements when they are available.
Education Abroad Fee
$500
This fee is charged to your account when the application status changes from "Accepted" to "Committed." This fee includes Education Abroad services including registration, billing, advising, risk management, and pre-departure orientation.
International Health Insurance
$37
Tuition
$3,438
This fee is charged to your UMD account upon course registration. This fee includes: Tuition, in-country transportation, course related activities, group meals, and teaching services.
Housing Fee
$725
This fee represents the housing provided during the program.
TOTAL PROGRAM FEE
$4,700
Out-of-pocket Costs
Meals (estimate)
$675
Visa
TBD
Passport
$140
Roundtrip Airfare (estimate)
$1,500
Course Materials
$0
Optional Activities/incidental expenses
$250
Optional trip cancelation/interruption Insurance (estimate)
$180
TOTAL ESTIMATED COST OF ATTENDANCE:
TBD
NOTE: If you are a non-UMD graduate student, you will need to pay a $75 application fee to the UMD graduate school to participate in this program.
Please refer to the following resources for more information on funding study abroad
PLEASE NOTE: All University of Maryland study abroad programs are financially self-supporting and, therefore, subject to cancelation due to low enrollment.
Madlen Simon AIA, the program director, is Associate Dean for Academic Affairs and Outreach and Associate Professor at the University of Maryland¹s School of Architecture, Planning, and Preservation and a registered architect. Professor Simon¹s scholarship, research, and creative practice are in the area of design thinking ­ design pedagogy, history of design education, and applied design research. Professor Simon is a Distinguished Fellow of the Academy for Innovation and Entrepreneurship at the University of Maryland and teaches one of the Academy's Fearless Ideas courses in design thinking to undergraduate students from diverse majors. She teaches a Global Classroom Initiative studio course to graduate students in collaboration with students and faculty of Al-Nahrain University in Baghdad. With funding from IREX, she works with faculty from Iraqi universities to improve the quality of architectural education in that country. Simon publishes and lectures internationally on design education, design thinking, and education for global architectural practice. Her prior experience with education abroad includes participating in four study abroad experiences as a student. Professor Simon has traveled in Russia twice - once in communist times and once in the current post-Soviet condition. She is excited about this program for so many reasons - connecting with Russian colleagues, living in a great European city, improving her very limited Russian language ability, developing deep knowledge about St. Petersburg, and participating in a project with the potential to inform transformative change in the city.
Tanya Bansal is Clinical Assistant Professor and Assistant Director for Programs in Real Estate Development at the University of Maryland. She teaches and advises graduate students enrolled in the Master of Real Estate Development program and undergraduates enrolled in the Real Estate Minor. As a cross-cultural former student and current faculty member herself, Professor Bansal serves as the key contact for our international students. The Master of Real Estate Development program enrolls 15%-20% international students every term. Bansal teaches and manages this multi-cultural student body, assisting them in managing cultural differences and helping them to adapt to study in the US. This is the skill-set that Professor Bansal will bring to her work with our US students in their education abroad experience in Russia.
For course, itinerary or in-country information, please contact the Program Director. For general questions or assistance with applying, contact EA Short-term Programs.
As a part of this program, you will engage in the following activities:
Propose an urban redevelopment plan for a formerly industrial zone of St. Petersburg
 Collaborate with Russian students from two St. Petersburg universities
Engage with Russian faculty, professionals, and city officials
Travel to Moscow by Red Arrow sleeper train
Term
Year
Application Deadline
Admission Notification
Program Start
Program End
Summerterm
2018
03/15/2018
01/20/2018
07/07/2018
08/04/2018
For best consideration, please submit your application to Education Abroad by January 15th, 2018.