Maryland-in-Barcelona (Spain)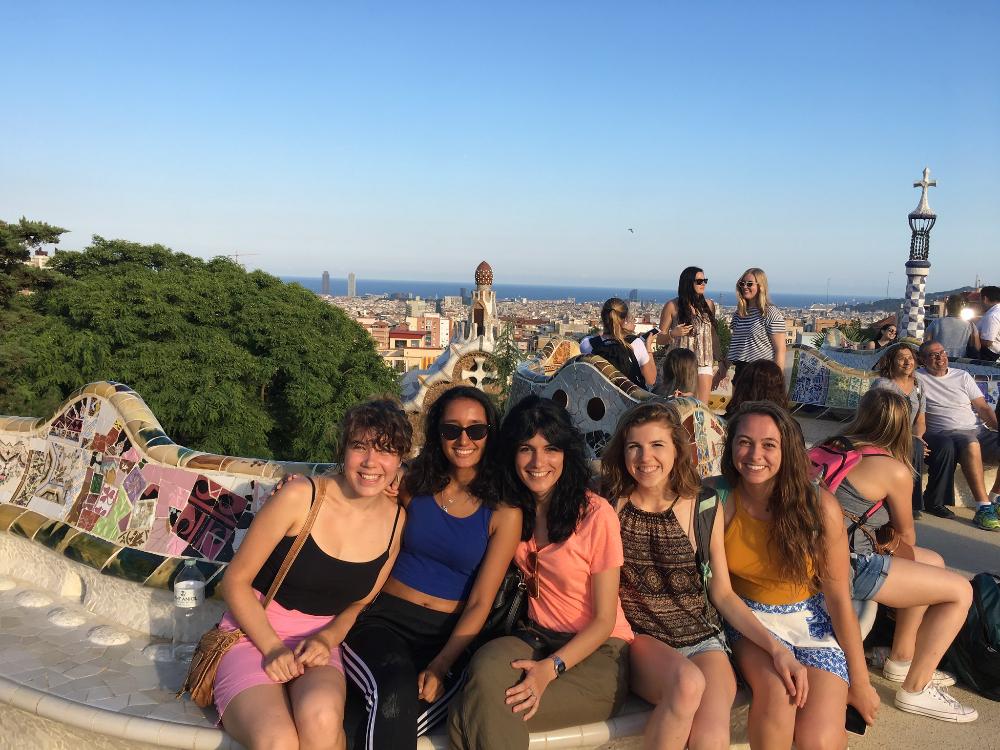 Spain's second largest city and the capital of Catalonia, Barcelona is truly Mediterranean in culture, temperament, and history. Founded in the second century BC, it is now a thriving, culturally rich metropolis known for its modernist architecture, gorgeous beaches, mountains overlooking the sea, and a largely preserved Gothic city center. As a part of the Maryland-in-Barcelona program, you will have the opportunity to learn Spanish or Catalan while investigating all the cultural offerings Barcelona has to offer. From world-class fútbol to fantastic architecture, you will be immersed in the warmth and vibrancy of the Spanish culture.
The Maryland-in-Barcelona program is designed to engage you in a living learning setting. You will complete coursework that provides a deeper understanding of Barcelona, Catalonian, and Spanish culture while also taking elective classes in the humanities, social sciences, or business and economics. You will enroll in courses at the Universitat Pompeu Fabra (UPF) or the Universitat Autònoma de Barcelona (UAB), both highly reputable Spanish institutions. Summer program students will only enroll in courses at UAB.. Courses are available in Spanish and English.
You must be in good academic and judicial standing and you must not have any registration blocks to participate in this program. 
All UMD sophomores, juniors, and seniors are eligible to apply to this program; preference will be given to juniors and seniors. Students with sophomore standing may only attend the program through UAB. There is no language pre-requisite. Non-UMD students are not permitted to apply. 
Please note that additional application materials may be required based on academic background. The EA advisor will communicate any additional materials that may be required. 
If you are interested in this program but do not meet the eligibility requirements, make an appointment with your EA advisor to discuss.
Visit the
Academics & Study Abroad page
which outlines key considerations for your academic planning as you navigate different phases of study abroad:
The Maryland-in-Barcelona academic program offers you flexibility to advance your studies in a wide arrange of disciplines while also deepening your knowledge of Spanish language and culture. You can even opt to pursue a 3-credit internship, with a placement in a local business or organization to advance your professional development and cultural connections. 
UMD students enroll in a full-time courseload (12-15 credits) at one of our partner universities: Universitat Pompeu Fabra (UPF) or Universitat Autònoma de Barcelona (UAB). Both universities are well-known and highly regarded public Spanish institutions of higher education. Courses are taught by local or international faculty who provide students with expertise in their respective discipline and often act as a cultural interpreter as students explore the socio-political and cultural aspects of their study abroad semester.
Maryland-in-Barcelona Academic Program Structure
 
| | |
| --- | --- |
| Course Type | Credits |
| Spanish or Catalan Language (required) | 6 or 3 |
| Electives | 3 - 9 |
| Course in Spanish & Catalan Culture & History (optional and encouraged) |   |
| Other electives |   |
| Internship (optional) | 3 |
| TOTAL | 12-15 |
COURSE OFFERINGS:
Maryland-in-Barcelona, UPF Course Offerings
Maryland-in-Barcelona, UAB Course Offerings
Maryland-in-Barcelona, UAB SUMMER Course Offerings
Please refer to the Maryland-in-Barcelona Academic Overview to find course offerings for your particular term and to read more about the academic structure, universities, and academic policies.
The Maryland-in-Barcelona summer program offers coursework at UAB. You may refer to the summer academic overview for course offerings and for more information.
Below are the UPF and UAB Course Evaluations Databases. Please note that these are NOT course offerings, but a collection of evaluated courses and if/how they come back to UMD. You MUST cross-check the database with the actual course offerings at each university.
 

Participants on the Maryland-in-Barcelona semester program have a number of housing options from which to choose. You can choose to live in an apartment (piso) with other Maryland students, US students, internationals, and/or Spaniards, depending on availability. Other options include a homestay for students with at least intermediate/200-level Spanish skills and even a residence hall (residencia). For more information on housing in Barcelona, review the Housing Overview.
For the summer term, students will be housed in apartments with other Maryland students.
Fall Budget
Spring Budget
Summer Budget
Year Budget
You can use the cost of attendance comparison worksheet to view how study abroad programs compare to each other and the amount you pay on campus at UMD. As always, your EA advisor is available help you complete this worksheet and find affordable programs that fit your study abroad goals.
Please refer to the following resources for more information on funding study abroad:
PLEASE NOTE: All University of Maryland study abroad programs are financially self-supporting and, therefore, subject to cancelation due to low enrollment.
Natalie Brady advises prospective and admitted students in the Maryland-in-Barcelona program. In addition, she coordinates program admissions, course registration, pre-departure orientation, and other logistical aspects of the program.
Ryan Lorenz is the Resident Director in Barcelona. He has overall responsibility for the success of the program and its student participants. He works closely with the rest of the Barcelona team and our host universities to ensure student needs are met. 
Kristin Hickey is the Barcelona Program Manager, assisting the program and students in a variety of crucial ways. She is responsible for academic issues and risk management.
Helena Marugán is a Barcelona Program Coordinator, coordinating extra-curricular activities for students. She organizes cultural activities and excursions, volunteering opportunities, and internships.
Jaime Rodríguez is a Barcelona Program Coordinator, heading the housing department and is the person you will most likely see around the student pisos. He also supports Kristin with academic matters.
Giulia Russo is a Barcelona Program Coordinator and our student welfare/health and safety office, focused on ensuring students are well-supported. She also supports Helena with the organization of activities and excursions.
Rachel Mantiñan is the Diversity & Inclusion Officer, working closely with our team and partners in facilitating an inclusive climate on our programs where students of all identities feel they belong. She is available to advise students throughout their time abroad.
 
Living in one of Europe's most dynamic cities offers the unparalleled opportunity to get out of the classroom and find out what it really means to be Catalán. Program staff are available to assist you in finding engagement activities that match your personal and professional interests. Past activities have included coaching youth basketball and baseball teams, teaching English at a local school, and taking part in cooking and dancing classes.
| Term | Year | Application Deadline | Admission Notification | Program Start | Program End |
| --- | --- | --- | --- | --- | --- |
| Summerterm | 2022 | 03/15/2022 | 01/20/2022 | 06/01/2022 | 07/15/2022 |
| Year (Fall-Spring) | 2022 | 03/15/2022 | 01/20/2022 | | |
| Fall | 2022 | 03/15/2022 | 01/20/2022 | 08/29/2022 | 12/17/2022 |
| Spring | 2023 | 09/15/2022 | 10/11/2022 | 01/03/2023 | 04/28/2023 |