UMD Exchange: University of Liverpool (United Kingdom)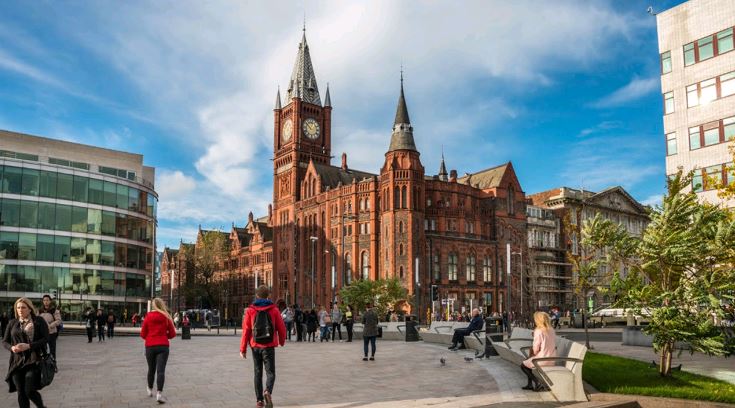 All students accepted to an Exchange program are automatically considered for an award of $1,000! See Cost tab for more information.
Host Institution
The University of Liverpool is a teaching and research university in the city of Liverpool, England. It is a member of the Russell Group of large research-intensive universities and the N8 Group for research collaboration.  The University has nine alumni who are Nobel Prize winners and offers more than 230 degree courses across 103 subjects.  Liverpool offers a welcome orientation, aiport "meet and greet" service, and a buddy program exclusively for international students that adds to the fantastic students services already available.  The University of Liverpool also has one of the largest and most active students' unions in the country called the Liverpool Guild of Students, where exchange students can join any number of student clubs and organizations.  Set against the backdrop of the city of Liverpool, an exchange term abroad at the University of Liverpool would prove to be an amazing experience for UMD students.
Host City
The University of Liverpool is located in the city of Liverpool, which sits it northwest England. As a port city, Liverpool has a very diverse population, which, historically was drawn from a wide range of peoples, cultures, and religions, particularly those from Ireland. The city is also home to the oldest Black African community in the country and the oldest Chinese community in Europe. Liverpool is known for its rich architectural heritage and Several areas of the city center were granted World Heritage Site status by UNESCO in 2004. In addition to its cultural and historical heritage, Liverpool is also well known for its two Premier League football clubs, Liverpool F.C. and Everton F.C., and has produced a wealth of musical talent since the mid-20th century, including The Beatles.
 
---
Exchange programs are highly competitive and space in each program is limited. You must meet the following eligibility requirements in order to apply to this program:
3.0 GPA
Completion of 2 semesters at UMD
Exchange programs are a good fit for students looking for immersion, personal growth, and the opportunity to strengthen qualities such as independence and adaptability.
Student Visa Information
A student visa is required for participation on this exchange. For more information, please visit our study abroad visa guide to view instructions for the country you will be visiting. Please note that visa information is subject to change and you are responsible for checking the embassy website for updates.
---
Click "Apply Now" at the top of this page. You will log in with your UMD directory ID and password.
Submit all application materials by the deadline listed below. This includes meeting with your EA advisor (listed at the top of this page), and may include requesting a faculty letter of recommendation, and submitting an official transcript. If a letter of recommendation and/or official transcript are required, it will be listed in MyEA once you start an application for this program. 
After the application deadline, we will review all completed applications and nominate students for available spots in each exchange program.
If you are nominated to participate in this exchange, you will work with your EA advisor (listed above) to apply directly to the host university, who will formally admit you to the exchange program. Nominated students must complete the host university application in accordance with the host university's stated deadlines and instructions.
Nominated students will then work with their EA advisor (listed above) and our partner universities to coordinate all aspects of the stay at the host university such as course registration, visas and arrival.
---
Academic Planning
Visit the Academics & Study Abroad page which outlines key considerations for your academic planning as you navigate different phases of study abroad:
Coursework
Liverpool offers a comprehensive curriculum and students have many options. The Sciences are very strong at Liverpool and Chemistry at Liverpool is ranked #1 in the UK. Other disciplines that are very strong include archaeology, Egyptology, heritage studies, anthropology, astrophysics, and actuarial mathematics.
Students shouldn't take modules in more than two departments and should only take modules from Levels Two or Three (second and third year classes).
There may be other course offerings on this program that are not currently listed in the Study Abroad Course Database (SACD).  If you are interested in taking a course not listed in the SACD, please submit a transfer credit evaluation request.
 
Credit
All credit you earn on this program will count as transfer credit towards your UMD degree.  Most courses at the University of Liverpool  will be converted as follows:

| Liverpool Credit | UMD Credit |
| --- | --- |
| 1 UK credit |  0.3 UMD credit |
| 10 UK credits |  3 UMD credits |
The chart above was last approved by the UMD Transfer Credit Committee on June 10, 2014.
Grading
Undergraduates must receive a C- equivalent or better in order to be eligible for the transfer of credit.
| | |
| --- | --- |
| University of Liverpool  Grade | UMD Grade |
| 40 | C - |
---
University accommodation is available for incoming students starting classes in the fall or spring semester. Students will be placed in the Study Abroad Village, which consists of Tudor Close and Melville Grove resident halls.
Students must apply for university accommodations. Self-catered halls are highly recommended versus catered halls: http://www.liv.ac.uk/accommodation/.
It is required that students starting classes in the spring arrive the weekend immediately before the start of classes for orientation. Students arriving in the spring will not immediately be able to move in to University accommodation, and so will have to find a hotel or hostel for one or two nights until their room is ready for them.
Students are not required to accept the offer to live in University accommodation. They can also visit the Liverpool Student Homes (LSH) website: http://www.liverpoolstudenthomes.org/Accommodation to arrange independent housing. LSH are experts in student accommodation in the private sector and they will help students to find a suitable accommodation. The University of Liverpool does not recommend students finding accommodation online without seeing the room and the area first.
---
Exchange Program Cost of Attendance
UMD students participating in an Exchange program have the benefit of paying UMD tuition rates to attend an institution abroad. For specific information about this Exchange program, please reference the Cost of Attendance Chart. 
Tuition and fees for exchange programs are charged directly to your UMD account, which means you can apply UMD scholarships, state and federal financial aid, and alternative loans towards the cost of an exchange. Housing costs are paid directly to the host institution or on-site housing agency.
You can use the cost of attendance comparison worksheet to view how study abroad programs compare to each other and the amount you pay on campus at UMD. As always, your EA advisor (listed above) is available to help you complete this worksheet and find affordable programs that fit your study abroad goals.
Exchange Scholarship
All students accepted to an Exchange program are considered for an automatic award of $1,000! To be considered for this scholarship, you must:
Be a current degree seeking undergraduate UMD student (graduate students are not eligible for this award)
Not currently receive full tuition scholarship/benefits (i.e. Banneker Key, tuition remission, Frederick Douglass Scholarship, etc.)
Additional Financial Resources
---
| Term | Year | Application Deadline | Admission Notification | Program Start | Program End |
| --- | --- | --- | --- | --- | --- |
| Year (Fall-Spring) | 2023 | 02/26/2023 | 03/01/2023 | | |
| Fall | 2023 | 02/26/2023 | 03/01/2023 | | |
| Spring | 2024 | 08/28/2023 | 09/01/2023 | | |