UMD Exchange: University of Tubingen (Germany)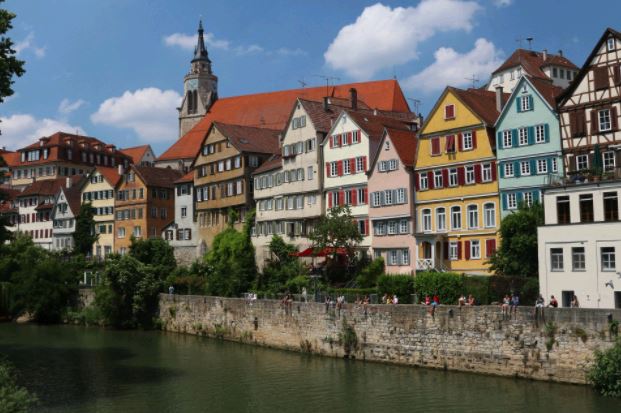 All students accepted to an Exchange program are automatically considered for an award of $1,000! See Cost tab for more information.
Host Institution
The University of Tubingen is world-renowned for its accomplished faculty and impressive scholars set against the backdrop of a charming medieval town. As study abroad has been a feature of the university for years, the staff is well-equipped to assist exchange students with course selection and assimilation into campus life.  The University's history began in 1477, so it's not surprising to find that almost every building or square in Tubingen's historical center is linked to a renowned scholar.  Famous Tubingen alumni include Hegel, Hölderlin, Schelling, and Johannes Kepler. The University remains to this day a place of research and teaching. In addition to the nearly 85,000 inhabitants, there are 24,000 German and international students. Some 400 professors and more than 4000 other academic staff teach at the University's seven faculties.
Host City
Tubingen is a lively picturesque town on the banks of the Neckar River. A small university town of 120,000 inhabitants, Tubingen is an ideal location for study abroad.  Long recognized for its international flair, rich in culture and history, and alive with a broad range of entertainment and sports activities all in easy access of the campus, Tubingen is certainly the perfect university setting. Located only 15 miles from Stuttgart, Tubingen offers students the benefit of experiencing a small, historic German town in close proximity to a major metropolitan center.
Video: Discover the university!
---
Exchange programs are highly competitive and space in each program is limited. You must meet the following eligibility requirements in order to apply to this program:
3.0 GPA
Completion of 2 semesters at UMD
It is recommended that students have completed GERM301 to participate in this exchange. 
Exchange programs are a good fit for students looking for immersion, personal growth, and the opportunity to strengthen qualities such as independence and adaptability.
Student Visa Information
A student visa is required for participation on this exchange. For more information, please visit our study abroad visa guide to view instructions for the country you will be visiting. Please note that visa information is subject to change and you are responsible for checking the embassy website for updates.
---
Click "Apply Now" at the top of this page. You will log in with your UMD directory ID and password.
Submit all application materials by the deadline listed below. This includes meeting with your EA advisor (listed at the top of this page), and may include requesting a faculty letter of recommendation, and submitting an official transcript. If a letter of recommendation and/or official transcript are required, it will be listed in MyEA once you start an application for this program. 
After the application deadline, we will review all completed applications and nominate students for available spots in each exchange program.
If you are nominated to participate in this exchange, you will work with your EA advisor (listed above) to apply directly to the host university, who will formally admit you to the exchange program. Nominated students must complete the host university application in accordance with the host university's stated deadlines and instructions.
Nominated students will then work with their EA advisor (listed above) and our partner universities to coordinate all aspects of the stay at the host university such as course registration, visas and arrival.
---
Academic Planning
Visit the Academics & Study Abroad page which outlines key considerations for your academic planning as you navigate different phases of study abroad:
Coursework
Students taking classes only in English Language & Literature and American Studies do not need to show German proficiency; however, it is strongly recommended that students have some German language practice before participating in the exchange. 
Generally, students with sufficient German proficiency can take classes in the faculties of Arts, Economics and Social Sciences, and Mathematics and Natural Sciences, with the exception of laboratory science classes, which are restricted. Tubingen does offer German preparatory classes for students wanting to study at Tubingen and improve their English before the semester begins. Please keep in mind that these courses are not included in the exchange agreement and may have additional fees attached. Students can also take German language courses during the semester along with content courses.
There may be other course offerings on this program that are not currently listed in the Study Abroad Course Database (SACD).  If you are interested in taking a course not listed in the SACD, please submit a transfer credit evaluation request.
 
Credit
All credit you earn on this program will count as transfer credit towards your UMD degree.  Most courses at the University of Tubingen will be converted as follows:

| University of Tubingen Credit | UMD Credit |
| --- | --- |
| 1 ECTS credit | 0.625 UMD credit  |
| 5 ECTS credits | 3.125 UMD credits |
The chart above was last approved by the UMD Transfer Credit Committee on July 9, 2014
Grading
Undergraduates must receive a C- equivalent or better in order to be eligible for the transfer of credit.
| | |
| --- | --- |
| University of Tubingen Grade | UMD Grade |
| 4 | C - |
---
In contrast to many universities abroad, the University of Tubingen does not have university-owned dormitories. The student residences are owned by public or private institutions. Many students at Tubingen find private accommodation but the university recommends that exchange students live in student dormitories managed by the Student Services Organization (Studierendenwerk). There is information about housing on the Tubingen website.  
Tubingen offers student support to exchange students through the International Student Affairs and Exchange Programs office. Their website highlights practical information about the exchange as well as detailed information about arrival and orientation. 
The German education system academic calendar is different than the US education academic calendar. Tubingen has two semesters, the Summer semester and Winter semester. The Summer semester runs from mid-March until the end of July. The Winter semester runs from mid-October until mid-February. The academic calendar for Tubingen is on their website. 
---
Exchange Program Cost of Attendance
UMD students participating in an Exchange program have the benefit of paying UMD tuition rates to attend an institution abroad. For specific information about this Exchange program, please reference the Cost of Attendance Chart. 
Tuition and fees for exchange programs are charged directly to your UMD account, which means you can apply UMD scholarships, state and federal financial aid, and alternative loans towards the cost of an exchange. Housing costs are paid directly to the host institution or on-site housing agency.
You can use the cost of attendance comparison worksheet to view how study abroad programs compare to each other and the amount you pay on campus at UMD. As always, your EA advisor (listed above) is available to help you complete this worksheet and find affordable programs that fit your study abroad goals.
Exchange Scholarship
All students accepted to an Exchange program are considered for an automatic award of $1,000! To be considered for this scholarship, you must:
Be a current degree seeking undergraduate UMD student (graduate students are not eligible for this award)
Not currently receive full tuition scholarship/benefits (i.e. Banneker Key, tuition remission, Frederick Douglass Scholarship, etc.)
Additional Financial Resources
---
Maximize your time abroad by taking advantage of resources at your host institution!
Student Clubs and Organizations
If you're interested in getting involved in student clubs and organizations, Tubingen has a plethora of cultural groups, musical clubs, dance clubs, and more. 
International Welcome/Orientation
During orientation week, there will be many information sessions and activities to inform you about all Tubingen has to offer! 
Counseling & Health Services
University of Tubingen has academic advisors specifically for international students to help with academic concerns, along with social counseling for mental health concerns. 
 

---
| Term | Year | Application Deadline | Admission Notification | Program Start | Program End |
| --- | --- | --- | --- | --- | --- |
| Spring | 2023 | 10/01/2022 | 10/11/2022 | 04/17/2023 | 07/29/2023 |
| Year (Fall-Spring) | 2023 | 03/01/2023 | 03/13/2023 | | |