UMD Exchange: Yonsei University (Korea)
All students accepted to an Exchange program are automatically considered for an award of $1,000! See Cost tab for more information.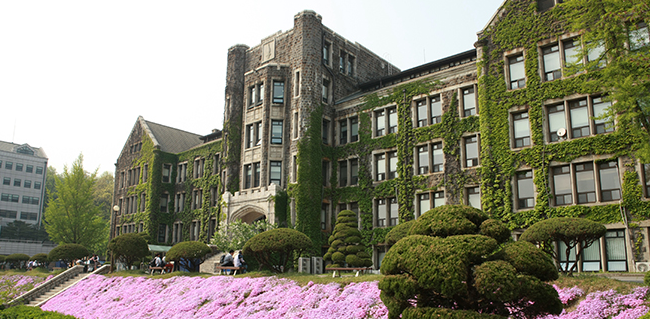 Host Institution
Since its founding in 1885, Yonsei University has been synonymous with research and international education and exchange in Asia.  The University maintains the most extensive international network in Korea with 603 partner institutions in 59 countries and hosts the largest number of international students among Korean universities, with almost 4,000 students per year. Exchange students participating in Yonsei University's extensive non-degree global programs get the valuable opportunity to receive the best international education in Asia through its globally renowned faculty members and innovative and extensive curriculum.  Exchange students also have the benefit of being exposed to a beautiful and culturally rich environment since the University is situated in a spacious, quiet, and well-wooded environment with a mountain inside located just in the center of Seoul's metropolitan area. Its scenic campus has been described as "one of the most beautiful campuses in the world" by CNN's special program, EYE ON SOUTH KOREA.  Lastly, students can immerse themselves in Korean culture by participating in various Yonsei clubs and activities for international students. The famous Yon-Ko Games, an annual sports festival of Yonsei University and Korea University, is also a major must-see for international students.
Host City
Yonsei University is located in Seoul,which is Korea's political, cultural and economic center.  A thriving metropolis, Seoul is the home of embassies, theaters, stores and high-tech office buildings.  Amongst tall modern buildings sit ancient palaces, temples, and shrines set against crowded markets and the peaceful Han River that runs through the city center. Known as one of the most wired cities in the world, students in Seoul can take advantage of Korea's position on the cutting edge of global technology.  With a population of approximately 11 million people, Seoul continues to expand outward.
---
Exchange programs are highly competitive and space in each program is limited. You must meet the following eligibility requirements in order to apply to this program:
3.0 GPA
Completion of 2 semesters at UMD
Exchange programs are a good fit for students looking for immersion, personal growth, and the opportunity to strengthen qualities such as independence and adaptability.
Student Visa Information
As an exchange student, you are required to obtain a D-2 student visa for Korea before you leave the US: http://www.studyinkorea.go.kr/en/overseas_info/allnew_visaApplication.do.
---
Click "Apply Now" at the top of this page. You will log in with your UMD directory ID and password.
Submit all application materials by the deadline listed below. This includes meeting with your EA advisor (listed at the top of this page), and may include requesting a faculty letter of recommendation, and submitting an official transcript. If a letter of recommendation and/or official transcript are required, it will be listed in MyEA once you start an application for this program. 
After the application deadline, we will review all completed applications and nominate students for available spots in each exchange program.
If you are nominated to participate in this exchange, you will work with your EA advisor (listed above) to apply directly to the host university, who will formally admit you to the exchange program. Nominated students must complete the host university application in accordance with the host university's stated deadlines and instructions.
Nominated students will then work with their EA advisor (listed above) and our partner universities to coordinate all aspects of the stay at the host university such as course registration, visas and arrival.
---
Academic Planning
Visit the Academics & Study Abroad page which outlines key considerations for your academic planning as you navigate different phases of study abroad:
Coursework
Per semester, Yonsei opens about 200 to 250 English-taught undergraduate courses.  offers coursework in 8 diverse programs with courses in English. Classes are available in fields such as psychology, theology,  physics and astronomy, business, and engineering. Many other courses are available in Korean.
There may be other course offerings on this program that are not currently listed in the Study Abroad Course Database (SACD).  If you are interested in taking a course not listed in the SACD, please submit a transfer credit evaluation request.
 
Credit
All credit you earn on this program will count as transfer credit towards your UMD degree.  Most courses at Yonsei University will be converted as follows:

| Yonsei University Credit | UMD Credit |
| --- | --- |
| 1 Yonsei credit | 1 UMD credit |
| 3 Yonsei credits | 3 UMD credits |
The chart above was last approved by the UMD Transfer Credit Committee on August 7, 2014.
Grading
Undergraduates must receive a C- equivalent or better in order to be eligible for the transfer of credit.
| | |
| --- | --- |
| Yonsei UniversityGrade | UMD Grade |
| C - | C - |
---
Yonsei operates two properties for international and exchange students called the SK Global House and International House.  These dorms can accommodate students in single or double rooms.  They have many facilities for residents, including the 24-hour-operating front desk and security system, a kitchen with public refrigerators, music room, fitness center, coin laundry, computer room, dry cleaning shop, lounge area, study room, seminar room, video room, a food court, convenient store, flower shop, school supply store, nail shop, and a fast food restaurant.
---
Exchange Program Cost of Attendance
UMD students participating in an Exchange program have the benefit of paying UMD tuition rates to attend an institution abroad. For specific information about this Exchange program, please reference the Cost of Attendance Chart. 
Tuition and fees for exchange programs are charged directly to your UMD account, which means you can apply UMD scholarships, state and federal financial aid, and alternative loans towards the cost of an exchange. Housing costs are paid directly to the host institution or on-site housing agency.
You can use the cost of attendance comparison worksheet to view how study abroad programs compare to each other and the amount you pay on campus at UMD. As always, your EA advisor (listed above) is available to help you complete this worksheet and find affordable programs that fit your study abroad goals.
Exchange Scholarship
All students accepted to an Exchange program are considered for an automatic award of $1,000! To be considered for this scholarship, you must:
Be a current degree seeking undergraduate UMD student (graduate students are not eligible for this award)
Not currently receive full tuition scholarship/benefits (i.e. Banneker Key, tuition remission, Frederick Douglass Scholarship, etc.)
Additional Financial Resources
---
Maximize your time abroad by taking advantage of resources at your host institution!
Student Clubs and Organizations
There are a lot of clubs and organizations to allow you to stay active and involved in the university!
International Welcome/Orientation
Yonsei University hosts an orientation for international students to familiarize them with the university and life in Yonsei.
Counseling & Health Services
There are individual counseling and group counseling services provided for students to help with a variety of concerns including homesickness and culture shock. 
 

---
| Term | Year | Application Deadline | Admission Notification | Program Start | Program End |
| --- | --- | --- | --- | --- | --- |
| Year (Fall-Spring) | 2023 | 03/01/2023 | 03/13/2023 | | |
| Fall | 2023 | 03/01/2023 | 03/13/2023 | 08/24/2023 | 12/22/2023 |
| Spring | 2024 | 10/01/2023 | 10/11/2023 | | |