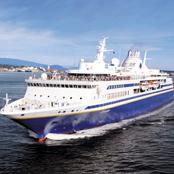 Semester at Sea
Term: Fall, Spring
Description:
Semester at Sea gives you a taste of the entire globe as you travel more than 24,000 nautical miles to as many as 13 off-the-beaten-path international destinations ... or to a single fascinating world region for intensive exploration.
Semester at Sea sails four voyages per year for academic credit on the MV Explorer, a modern passenger liner converted into a state-of-the-art seafaring campus.
Since 1963, more than 50,000 students from colleges and universities around the world have studied with Semester at Sea, traveling to non-traditional destinations in 60 countries. The Institute for Shipboard Education administers the program, and the University of Virginia, the #2 ranked public institution in the U.S., is the academic sponsor. Students choose from more than 70 courses in a variety of disciplines. Professors on the program are internationalists who integrate course content with field practice. The program is open to anyone from any major and any accredited college or university.
Highlights:
- Global Studies
- Choose from a 110-day fall/spring voyage around the world, a 68-day summer regional program
to the Mediterranean & North Africa, and an intensive 26-day May-term program to Central America
- Study with 700 undergraduate students, representing over 250 schools
- Apx. 70 courses offered in a variety of disciplines
- Faculty with international expertise
- Itineraries focused on the non-Western and developing world
- Program is open to all students in good standing at any accredited college or university
Semester at Sea is much more than another semester at school; it is a life-altering learning adventure. Our itineraries take you to the four corners of the world, making our campus truly global in scope.
Semester at Sea's campus, the MV Explorer, is a 25,000-ton passenger liner that has been specially outfitted as a floating university. It includes classrooms, a library, a computer lab with wireless Internet, a student union, and two dining rooms. It also includes a swimming pool and fitness facilities. Cabins are available in double, triple, and quad occupancy.
Semester at Sea is often called a Voyage of Discovery. The opportunity to spend as many as three and a half months outside of your own culture - investigating new lands, new peoples, and new curricula - is a both an immeasurable educational privilege and an invitation to grow.
Participants repeatedly report that Semester at Sea changed their lives in a positive way, including:
- Improved understanding of the world
- Greater awareness of cultural difference
- Improved self-confidence and autonomy
- Improved flexibility and understanding of multiple perspectives
- Better understanding of own culture
- Greater acceptance of others and their own opinions
- Ability to live in close community
---
Courses are offered in the following disciplines:
· African Studies

· Anthropology

· Archaeology

· Art History

· Art/Fine Arts

· Asian Studies

· Biology (General)

· Business Admin. & Mgmt.

· Communications

· Comparative Literature

· Creative Writing

· Culture

· Economics

· Education

· Engineering

· English

· English Literature

· Environmental Studies

· Geography

· Geology

· History

· Humanities

· Interdisciplinary

· Journalism / Broadcasting

· Liberal Arts

· Literature

· Marine Science

· Philosophy

· Political Science/Politics

· Psychology

· Religious Studies

· Social Sciences

· Sociology

· Theater, Drama, Dance

· Women's Studies
---
Cost: Please visit our website for rate information.
Cost Includes:
Tuition, Room and Board, gratuities, shipboard email account, and health insurance. Financial Aid is available. Travel to the port of embarkation, travel from the port of disembarkation, in-country travel, and discretionary spending additional.
Scholarships are Available. - Federal grants and financial aid from your home institution may apply. SAS also distributes its own financial aid. Types of assistance offered by SAS include need-based work grants, need-based monetary grants, and monetary grants based on a combination of need and merit. Scholarships up to full tuition.
To apply to this program, you must complete two main steps:
Submit a UMD approval application - start by clicking "apply now" at the top of this page. This application allows UMD Education Abroad to approve your study abroad program selection so you may earn credit in a program outside of UMD.
This application will require you to meet with your EA advisor, who will communicate important details related to participating in this program. If you do not complete this application by the stated deadline, you may not receive credit for your study abroad program and will lose your student status for the time you are not studying at UMD.
Apply directly to the program provider. After receiving UMD approval, you should submit the program application directly to the program sponsor by their deadline. Your program sponsor will determine your official acceptance to a program. You must adhere to the provider's timeline, eligibility standards, and application requirements.
After being accepted to your program, your EA advisor will guide you through the course pre-approval process where you will determine which credits you will fulfill abroad.
Term
Year
Application Deadline
Admission Notification
Program Start
Program End
Fall
2019
03/15/2019
01/01/2019
09/09/2019
12/23/2019
Dates reflect information that is available on the program sponsor website. Please confirm with program sponsor/host university before making your travel plans.
Summerterm
2019
03/15/2019
01/01/2019
Spring
2020
10/15/2019
06/01/2019
01/02/2020
04/20/2020
Dates reflect information that is available on the program sponsor website. Please confirm with program sponsor/host university before making your travel plans.