UMD-Winter: Australia: Leadership in a Global Context (ENES/LEAD)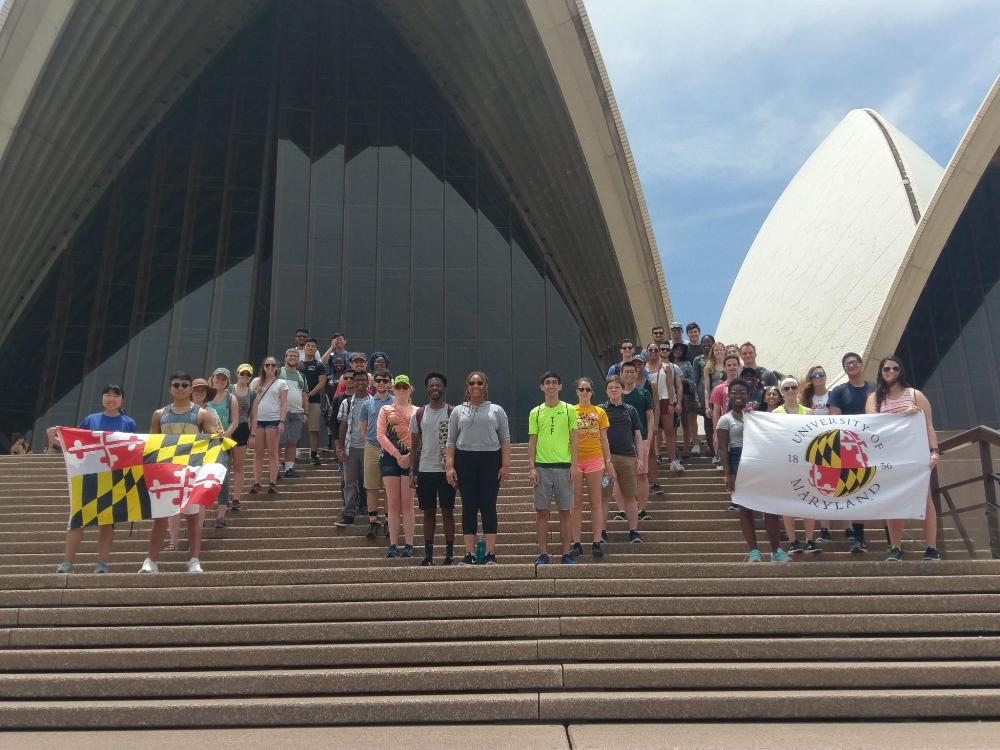 On this program you will be registered for the following course:
ENES317: Introduction to Leadership in Engineering, Science, and Technology (Gen Ed DSSP)
LEAD217: Introduction to Leadership (Gen Ed DSSP)
Leadership knowledge, development, skills, and engagement  have become increasingly important in today's complex global economy across career fields and industries. In addition to a strong technical background, there is a greater need for professionals with cross-cultural experience, interpersonal communication skills, and global leadership capacities. This course, which is open to all majors, will facilitate the acquisition of these leadership capabilities.
The duration of the course will be spent in Sydney, Australia. The goal of this program is to provide you with an understanding of central leadership theories and concepts, practice applying leadership knowledge and skills to various contexts, and examination of cultural aspects pertaining to leadership, thereby increasing your awareness of the cultural factors that motivate decisions and behavior in global teams and organizations. 
ENES317: Introduction to Leadership in Engineering, Science, and Technology (DSSP) / LEAD 217: Introduction to Leadership (DSSP)
This course is intended to provide you a foundational understanding of the various theories that inform leadership education and practice. In this course, you are invited to see leadership as a discipline that transcends functional areas, serving as a framework to lead and guide within various industries. As a participant in this class, you are asked to not only look at the leadership theories presented to formulate your approach as a leader, but also how you see these theories inform the ways in which you move and engage with the world around you. You will have the opportunity to compare leadership practices across cultures and develop global leadership and management skills most in demand within the various industries. Through an international immersion experience in Sydney, you will have the opportunity to see how leadership is practiced in a globally connected technology hub in Oceania.
*There are need-based scholarships available for this program, please contact the Office of Global Engineering Leadership for additional information once you have completed your program application.
All majors are highly encouraged to apply as the course is open to all students.
You must be in good academic and judicial standing and you must not have any registration blocks to participate in this program. The minimum GPA for this program is listed above.
UMD sophomores, juniors and seniors are eligible to apply. (Must have completed 45 credits by program departure.)
Engineering students and students completing the Minors in Global Engineering Leadership and Leadership Studies will receive priority consideration for admission to the program. 
If you are interested in this program but do not meet the eligibility requirements, reach out to the program director (listed in the Contacts tab) to discuss your interest in the program.
 
After you commit to the program, Education Abroad will enroll you in one of the following two (3) credit UMD courses:
ENES 317: Introduction to Leadership in Engineering, Science, and Technology (Gen Ed DSSP)
LEAD 217: Introduction to Leadership (Gen Ed DSSP)
The credit you earn during this program will count as resident credit. 
ENES317 and LEAD 217 have been approved for DSSP (General Education Scholarship in Practice)
How can I apply these courses to my degree program? 
ENES317 can be used to fulfill: 
 
Computer Engineering: Category F Elective
Electrical Engineering: GTE: General Technical Elective
Fire Protection Engineering: Technical Elective
Mechanical Engineering: TECH4XX out-of-major technical elective
BMGT: Upper level elective (L2)
INST: Upper level elective (L2)
A minor requirement for students in the following minor program: Global Engineering Leadership
LEAD 217 can be used to fulfill: 
Elective for Public Leadership Minor
A requirement for students in the following minor or certificate program: Leadership Studies
Other majors/minors should reach out to their advisors to determine if this course can be applied to their degree program.
 
You will stay in apartment-style housing with shared rooms or shared hotel accommodation in Sydney. Internet and laundry facilities are available.
*Costs listed are for winterterm 2024. 
*This program qualifies for eligible Pell Grant recipients to apply for the Gilman International Scholarship. Online applications will open in mid-August and are due in October.
 
Application Fee
$25
Billable Costs
Billable costs are charged to your student account. They are due based on the Office of Student Financial Services and Cashiering payment schedule. Be sure to check your statements when they are available.
Tuition
$1,707
This fee is charged to your UMD account upon course registration. This fee includes: Tuition, in-country transportation, course related activities, group meals, and teaching services.
Activities
$740
Housing Fee
$1,350
This fee represents the housing provided during the program.
TOTAL PROGRAM FEE
$3,797
Education Abroad Fee
$700
This fee is charged to your account when the application status changes from "Accepted" to "Committed." This fee includes Education Abroad services including registration, billing, advising, risk management, and pre-departure orientation.
International Health Insurance (estimate)
$50
Out-of-pocket Costs
Meals (estimate)
$750
Visa
$14
Passport
$165
Expedited Passport Processing (recommended)
$60
Roundtrip Airfare (estimate)
$2,200
Course Materials
$25
Incidental expenses
$150
Trip cancelation insurance (optional)
$200
TOTAL ESTIMATED COST OF ATTENDANCE:
$8,111
NOTE: If you are a non-UMD graduate student, you will need to pay a $75 application fee to the UMD graduate school to participate in this program.
Please refer to the following resources for more information on funding study abroad
PLEASE NOTE: All University of Maryland study abroad programs are financially self-supporting and, therefore, subject to cancellation due to low enrollment.
 
Dr. Darren Pierre, Ph.D
. (he, him) is a lecturer in the Office of Global Engineering Leadership. Dr. Pierre is a thought-leader within higher education, authoring a book, book chapters, journal articles, and presenting at numerous conferences on topics centered on leadership, identity development, and student engagement. In 2020, he led a team in developing one of the nine strategic priorities developed to inform the 2020-2025 National Leadership Education Research Agenda (NLERA). Dr. Pierre received his Ph.D. in College Student Affairs Administration from the University of Georgia.
Courtney Holder (She I Her I Hers) is an Assistant Director of the Stamp Student Union - providing strategic planning and support for the Leadership & Community Service-Learning Office. She also is co-director and instructor in the Leadership Studies Program within the College of Education. Courtney writes, studies, and presents on community-based learning and socially responsible leadership. She received her M.S. in College Student Affairs from the University of Tennessee, Knoxville.
For course, itinerary or in-country information, please contact the Program Director. For general questions or assistance with applying, contact Education Abroad.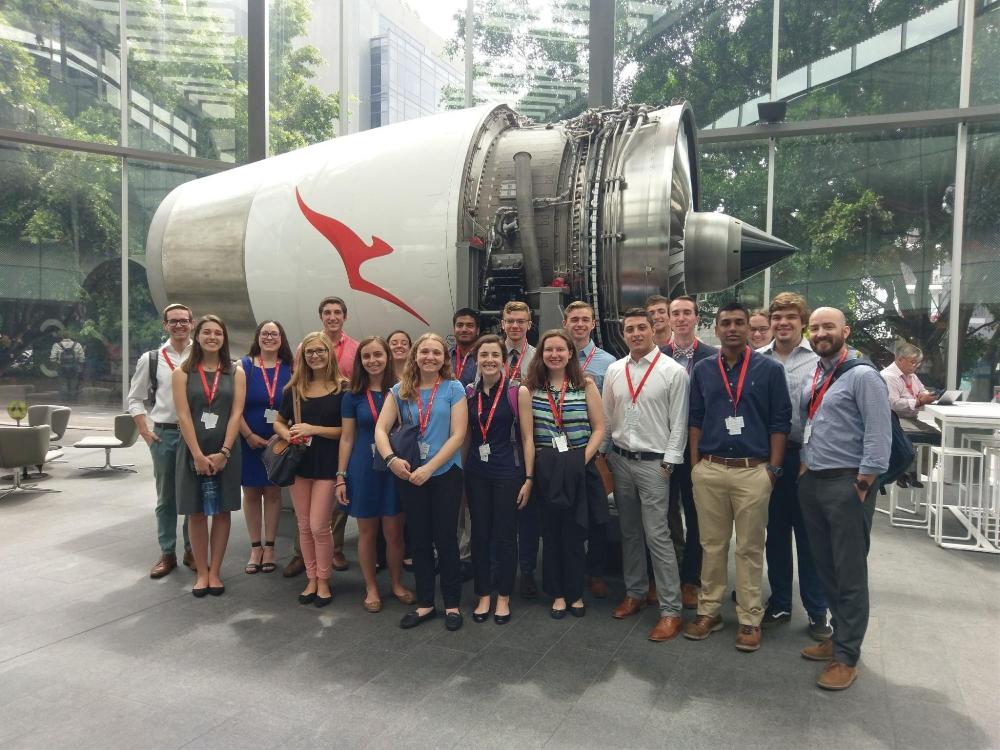 As a part of this program, you will engage in activities such as:
A detailed half-day architectural walking tour by a leading local architect in Sydney culminating with an exterior tour of the Sydney Opera House
Cultural activities such as a visit to a wildlife park, cricket match, and a tour of The Rocks area, and a performance at the Sydney opera house
Visits to several local museums in Sydney
Guest speakers on entrepreneurship and business culture in Australia
Attend several industry visits (past sites have included Google, Rode Microphones, Qantas Operations Center, IBM, and Holmes Fire)
Engineering of surfing lecture and surfing lesson
A welcome dinner and farewell dinner in Sydney 
| Term | Year | Application Deadline | Admission Notification | Program Start | Program End |
| --- | --- | --- | --- | --- | --- |
| Winterterm | 2024 | 10/01/2023 | 10/11/2023 | 12/31/2023 | 01/19/2024 |