UMD-Winter: Ecuador: Andean Spaces - The Colonial City and the Natural World (SPAN/LASC/ARTH)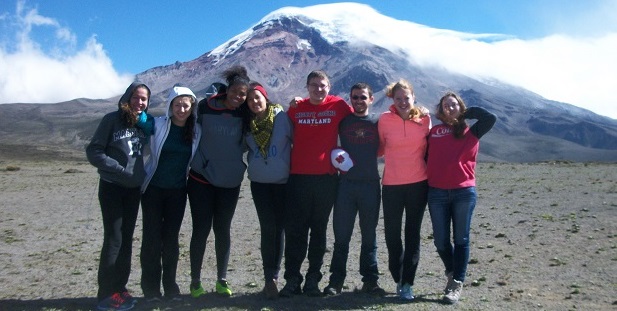 This winter, explore the history and cultures of Ecuador from the colonial period to the onset of independence. By studying the socio-spatial configuration of the colonial city as exemplified by Quito, students will be immersed in the art, architecture, and other rich cultural legacies of Ecuador. Quito, a World Heritage site, offers students visually stunning churches, monasteries, and colonial squares, as well as a famed tradition of Baroque painting and sculpture, and vibrant indigenous and mestizo communities. As a contrast, students will also explore travel narratives that represent the natural Andean world while visiting Quito's surrounding areas, the indigenous town of Otavalo, the Equator, an overnight journey through Riobamba and the Chimborazo volcano, and a trip to the cloud or tropical forests. This academically rich experience will interrogate the European influence on urban design and representations of the American landscape. Students will gain an understanding of the colonial past to enhance their understanding of the modern history of Ecuador.  They will gain as well a full appreciation of the European and Indigenous living heritage that composes the region today. This program will run for three weeks under the direction of Dr. Eyda Merediz, an expert on Colonial Latin America featuring Dr. Carmen Fernández-Salvador, Art Historian, and other local experts.
 
You must be in good academic and judicial standing and you must not have any registration blocks to participate in this program. The minimum GPA for this program is listed above.
UMD and non-UMD freshmen, sophomores, juniors, seniors and graduate students are eligible to apply. 
After you commit to the program, Education Abroad will enroll you in one of the following three (3) credit UMD courses:
SPAN448E: Special Topics in Latin American Civilization: Ecuador: Andean Spaces-Traversing the Colonial City and the Natural World
LASC448R: Special Topics in Latin American Studies: Andean Spaces-Traversing the Colonial City and the Natural World
ARTH369E: Special Topics in Art History: Ecuador: Andean Spaces: Traversing the Colonial City and Exploring the Natural World 
English is the language of instruction but you can receive Spanish credit. The credit you earn during this program will count as resident credit. This program also satisfies the Humanities General Education requirement.
You will stay with local Quiteño families and will stay with an indigenous community one night.
Costs are current for winter 2020.
*Please note this program qualifies for eligible Pell Grant recipients to apply for the Gilman International Scholarship. Online applications are now open and the deadline is Tuesday, October 1st at 11:59pm Central Daylight Time (CDT). 
Application Fee
$50
Billable Costs
Billable costs are charged to your student account. They are due based on the Office of Student Financial Services and Cashiering payment schedule. Be sure to check your statements when they are available.
Education Abroad Fee
$500
This fee is charged to your account when the application status changes from "Accepted" to "Committed." This fee includes Education Abroad services including registration, billing, advising, risk management, and pre-departure orientation.
International Health Insurance
$45
Tuition
$3,300
This fee is charged to your UMD account upon course registration. This fee includes: Tuition, in-country transportation, course related activities, group meals, and teaching services.
Housing Fee
$375
This fee represents the housing provided during the program.
TOTAL PROGRAM FEE
$4,220
Out-of-pocket Costs
Meals (estimate)
$200
Visa
$0
Passport
$145
Roundtrip Airfare (estimate)
$1,000
Course Materials
$0
Optional Activities/incidental expenses
$300
Optional trip cancelation/interruption Insurance (estimate)
$180
TOTAL ESTIMATED COST OF ATTENDANCE:
$6,095
NOTE: If you are a non-UMD graduate student, you will need to pay a $75 application fee to the UMD graduate school to participate in this program.
Please refer to the following resources for more information on funding study abroad
PLEASE NOTE: All University of Maryland study abroad programs are financially self-supporting and, therefore, subject to cancellation due to low enrollment.
Prof. Eyda Merediz is Associate Professor and Department Head. She arrived at the University of Maryland after finishing her doctoral degree at Princeton University and teaching at Union and Smith Colleges. Her academic interests concentrate primarily on the fields of Colonial Latin American Studies and Early Modern Transatlantic Literatures and Cultures. In addition to several articles and a critical edition, she has published a monograph, Refracted Images: The Canary Islands through a New World Lens (MRTS 2004) that uses the important colonial outpost of the Canary Islands to explore the fluidity of literary and cultural exchanges that prevailed in the Hispanic World of the sixteenth and seventeenth centuries. She has also edited, with Santa Arias, the volume Approaches to Teaching the Writings of Bartolomé de las Casas (MLA 2008). She has also taught and researched on more contemporary Caribbean Studies, in specific Cuban cinema and literature and its trans-national dimension as shown in her edited volume, with Nina Gerassi-Navarro, Otros estudios transatlánticos: lecturas desde lo latinoamericano (IILI, 2009). More recently, she has undertaken a project centered on the writings of Bartolomé de las Casas and the appropriation of his legacy in the Caribbean. Merediz has served as the Director of Graduate Studies and the Departmental Honors Program, as well as the Undergraduate Advisor for the Certificate on Latin American Studies. She has enriched curricular offerings at all levels in her areas of specialization, especially designing courses on Latin American Popular Culture mixing visual (Telenovelas) and literary materials. For the Office of International Programs, Merediz have designed several Study Abroad programs and courses for the winter term in Cuba (2002-03), Seville-Spain (2005-present), and Quito/Cuenca-Ecuador (2009-present), for the summer in Salamanca/Barcelona-Spain (2002-present), and also for the semester program in Seville-Spain (2012-present).
For course, itinerary or in-country information, please contact the Program Director. For general questions or assistance with applying, contact EA Short-term Programs
As a part of this program, you will engage in the following activities:
Visit UNESCO award winning buildings with co-instructor and Art Historian, Dr. Carmen Fernandez Salvador (Universidad San Francisco de Quito)
Attend other guest lectures by leading local experts
Attend a puppet show by award–winning puppeteers from La Rana Sabia Títeres
Be able to stand on the Equator line and hike across some of the highest mountains of the hemisphere
Visit other cities and indigenous communities in Otavalo and Riobamba. Stay in the Achikñan community on the skirts of the Chimborazo volcano.
Class will be in English but students will have the opportunity to practice the Spanish language at homestays with Ecuadorian families and with Ecuadorian students
| Term | Year | Application Deadline | Admission Notification | Program Start | Program End |
| --- | --- | --- | --- | --- | --- |
| Winterterm | 2020 | 10/13/2019 | 10/11/2019 | 01/01/2020 | 01/21/2020 |