UMD-Winter: India: East Meets West: Contrasting Public Health Priorities, Pragmatics and Polemics in the U.S. and India (HLTH)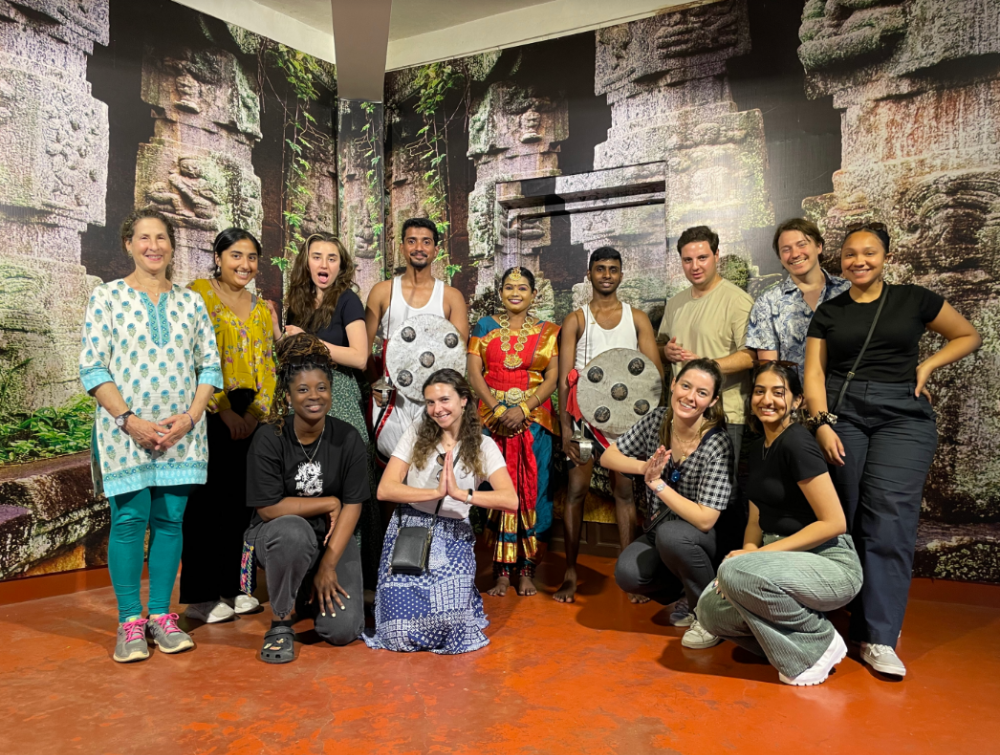 As we head further into the 21st century, India and the U.S. represent our two largest democracies. Based on culture, history, governance and politics, these two countries have adopted similar and unique ways of addressing public health concerns. This course, designed for students who are interested in public health in a global context, will expose you to policy and programmatic frameworks for the delivery of public health services in these two cultures. Class discussions and daily field trips will explore the organization and practice of public health in India.
You will explore global public health and its complexities through a combination of in-class instruction and lively discussion with Manipal Academy of Higher Education students and faculty, and field trips to community-based programs. You will also visit schools, villages, Ayurvedic and Allopathic clinics/hospitals, worksites and community settings where public health is practiced. This program is primarily based in Manipal, but excursions and site visits will take you to Udupi, Malpe, Karkala and Mangalore in Karnataka State and Fort Cochin, Ernakulam and Alleppey in the state of Kerala. Application deadline is September 17, 2023.
Interested in the student perspective? Hear what a fellow Terp has to say about their experience on the program!
You must be in good academic and judicial standing and you must not have any registration blocks to participate in this program. The minimum GPA for this program is listed above.
This course is open to current undergraduate and graduate students at the University of Maryland, and other universities, who are interested in public health within a global context. Students from public health, biomedicine, and the social and behavioral sciences are encouraged to apply.
If you are interested in this program but do not meet the eligibility requirements, reach out to the program director (listed in the Contacts tab) to discuss your interest in the program.
After you commit to the program, Education Abroad will enroll you in the following three (3) credit UMD course:
HLTH489I: Field Laboratory Projects and Workshop: East Meets West: Contrasting Public Health Priorities, Pragmatics and Polemics in the U.S. and India
The credit you earn during this program will count as resident credit.
You must attend the EA pre-departure orientation and a program-specific orientation hosted by Dr Howard at an Indian restaurant (To Be Determined). At this orientation, pre-departure, programmatic and packing details will be discussed, followed by a sampling of traditional south Indian cuisine.
In addition, a series of required reading materials will address India's public health system and sociocultural traditions. A lengthy recommended reading list will also be distributed to students prior to travel abroad.
You will be housed on the Manipal Academy of Higher Education campus, where all students will have single rooms in the New International Hostel. Each room comes with air-conditioning, a bathroom, bed, bedding (sheet, blanket, pillow, face towel) and desk. There is WiFi in dorm rooms and laundry services are available at minimal cost.
Costs listed are for winterterm 2024. 
*This program qualifies for eligible Pell Grant recipients to apply for the Gilman International Scholarship. Online applications will open in mid-August and are due Thursday, October 6, 2022, at 11:59pm PT.
Application Fee
$25
Billable Costs
Billable costs are charged to your student account. They are due based on the Office of Student Financial Services and Cashiering payment schedule. Be sure to check your statements when they are available.
Tuition
$1,123
This fee is charged to your UMD account upon course registration. This fee includes: Tuition, in-country transportation, course related activities, group meals, and teaching services.
Activities
$50
Housing Fee
$1,827
This fee represents the housing provided during the program.
TOTAL PROGRAM FEE
$3,000
Education Abroad Fee
$700
This fee is charged to your account when the application status changes from "Accepted" to "Committed." This fee includes Education Abroad services including registration, billing, advising, risk management, and pre-departure orientation.
International Health Insurance
$50
Out-of-pocket Costs
Meals (estimate)
$50
Visa
$108
Passport
$165
Expedited Passport Processing (recommended)
$60
Roundtrip Airfare (estimate)
$2,000
Course Materials
$0
Optional Activities/incidental expenses
$75
Trip cancelation Insurance (optional)
$200
TOTAL ESTIMATED COST OF ATTENDANCE:
$6,408
NOTE: If you are a non-UMD graduate student, you will need to pay a $75 application fee to the UMD graduate school to participate in this program.
Please refer to the following resources for more information on funding study abroad
PLEASE NOTE: All University of Maryland study abroad programs are financially self-supporting and, therefore, subject to cancelation due to low enrollment.
Dr. Donna Howard is an Associate Professor, Emerita in the Department of Behavioral and Community Health in UMCP's School of Public Health. She was the founding director of the College Park Scholars Global Public Health Program (2010-2012). During the 2008-9 academic year, she was a Fulbright Fellow and Visiting Professor in the Department of Community Medicine at Manipal Academy of Higher Education in India. Dr. Howard has also engaged in public health work in Grenada, West Indies and Bali, Indonesia. Dr. Howard is reviewer for the U.S. State Department's South East Asian Regional Fulbright Program as well as a reviewer for the UMCP Fulbright program.
For course, itinerary or in-country information, please contact the Program Director. For general questions or assistance with applying, contact EA Short-term Programs.
As a part of this program, you will engage in the following activities:
Backwater journey on a traditional Kerala houseboat or Kettuvallam
Excursions to the famous pilgrimage center of Udupi, 15th century Jain statue in Karkala, Malpe fishing village, and St. Mary's Island
Traditional Indian cooking class
Farewell banquet with Manipal University dignitaries
Elephant ride and traditional Kathakali dance performance in Kerala
Ayurvedic massage and orientation to Ayurvedic medicine
Briefing by health reporter for Indian news magazine, THE WEEK
Term
Year
Application Deadline
Admission Notification
Program Start
Program End
Winterterm
2024
09/17/2023
09/18/2023
01/02/2024
01/21/2024
**Please note, this program has an early deadline!