UMD-Winter: Spain: Cultures of the Contact Zone - Seville, Sepharad, Al-Andalus, and the Atlantic World (SPAN/HONR)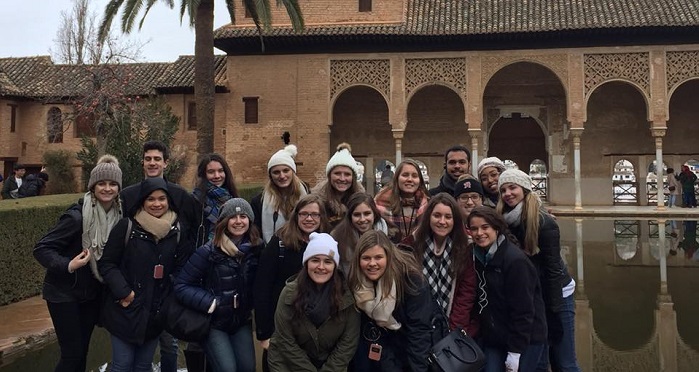 Drawing from the cultural mosaic of the city of Seville and its surrounding region, you will explore the Mediterranean and Transatlantic contexts that have influenced and shaped Spain's history, identity, cultural and artistic expressions. You will visit what was known as Al-Andalus - the Arabic name for the Muslim ruled Iberian Peninsula. Now, this area is called Andalucía and it is 1 of 17 autonomous communities in Spain. You will be based in Sevilla, the capital city of Andalucía, and travel to surrounding cities including Granada and Córdoba.
During this course you will analyze the so-called convivencia period, when Jews, Muslims, and Christians co-existed in medieval Spain, aiming to understand the repercussions of this legacy. You will also examine the flourishing of the Spanish empire, its expansion towards the Atlantic islands and the New World, and how this process changed the Old World forever. Classes will combine lectures, discussions, and readings. You will be graded on your level of participation, reaction essays, and a final paper on a topic of your choosing. An example of a final paper is an analysis of Jewish linguistic identity in Spanish language. Samples of final papers can be provided upon request on the course site on Canvas. The program is designed to allow you to interact with the local culture and living history of the convivencia. There will also be numerous site visits and overnight excursions.
You must be in good academic and judicial standing and you must not have any registration blocks to participate in this program. The minimum GPA for this program is listed above.
There is no Spanish language pre-requisite (this course is taught in English) but a basic level of Spanish is recommeded. 
If you are interested in this program but do not meet the eligibility requirements, reach out to the program director (listed in the Contacts tab) to discuss your interest in the program.
After you commit to the program, Education Abroad will enroll you in one of the following three (3) credit UMD courses:
SPAN225 Cultures of the Contact Zones - Seville, Al-Andalus and the Atlantic World
HONR248E Honors Seminar: Cultures of the Contact Zones - Seville, Al-Andalus and the Atlantic World
SPAN399C Independent Study in Spanish: Spanish Culture in the Convivencia Period (only open to Spanish majors and minors)
SPAN699E Independent Study in Spanish: Research in Spain (only open to advanced graduate students for research at the Archivo de Indias in Seville)
The credit you earn during this program will count as resident credit.
This program is approved for the Humanities Gen Ed credit.
You will stay with local Spanish families and in hotels.
Costs are current for winter 2019. 
Application Fee
$50
Billable Costs
Billable costs are charged to your student account. They are due based on the Office of Student Financial Services and Cashiering payment schedule. Be sure to check your statements when they are available.
Education Abroad Fee
$500
This fee is charged to your account when the application status changes from "Accepted" to "Committed." This fee includes Education Abroad services including registration, billing, advising, risk management, and pre-departure orientation.
International Health Insurance
$40
Tuition
$2,610
This fee is charged to your UMD account upon course registration. This fee includes: Tuition, in-country transportation, course related activities, group meals, and teaching services.
Housing Fee
$1,125
This fee represents the housing provided during the program.
TOTAL PROGRAM FEE
$4,275
Out-of-pocket Costs
Meals (estimate)
$0
Visa
$0
Passport
$140
Roundtrip Airfare (estimate)
$1,500
Course Materials
$50
Optional Activities/incidental expenses
$250
Optional trip cancelation/interruption Insurance (estimate)
$180
TOTAL ESTIMATED COST OF ATTENDANCE:
$6,445
NOTE: If you are a non-UMD graduate student, you will need to pay a $75 application fee to the UMD graduate school to participate in this program.
Please refer to the following resources for more information on funding study abroad
SPAP Scholarship - Contact the Program Director for more information
PLEASE NOTE: All University of Maryland study abroad programs are financially self-supporting and, therefore, subject to cancelation due to low enrollment.
Ginette Alomar Eldredge, PhD, is the Program Director and will accompany students to Spain. Ginette focuses in Spanish Medieval Literature, specifically the representation of the female subject during this period. On May 2017 she earned the degree of Doctor of Philosophy from the University of Maryland, College Park. She also holds a Master's in Spanish Studies from the University of Puerto Rico. In 2002, she relocated to the United States where she has taught Spanish at all levels. She has published articles in her areas of interest: literature and art history. 
For course, itinerary or in-country information, please contact the Program Director. For general questions or assistance with applying, contact EA Short-term Programs.
As a part of this program, you will engage in the following activities:
Intensive and hands on study of Spanish history and culture
Travel across Andalucia to monuments and cities such as Italica, La Mezquita and Medinat Al-Zahra in Córdoba and La Alhambra in Granada, among other site visits around Seville.
| Term | Year | Application Deadline | Admission Notification | Program Start | Program End |
| --- | --- | --- | --- | --- | --- |
| Winterterm | 2019 | 10/15/2018 | 10/11/2018 | 01/01/2019 | 01/20/2019 |