UMD-Spring Break: United Kingdom: London and the British Empire (HIST/HONR)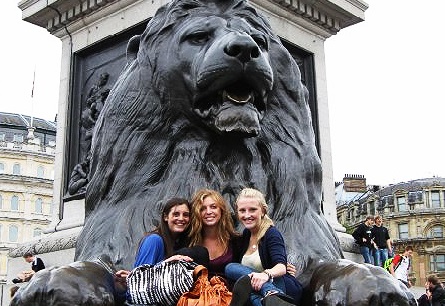 This 3 credit study-abroad course will focus on the people, places, and policies that shaped the development of the British Empire, the single largest trans-cultural phenomenon in the world since 1500. During visits to political and cultural sites in London, you will examine how ideology, migration, technology and resistance shaped the expansion and eventual retrenchment of British imperial power in the Atlantic world and the Indian sub-continent. With the nation's capital as our classroom, you will explore the complex workings and legacies of the British Empire from the perspective of its nerve center.
The curriculum will illuminate the experience of the empire for subjects both in the colonies and the metropole and will pay particular attention to the maritime origins of empire, the lives of black Britons and the abolition of slavery, and the rise and fall of the British in India. Site visits will be accompanied by student presentations and class exercises. Final course grades will include substantial weighting for class participation.
You must be in good academic and judicial standing and you must not have any registration blocks to participate in this program. The minimum GPA for this program is listed above.
UMD freshmen, sophomores, juniors, and seniors are eligible to apply.
If you are interested in this program but do not meet the eligibility requirements, reach out to the program director (listed in the Contacts tab) to discuss your interest in the program.
After you commit to the program, Education Abroad will enroll you in one of the following three (3) credit UMD courses:
HIST219K Special Topics in History: London and the British Empire, 1500-1850
HONR249B Honors Seminar: London and the British Empire, 1500-1850
The credit you earn during this program will count as resident credit.
You will prepare for departure by writing a short paper based on some introductory readings.
You will stay in apartment accommodations (wifi and laundry included) in the heart of London.
*Costs are current for spring break 2020.
Application Fee
$50
Billable Costs
Billable costs are charged to your student account. They are due based on the Office of Student Financial Services and Cashiering payment schedule. Be sure to check your statements when they are available.
Education Abroad Fee
$500
This fee is charged to your account when the application status changes from "Accepted" to "Committed." This fee includes Education Abroad services including registration, billing, advising, risk management, and pre-departure orientation.
International Health Insurance
$25
Tuition
$1,600
This fee is charged to your UMD account upon course registration. This fee includes: Tuition, in-country transportation, course related activities, group meals, and teaching services.
Housing Fee
$350
This fee represents the housing provided during the program.
TOTAL PROGRAM FEE
$2,475
Out-of-pocket Costs
Meals (estimate)
$150
Visa
$0
Passport
$145
Roundtrip Airfare (estimate)
$900
Course Materials
$0
Optional Activities/incidental expenses
$50
Optional trip cancelation/interruption Insurance (estimate)
$180
TOTAL ESTIMATED COST OF ATTENDANCE:
$3,950
Please refer to the following resources for more information on funding study abroad
PLEASE NOTE: All University of Maryland study abroad programs are financially self-supporting and, therefore, subject to cancellation due to low enrollment.
Prof. Richard Bell is a veteran Education Abroad Faculty Director. He teaches early American and Atlantic world history at the University of Maryland. British by birth, accent, and sense of humor, he loves working with Maryland students in London, the most exciting city in the world.
For course, itinerary or in-country information, please contact the Program Director. For general questions or assistance with applying, contact EA Short-term Programs.
As a part of this program, you will engage in the following activities:
Unlimited travel on London's amazing take-you-anywhere metro system, the Tube (Mind the Gap!)
Guest lectures from museum curators, professors and expert guides
Optional trips to the theatre, ballet, opera, soccer, etc.
| Term | Year | Application Deadline | Admission Notification | Program Start | Program End |
| --- | --- | --- | --- | --- | --- |
| Spring Break | 2020 | 10/01/2019 | 10/11/2019 | 03/13/2020 | 03/22/2020 |