ENGR Exchange: Technical University of Berlin (Germany)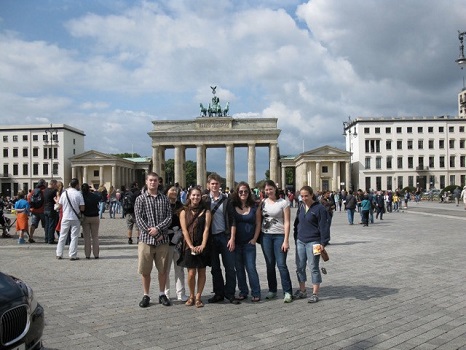 All students accepted to an Exchange program are automatically considered for an award of $1,000! See Cost tab for more information.
Host Institution
The internationally renowned Technische Universität Berlin is located in Germany's capital city at the heart of Europe. Our activities focus on building a distinctive profile, exceptional performance in research and teaching, excellent qualifications for our graduates and a forward-looking administration. The TU-Berlin strives to promote the dissemination of knowledge and to facilitate technological progress by adhering to the principles of excellence and quality. Strong regional, national and international networking partnerships in science and industry are an important aspect in this regard.
Host City
Berlin, the capital of a reunited Germany, has a singularly unique perspective on Europe's history and future. The city's tumultuous past and dynamic rejuvenation combine to make it an exciting locale in which to explore contemporary Germany. The city abounds in cultural opportunities such as art museums, avant-garde cinema, architecture and design, diverse recreational activities, and a vibrant youth culture.
---
Exchange programs are highly competitive and space in each program is limited. You must meet the following eligibility requirements in order to apply to this program:
3.0 GPA
Completion of 2 semesters at UMD
You must be an ENGR major
Exchange programs are a good fit for students looking for immersion, personal growth, and the opportunity to strengthen qualities such as independence and adaptability.
Student Visa Information
A student visa is required for participation on this exchange. For more information, please visit our study abroad visa guide to view instructions for the country you will be visiting. Please note that visa information is subject to change and you are responsible for checking the embassy website for updates.
---
Click "Apply Now" at the top of this page. You will log in with your UMD directory ID and password.
Submit all application materials by the deadline listed below. This includes meeting with your EA advisor (listed at the top of this page), requesting a faculty letter of recommendation, and submitting an official transcript.
After the application deadline, we will review all completed applications and nominate students for available spots in each exchange program.
If you are nominated to participate in this exchange, you will work with your EA advisor (listed above) to apply directly to the host university, who will formally admit you to the exchange program.
Nominated students will then work with their EA advisor (listed above) and our partner universities to coordinate all aspects of the stay at the host university such as course registration, visas and arrival.
---
Academic Planning
Visit the Academics & Study Abroad page which outlines key considerations for your academic planning as you navigate different phases of study abroad:
Coursework
The Master of Engineering and Public Policy (MEPP) program has a special arrangement with TU-Berlin offering MEPP students the opportunity to study abroad in Germany.  With nearly 30,000 student, seven schools and more than 100 study programs, TU-Berlin is the largest University of Technology in Germany. The cost of the program, room and board excluded, is equal to the MEPP tuition. 
 
There may be other course offerings on this program that are not currently listed in the Study Abroad Course Database (SACD). 
Credit
All credit you earn on this program will count as transfer credit towards your UMD degree.  Most courses at Technical University of Berlin  will be converted as follows:
| | |
| --- | --- |
| Technical University of Berlin Credit | UMD Credit |
| .625 TU Credit | 1 UMD Credit |
| 6 TU Credit | 4 UMD Credit |
The chart above was last approved by the UMD Transfer Credit Committee on January 29, 2015.
Grading
Undergraduates must receive a C- equivalent or better in order to be eligible for the transfer of credit.
 
| | |
| --- | --- |
| Technical University of Berlin Grade |  UMD Grade |
| 4 | C - |
FOR ENGR: You can view how courses at this institution have previously been evaluated for UMD equivalents through the UMD Registrar's transfer credit equivalency database page for this university. You can also refer to the full list of ENGR course equivalencies.To view previously approved study abroad courses by engineering department, view the Engineering Study Abroad Course Guide.
FOR UMD: You can view how courses at this institution have previously been evaluated for UMD equivalents through the UMD Registrar's transfer credit equivalency database page for this university.
FOR BMGT: You can view how courses at this institution have previously been evaluated for UMD equivalents by viewing the BMGT course list for this university.
---
There are only a very limited number of dormitory rooms available for exchange students. After the application deadline you will have the opportunity to apply for one of these rooms, if interested. Private housing tips and links can be found here. 
---
Exchange Program Cost of Attendance
UMD students participating in an Exchange program have the benefit of paying UMD tuition rates to attend an institution abroad. For specific information about this Exchange program, please reference the Cost of Attendance Chart. 
Tuition and fees for exchange programs are charged directly to your UMD account, which means you can apply UMD scholarships, state and federal financial aid, and alternative loans towards the cost of an exchange. Students participating in a BMGT or ENGR exchange program are not charged differential tuition. Housing costs are paid directly to the host institution or on-site housing agency.
You can use the cost of attendance comparison worksheet to view how study abroad programs compare to each other and the amount you pay on campus at UMD. As always, your EA advisor (listed above) is available to help you complete this worksheet and find affordable programs that fit your study abroad goals.
Exchange Scholarship
All students accepted to an Exchange program are considered for an automatic award of $1,000! To be considered for this scholarship, you must:
Be a current degree seeking undergraduate UMD student (graduate students are not eligible for this award)
Not currently receive full tuition scholarship/benefits (i.e. Banneker Key, tuition remission, Frederick Douglass Scholarship, etc.)
Additional Financial Resources
---
Maximize your time abroad by taking advantage of resources at your host institution!
Student Clubs and Organizations
TU University Sports offers many sports teams and courses for students to participate in. There are also cultural clubs and other organizations available for students as well!
Counseling & Health Services
There is International Student Counseling available to international students to help with academic and social/personal issues, along with psychological counseling available to students with mental health concerns.
Resource Guide for Students with Disabilities*
Resource Guide for LGBTQ+ Identities*
*These resource guides provide general information about services at UMD's partner institution. For more information, consult your EA advisor.
---
| Term | Year | Application Deadline | Admission Notification | Program Start | Program End |
| --- | --- | --- | --- | --- | --- |
| Year (Fall-Spring) | 2022 | 03/15/2022 | 03/25/2022 | | |
| Fall | 2022 | 03/15/2022 | 03/25/2022 | 10/09/2022 | 03/31/2023 |
| Spring | 2023 | 10/01/2022 | 10/11/2022 | | |