UMD-Winter: Peru: Medicinal Plants of the Amazon (PLSC)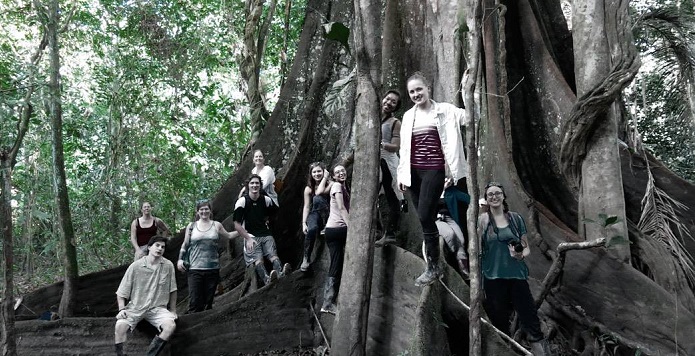 In Medicinal Plants of the Amazon, one of the most biologically diverse regions of the planet will be your classroom. You will be introduced to the incredible biodiversity of the micro and macrobiota of primary and secondary tropical rainforests. You will learn about local medicinal plants how they are used to treat a wide range of ailments. Local healers will demonstrate preparation and use of specific plants. Toxic components of tropical plants will be examined and drugs that have been derived from rainforest biochemistry will be discussed. Sustainability issues will be introduced and examined from pharmaceutical, "food pharmacy" and global health perspectives.
You must be in good academic and judicial standing and you must not have any registration blocks to participate in this program. The minimum GPA for this program is listed above.
UMD and Non-UMD freshmen, sophomores, juniors, seniors and graduate students are eligible to apply. 
If you are interested in this program but do not meet the eligibility requirements, reach out to the program director (listed in the Contacts tab) to discuss your interest in the program.
After you commit to the program, Education Abroad will enroll you in one of the following three (3) credit UMD courses:
PLSC489X Special Topics in Plant Science: Medicinal Plants of the Amazon
The credit you earn during this program will count as resident credit.
There will be two program specific pre-departure meetings to review common sense for the local context, discuss specific logistics for travel to a tropical region, and review course materials.
You will stay in modest hotels. Time on the river will be spent in open frame wood cabins with beds covered with mosquito netting.
 
*This program qualifies for eligible Pell Grant recipients to apply for the Gilman International Scholarship. Online applications will open in mid-August and are due Thursday, October 6, 2022, at 11:59pm PT.
Application Fee
$50
Billable Costs
Billable costs are charged to your student account. They are due based on the Office of Student Financial Services and Cashiering payment schedule. Be sure to check your statements when they are available.
Education Abroad Fee
$500
This fee is charged to your account when the application status changes from "Accepted" to "Committed." This fee includes Education Abroad services including registration, billing, advising, risk management, and pre-departure orientation.
International Health Insurance
$45
Tuition
$3,416
This fee is charged to your UMD account upon course registration. This fee includes: Tuition, in-country transportation, course related activities, group meals, and teaching services.
Housing Fee
$0
This fee represents the housing provided during the program.
TOTAL PROGRAM FEE
$3,961
Out-of-pocket Costs
Meals (estimate)
$100
Visa
$0
Passport
$165
Roundtrip Airfare (estimate)
$1,000
Course Materials
$0
Optional activities expenses
$150
Trip cancelation insurance (optional)
$180
TOTAL ESTIMATED COST OF ATTENDANCE:
$5,586
NOTE: If you are a non-UMD graduate student, you will need to pay a $75 application fee to the UMD graduate school to participate in this program.
Please refer to the following resources for more information on funding study abroad
PLEASE NOTE: All University of Maryland study abroad programs are financially self-supporting and, therefore, subject to cancelation due to low enrollment.
Andrea Ottesen is the metagenomics program lead for the Office of Regulatory Science at the Center for Food Safety and Applied Nutrition (CFSAN) FDA.  She coordinates microbiome research pertaining to public health issues along the farm to fork continuum.   She is also Adjunct Faculty in the Department of Plant Sciences and Landscape Architecture at UMD.  Dr. Ottesen worked for over 20 years with the late Dr. Jim Duke (USDA economic and ethnobotanist) studying medicinal plants and co–teaching Amazonian medicinal plant classes.  Duke and Ottesen also co-authored several Latin American and South American medicinal plant compendiums – some of which will be used as textbooks for the class.  
Jeffery T. Davis is a Professor in the Dept. of Chemistry and Biochemistry at the University of Maryland (UMD), College Park. The Davis research group tackles problems in supramolecular and bioorganic chemistry, often using natural products to build supramolecular assemblies with new forms and functions. Jeff has advised the research of 20 PhD, 10 MS students and 45 undergraduates (he has also taught organic chemistry to thousands of UMD undergraduate and graduate students). In 2019, he was recognized by UMD as a Distinguished Teacher-Scholar. In PLSC 489X, Medicinal Plants of the Amazon, Dr. Davis will direct his extensive chemistry experience to the description of important chemistries of rainforest plants, natural products, toxins and medicines.
For course, itinerary or in-country information, please contact the Program Director. For general questions or assistance with applying, contact EA Short-term Programs.
As a part of this program, you will engage in the following activities:
Visit to a local village on the Amazon river
Night boat rides up the Amazon
Visit to nature preserve to see rescued Anacondas, monkeys and tucans
Guest lectures from local shaman and naturalists
| Term | Year | Application Deadline | Admission Notification | Program Start | Program End |
| --- | --- | --- | --- | --- | --- |
| Winterterm | 2023 | 10/01/2022 | 10/11/2022 | 01/07/2023 | 01/16/2023 |