Maryland-in-Sevilla (Spain)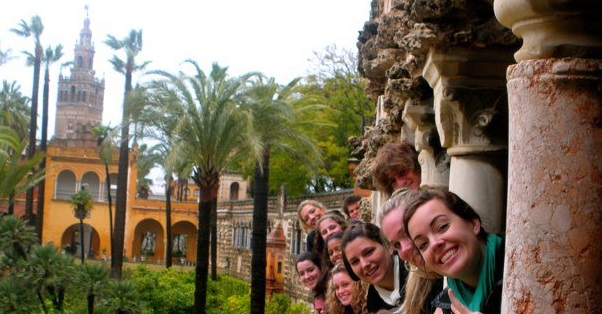 Spend a semester in Spain's flavorful and vibrant south! Sevilla provides students with opportunity to improve their Spanish language skills, while simultaneously interacting with and gaining an appreciation of the intricacies of Spanish culture.
Located in Spain's southern province of Andalucía, Sevilla stands as the historic, artistic, financial and cultural capital of the south. This thriving and unique city reflects medieval, baroque, renaissance, and Moorish influences, making it endlessly fascinating to explore. Under the guidance of a UMD faculty member from the Department of Spanish and Portugues, students will be fully integrated in Spanish language intensive academic program with Spanish Studies Abroad. Advanced speakers have the option to also take courses alongside Spanish students at one of the local universities or participate in an internship for credit.
The partnership facilitates a true cross-cultural exchange by inviting students to expand their world-view through intense immersion in the city. The Center is housed in two turn-of-the-century mansions in the heart of Seville's commercial and social center. The UMD Faculty Resident Director and staff at the Center will provide the academic and logistic support necessary for a successful program.
Check out what program alumni have to say:
"As a consequence of studying abroad I now feel more confident in my Spanish skills and feel like I really know a lot about how to the Spanish culture works...Studying in Sevilla and having the opportunity to tutor Spanish kids in English has also made me more sure that I really want to teach--whether that be Spanish to English speakers or English to Spanish speakers." - Cathleen, Spring 2012
"I really noticed how effective it [SPAN335] was when my family and friends came to visit me. I was able to give tours and factual information about the city. It was also an act of translation, because I learned the information in Spanish and got to check how well I retained it." - Kelsey, Spring 2012
You must be in good academic and judicial standing and you must not have any registration blocks to participate in this program. The minimum GPA for this program is listed above.
Sophomores, juniors, and seniors are eligible to apply to this program. You must also have a serious interest in Spanish language and culture, having completed SPAN301 by the start of the program. It is furthermore recommended that you complete SPAN303 by the start of the program. An interview with program staff may be required as part of the admissions process. 
If you are interested in this program but do not meet the eligibility requirements, make an appointment with your EA advisor to discuss program options.
 
The Maryland-in-Sevilla program is designed to promote cultural and linguistic proficiency within an immersive living-learning environment. Students will enroll in 12-18 credits over the term, with all coursework taught in Spanish.
Students on this program build on existing language skills by pledging to speak only Spanish during the semester abroad. The coursework is complemented by structured activities and opportunities to meet Spanish students and interact with people in Sevilla through internships, service-learning, and intercambio language exchanges. 
Please refer to the Maryland-in-Sevilla Academic Overview for more details on the program's academic structure.
Visit the Academics & Study Abroad page which outlines key considerations for your academic planning as you navigate different phases of study abroad:
Browse UMD course evaluations in the Study Abroad Course Database:
 

Most Maryland-in-Sevilla students live in a homestay with a Spanish family to maximize their immersion experience in Spain. Students with special dietary or accommodation needs can apply to live in university residences with Spanish and other international students. In both housing options, students are provided with full room and board.
Note: Students participating in the residencia option may have an additional fee. Please contact your EA Advisor for more information.
Spring Budget
Cost listed are for spring 2023.

Application Fee
$50
 
Billable Costs
Billable costs are charged to your student account. They are due based on the Office of Student Financial Services and Cashiering's payment schedule. Be sure to check your statements when they are available.

Program Fee

$10,779

Education Abroad Fee

$1,200

This fee is charged to your account when the application status is changed from "Accepted" to "Committed." This fee includes Education Abroad services including registration, billing, advising, risk management, and pre-departure orientation.

$250

Housing

$2,250

Students are placed in homestays with local families, which includes full board.

Tuition

$7,079

This fee is charged to your UMD account upon course registration. This fee includes: Tuition, academic and advising support, course related activities and excursions, on-campus and in-country orientations, cell phone, and teaching services.

Program Add-ons(optional) (billable to UMD account)

 

Integrated Coursework (with extended semester dates)

$950

Residencia housing (by exception)

$150

 
 
Out-of-pocket Costs

Meals not included in homestay (estimate)

$500

Passport

$165

Expedited Passport Processing

$60

Education Abroad strongly advises expedited processing for new or renewal passport applications due to current delays with processing times.

Visa 

$160

Roundtrip Airfare from MD/DC to Host Country (estimate)

$1,500

In-Country Transportation Expense (estimate)

$150

Course Materials (estimate)

$200

Personal/Incidental expenses (estimate)

$2,500

 
 
TOTAL ESTIMATED COST OF ATTENDANCE
$16,064 - $17,164
You can use the cost of attendance comparison worksheet to view how study abroad programs compare to each other and the amount you pay on campus at UMD. As always, your EA advisor is available help you complete this worksheet and find affordable programs that fit your study abroad goals.
Please refer to the following resources for more information on funding study abroad:
PLEASE NOTE: All University of Maryland study abroad programs are financially self-supporting and, therefore, subject to cancelation due to low enrollment.
Natalie Brady advises prospective and admitted students in the Maryland-in-Sevilla program. In addition, she coordinates program admissions, course registration, pre-departure orientation and other logistical aspects of the program. Natalie is the primary point of contact for students before they go to Sevilla and upon return to College Park.
As a language immersion program, Maryland-in-Sevilla supports and challenges students to make significant gains in their oral and written Spanish language proficiency. Participants will sign a language pledge to promote speaking Spanish at all times.
Students are also encouraged to get involved with the array of engagement activities available in Sevilla. These include:
Volunteering
Participating in a language exchange with a Spanish student
Interning at a local organization (advanced speakers)
Joining local excursions and cultural activities
Term
Year
Application Deadline
Admission Notification
Program Start
Program End
Spring
2023
10/01/2022
10/11/2022
01/25/2023
06/03/2023
These dates reflect the Integrated Studies Program option. If you are not participating in the Integrated Studies option, the dates are 1/25/23 - 4/22/2023. Please view the full Maryland-in-Sevilla Spring 2022 Academic Calendar