UMD-Winter: Netherlands, Germany and Belgium: International and Multicultural Perspectives in Education (EDUC/CPSP)

The focus of this program is to explore multiculturalism, diversity and tolerance looking through the lens of the Dutch education system. We will explore both the history of the Netherlands and Germany and current topics of immigration and culture. Since this is an experiential learning course, students spend time visiting many places: Anne Frank House, European Union Parlamentarium, University of Amsterdam, PABO Teaching College, multiple school sites and more. School visits include primary, secondary, special education and refugee schools. Students will interact with University professors, school principals, and Dutch students as they learn about Dutch culture and society. Students will live in European-style, shared rooms in a hostel while in Amsterdam. In Maastricht, the group will stay in shared apartments, and will stay in a modest hotel in Belgium. Transportation while abroad will consist of buses, trains and trams, and students will be issued their own travel card for the duration of the trip.  
This course is designed to broaden your perspective on approaches to current topics, such as immigration, tolerance and diversity, as you explore the differences and commonalities between cultures. To further your knowledge about multicultural issues in society you will look through the lens of education and schools, as well as through your lived experience.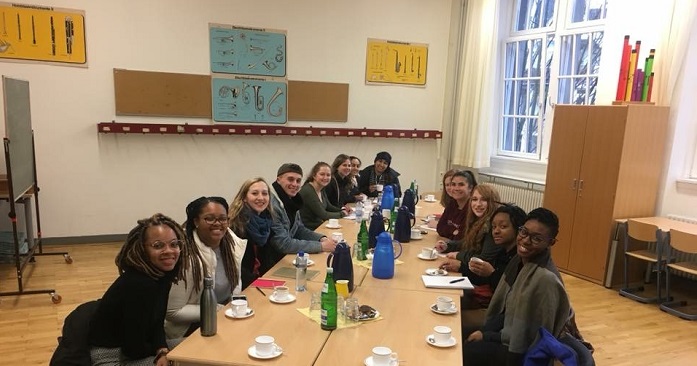 You must be in good academic and judicial standing and you must not have any registration blocks to participate in this program. The minimum GPA for this program is listed above.
UMD and non-UMD freshmen, sophomores, juniors, seniors and graduate students of all majors are eligible to apply.
If you are interested in this program but do not meet the eligibility requirements, reach out to the program director (listed in the Contacts tab) to discuss your interest in the program.
After you commit to the program, Education Abroad will enroll you in one of the following three (3) credit UMD courses:
EDUC 498I: Netherlands, Germany, Belgium: International and Multicultural Perspectives in Education
EDUC 698I: Netherlands, Germany, Belgium: International and Multicultural Perspectives in Education
CPSP 379C: Netherlands, Germany, Belgium: International and Multicultural Perspectives in Education
The credit you earn during this program will count as resident credit.
In Maastricht, we will stay in small apartments for 2-3 students. In Amsterdam and Belgium we will stay in hotels and hostels in shared accommodations up to six people. 
Costs are current for winter 2020. 
Application Fee
$50
Billable Costs
Billable costs are charged to your student account. They are due based on the Office of Student Financial Services and Cashiering payment schedule. Be sure to check your statements when they are available.
Education Abroad Fee
$500
This fee is charged to your account when the application status changes from "Accepted" to "Committed." This fee includes Education Abroad services including registration, billing, advising, risk management, and pre-departure orientation.
International Health Insurance
$45
Tuition
$3,145
This fee is charged to your UMD account upon course registration. This fee includes: Tuition, in-country transportation, course related activities, group meals, and teaching services.
Housing Fee
$375
This fee represents the housing provided during the program.
TOTAL PROGRAM FEE
$4,065
Out-of-pocket Costs
Meals (estimate)
$300
Visa
$0
Passport
$145
Roundtrip Airfare (estimate)
$1,300
Course Materials
$0
Optional Activities/incidental expenses
$350
Optional trip cancelation/interruption Insurance (estimate)
$180
TOTAL ESTIMATED COST OF ATTENDANCE:
$6,390
NOTE: If you are a non-UMD graduate student, you will need to pay a $75 application fee to the UMD graduate school to participate in this program.
Please refer to the following resources for more information on funding study abroad
PLEASE NOTE: All University of Maryland study abroad programs are financially self-supporting and, therefore, subject to cancelation due to low enrollment.
Stacy Currie is the edTPA Director in the College of Education. edTPA is a nationally normed, performance-based assessment process designed by educators to answer the essential question of whether new teachers are ready for the job. She has taught many courses including Middle School and Science Methods of Teaching, and MCERT Capstone. She works closely with middle and high schools in Anne Arundel, Montgomery, Prince George's and Howard counties. Stacy has been leading this study abroad program since January 2012.
For course, itinerary or in-country information, please contact the Program Director. For general questions or assistance with applying, contact EA Short-term Programs.
As a part of this program, you will engage in the following activities:
Amsterdam: city walk, Canal boat tour and Anne Frank House with pedagogical session
Maastricht: city walk, Three Country Point and Margraten American War Cemetery
Brussels: city walk, visit the European Parlamentarium and engage in role play activity  
Ghent and Aachen: city walk
Classroom visits to special education schools, primary schools, secondary schools and refugee schools
Term
Year
Application Deadline
Admission Notification
Program Start
Program End
Winterterm
2020
10/01/2019
10/11/2019
01/04/2020
01/21/2020
*Please note dates for 2020 are not confirmed and are subject to change*