UMD-Winter: Netherlands, Germany and Belgium: International and Multicultural Perspectives in Education (EDUC/CPSP)

This course is intended to help students increase their understanding of the relationships that exist among multiple influences on education and society, including those at the macro-systemic level, e.g., history, politics, multiculturalism, diversity, educational policy, and those that have a more immediate, or proximal relationship with the developing child, including classroom practice, teacher beliefs and values, shared roles within school and home environments, and individual differences. The course is designed to help students understand the perspectives of others by looking at one-self. This is derived from the international roots we all possess. It is the window through which we view other perspectives. There will also be an emphasis on discovering both differences and commonalities among the schools/nations we visit, with a keen eye on multicultural education and current topics in education (increase in number of refugee students, emphasis on standardized tests and inclusive schools). 
Students will compare and contrast similarities, differences, and intersections among cultural practices, products, and perspectives of the US and the Netherlands, with a focus on public education. Students will focus on the current challenges and changes faced in the Netherlands. Students will reflect in depth about critical similarities, differences, and intersections between students and others' cultures or subcultures so as to demonstrate a deepening or transformation of original perspectives.  Students will participate in city walks, visits to historical sites and other educational programs. Students will articulate a multiplicity of meanings of the concept of culture, citing examples from personal experiences while traveling in the Netherlands.  Students  will examine how the Dutch community is acknowledging their colonial past, and how they are raising awareness, fostering engagement and addressing the present-day effects of slavery.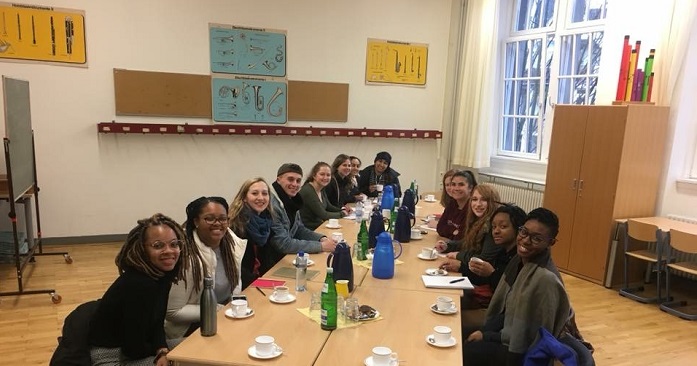 You must be in good academic and judicial standing and you must not have any registration blocks to participate in this program. The minimum GPA for this program is listed above.
UMD and non-UMD freshmen, sophomores, juniors, seniors and graduate students of all majors are eligible to apply.
If you are interested in this program but do not meet the eligibility requirements, reach out to the program leader (listed in the Contacts tab) to discuss your interest in the program.
After you commit to the program, Education Abroad will enroll you in one of the following three (3) credit UMD courses:
 
EDUC498I: Netherlands, Germany, Belgium: International and Multicultural Perspectives in Education
EDUC698I: Netherlands, Germany, Belgium: International and Multicultural Perspectives in Education
CPSP379C: Netherlands, Germany, Belgium: International and Multicultural Perspectives in Education
After you commit to the program, Education Abroad will enroll you in one of the following three (3) credit UMD courses:
The credit you earn during this program will count as resident credit.
We will stay in shared accommodations in Maastricht and Amsterdam.
Please refer to the following resources for funding study abroad:
Financial Aid
Scholarships
Financial Policies
*This program qualifies for eligible Pell Grant recipients to apply for the Gilman International Scholarship. Online applications will open in mid-January and are due Thursday, March 9, 2023, at 11:59pm PT.
*Costs listed are for winterterm 2024

APPLICATION FEE
$25
This is a non-refundable fee to submit an application.
Tuition

$2,830

 Housing
$1,872
 

Program Fee

$4,702

Education Abroad Fee

$700

This is a non-refundable fee charged to your account when the application status changes from "Accepted to "Committed." This includes services provided by Education Abroad such as registration, billing, advising, risk management, and pre-departure orientation.

International Health Insurance

$55

This coverage is required and complements students' regular U.S. primary health insurance coverage.

 BILLABLE COSTS TOTAL

$5,457

This fee is charged to your student account and is based on our program deadlines. Please direct any additional questions to the Office of Student Financial Services and Cashiering.
Meals (estimate)

$100

Passport

$165

Expedited Passport Processing (recommended)
$60

Visa

$0

Roundtrip airfare (estimate)

$1,500

Course materials

$0

Incidental expenses

$180

Trip cancelation insurance (optional)

$280

ESTIMATED OUT OF POCKET EXPENSES

$2,205
*Non-UMD graduate students will need to pay a $75 application fee to the UMD Graduate School to participate in this program.

TOTAL ESTIMATED COST OF ATTENDANCE
$7,662
PLEASE NOTE: All University of Maryland study abroad programs are financially self-supporting and, therefore, subject to cancellation due to low enrollment.
Stacy Currie is the edTPA Director in the College of Education. edTPA is a nationally normed, performance-based assessment process designed by educators to answer the essential question of whether new teachers are ready for the job. She has taught many courses including Middle School and Science Methods of Teaching, and MCERT Capstone. She works closely with middle and high schools in Anne Arundel, Montgomery, Prince George's and Howard counties. Stacy has been leading this study abroad program since January 2012.
For course, itinerary or in-country information, please contact the Program Leader. For general questions or assistance with applying, contact Education Abroad.
As a part of this program, you will engage in the following activities:
Amsterdam: City walk, Canal boat tour, Anne Frank House with pedagogical session, Tropenmuseum, and Dutch Resistance museums. 

Visit Haarlem, NL and learn about the significance of Harlem, NYC
Learn about Dutch involvement in Colonialism and take part in the Amsterdam Slavery Heritage Project where we will explore hidden history in plain sight. 

Maastricht: City walk, Three Country Point, and Margraten American War Cemetery
Brussels: City walk, visit the European Parlamentarium and engage in role play activity  

Immerse yourself within the Dutch cities by actively engaging and participating in city walks. 
Explore the changing needs of the classroom by visiting multiple school sights.
| Term | Year | Application Deadline | Admission Notification | Program Start | Program End |
| --- | --- | --- | --- | --- | --- |
| Winterterm | 2024 | 10/01/2023 | 10/11/2023 | 01/05/2023 | 01/22/2024 |