UMD-Winter: New Zealand: Sustainable Ecosystems (PLSC/ENSP)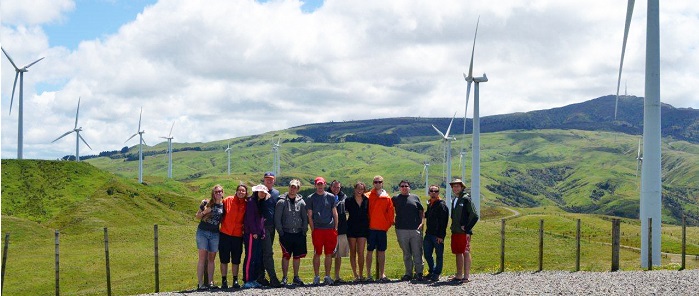 The three week course through the Department of Plant Sciences and Landscape Architecture and the Environmental Science and Policy Program will engage you in the study of environmental sustainability programs that are being implemented in New Zealand. New Zealand, being geographically isolated, has its own sustainability issues from energy production to invasive species. You will travel throughout New Zealand's diverse ecosystems and learn about how the government approaches several aspects of sustainability, including but not limited to energy production (geothermal, hydropower, wind), ecological conservation programs (biodiversity), tourism, and low-impact urban design including stormwater management and architecture. Additionally, you will interact with Maori peoples to understand how their culture and language has been revived in the recent past and what issues they face both economically and socially. You will have the opportunity to visit museums, national parks, farms, botanical gardens, old growth forests and many other places to gain knowledge about the natural history of the Pacific Island country. Programs learned about in New Zealand will be compared and contrasted to sustainability programs in the United States, with the objective of forming a better appreciation of the program effectiveness in both countries.
You must be in good academic and judicial standing and you must not have any registration blocks to participate in this program. The minimum GPA for this program is listed above.
UMD and non-UMD freshmen, sophomores, juniors and seniors are eligible to apply.
If you are interested in this program but do not meet the eligibility requirements, reach out to the program director (listed in the Contacts tab) to discuss your interest in the program.
An interview is required as part of the application process.
After you commit to the program, Education Abroad will enroll you in the following three (3) credit UMD course:
PLSC489Z: Special Topics in Plant Science: Environmental Sustainability
ENSP489Z: Special Topics in Plant Science: Environmental Sustainability
The courses offered count toward the Sustainability minor. 
The credit you earn during this program will count as resident credit.
You will stay in hostels and hotels in shared room assignments.
Costs are current for winter 2019.
Application Fee
$50
Billable Costs
Billable costs are charged to your student account. They are due based on the Office of Student Financial Services and Cashiering payment schedule. Be sure to check your statements when they are available.
Education Abroad Fee
$500
This fee is charged to your account when the application status changes from "Accepted" to "Committed." This fee includes Education Abroad services including registration, billing, advising, risk management, and pre-departure orientation.
International Health Insurance
$40
Tuition
$2,090
This fee is charged to your UMD account upon course registration. This fee includes: Tuition, in-country transportation, course related activities, group meals, and teaching services.
Housing Fee
$980
This fee represents the housing provided during the program.
TOTAL PROGRAM FEE
$3,610
Out-of-pocket Costs
Meals (estimate)
$700
Visa
$0
Passport
$140
Roundtrip Airfare (estimate)
$2,600
Course Materials
$0
Optional Activities/incidental expenses
$600
Optional trip cancelation/interruption Insurance (estimate)
$180
TOTAL ESTIMATED COST OF ATTENDANCE:
$7,880
NOTE: If you are a non-UMD graduate student, you will need to pay a $75 application fee to the UMD graduate school to participate in this program.
Please refer to the following resources for more information on funding study abroad
PLEASE NOTE: All University of Maryland study abroad programs are financially self-supporting and, therefore, subject to cancelation due to low enrollment.
Dr. Joe Sullivan is a Professor of Forest Ecology in the Department of Plant Science and Landscape Architecture and Associate Dean for Academic Programs in the College of Agriculture and Natural Resources at the University of Maryland College Park. Joe studies the impacts of environmental stress, climate change and urbanization on trees and forests and was Director of the Environmental Science and Policy program before assuming duties as Associate Dean.  He has conducted research in the US, Canada, Finland and Western Europe and has been an instructor for this course since 2015. 
 
For course, itinerary or in-country information, please contact the Program Director. For general questions or assistance with applying, contact EA Short-term Programs.
As a part of this program, you will engage in the following activities:
Hiking in an underground volcanic cave that is illuminated by thousands of glow worms that are clinging to the ceiling.
Living on a predator free island that is managed by a Maori tribe.
Hiking among native birds and searching for a view of the elusive Kiwi.
Visiting alternative energy facilities, a wind farm, a geothermal plant, and a hydroelectric dam.
Hiking up a 600 year old volcano with a volcanologist as a guide.
| Term | Year | Application Deadline | Admission Notification | Program Start | Program End |
| --- | --- | --- | --- | --- | --- |
| Winterterm | 2019 | 10/15/2018 | 10/11/2018 | 12/28/2018 | 01/18/2019 |